>
Skins

>
Consumption
Crayolamp
Drawn by a 9 year old
Drawn by a 9 year old
NOW UPGRADED FOR WA2.9

An Amp based on crayloa crayons, my favourite drawing tool of yesterday. This was drawn up by a 9 year old,then scanned and, shrank down and wrapped onto winamp.All components skinned, inc. MB & AVS22nd August....taken your comments into account, cleaned up the image, (not sure where that black line came from LOL), moved the middle image, cleaned up the EQ, and all the minimised windows, also added vol/bal slider bars and one or two other bits to give a standard look to the whole amp. another star maybe ? :)
Download skin
| | | |
| --- | --- | --- |
| March 27, 2003 by Jones Owns | 541065 downloads | |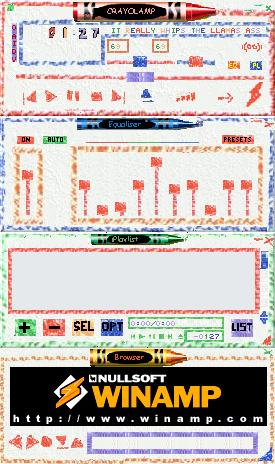 Staff review
Great idea
Nice Crayola theme to remind you of those early years of school. The design theme is incorporated very well throughout the entire skin. Great window title bars as well. Overall a very creative skin...well worth the download. -dg
Comments
good - good - August 20, 2005 by color woo
CRAYONS! - This is very cute. And the graphics on the skin look like real crayon! Well Done! 5 starz! :-) - February 20, 2005 by Aflackduck122 Futura
wowww - this thing is great!!! its sooo cute..good job to whom ever made this... 5 stars.. - May 16, 2004 by tine yoi
GREAT - I remember when I had time to color. Was my greatest stress reliever... even as an adult! This skin just makes me feel good. - January 13, 2003 by R Williams
NICE - Good job, very neatly done. idead is original too ! - November 22, 2002 by bobby eway
super idea - keep those original ideas comming. - October 24, 2002 by Jim Berumn
It's ilicious! - It's wonderfully quirky without looking too tacky. I love it! - July 25, 2002 by Mike Ockislarge
Its great - Its precious - July 10, 2002 by Stephanie Brewster
-_- The good old days... -_- - I remember those things! Crayons rule. So does this skin! Next you should try colored pencils. Oh, and you crayon haters, SCREW YOU!!! ^_^ - June 22, 2002 by DEEP Thunder Raver
adorable - I like it. It brings me back to those days in Kindergarten. Keep up the good work. - May 24, 2002 by Victor Garcia
MY DAUGHTER IS GONNA LOVE IT! - I'M D/L THIS SKIN FER MY DAUGHTER, SHE IS GONNA LOVE IT! IT'S DONE VERY WELL, EASY TO READ & VERY COLORFUL. I AGREE THAT IT WAS A GREAT IDEA. AND BEN, YOU SHOULD BE ASHAMED OF YOURSELF, YOU'RE JUST JEALOUS THAT YOU DIDN'T THINK OF IT FIRST!!! - May 24, 2002 by Shelly Tackett
looks great - very good looking, much better than i could have done. hope to see more skins from you. - May 19, 2002 by G0KU G0KU
Kids at heart - Maybe this skin was created by an adult who is just a big kid at heart....i am 39 and a kid at heart so up your asses...i don't wanna grow up imma toyz r us kid - May 12, 2002 by Chris Shahan
A pleasure - This skin is not only cute, but functional too. The fact that it was drawn by a nine-year-old makes it even more special. - April 24, 2002 by Lou Caccamo
The Best! - This skin is inventive and exciting, it is original and comes complete with a funky cursor, nice. I think that this skin is pretty sweet! - April 10, 2002 by shelly reade
the download stats say it all... - for all of the people disrepecting this skin, that's fine if you don't like it, but obviously a whole lot of people do. A lot more work and creativity was put into this skin than 99% of the skinner program skins that show up here. Good Job Mr. Jones! - March 15, 2002 by Brian Owens
big soft 384,500 are softer - think this is a cool piece - March 9, 2002 by kelly maxwell
feeling like a big kid - Pretty cool skin, however, I feel compelled to scribble with my crayon whenever I am choosing a song.. - March 7, 2002 by Paulie P
Note to Mr. Jones... - ...just ignore stupid reviewers who can't even spell dumbest. This skin almost makes me want to run out and buy some crayons! Might pick up a llama coloring book too if the Wianmp staff hasn't bought them all. LOL - February 14, 2002 by Lee Groomes
Cute - Just looking at it makes me feel all fuzzy inside. - February 7, 2002 by Devo The Great
cute - Cute, well put-together skin. I did a search specifically for "Crayola", and this is what I was looking for! - February 2, 2002 by D B
good and simple - I like it, good theme, the name says it all, but the cursor has got to go. I'll wait for the new version when it comes out, until then... - January 21, 2002 by joel davidson
Good Idea, Bad Skin - Not Bad at all, at least the Idea. I liked it, until i downloaded it. It is almost awful. Try to make it look more frendlyer, put that stupid Cursors away, and put some color in it! - January 15, 2002 by Michael Lindner
Cool - I would like to congratulate the 9 year old who drew this because I couldn't do better! - January 14, 2002 by Michael Naude'
Go You! - Hey, this is great! i didn't download it but if the details are correct.... GOOD JOB KID! looks like ya did a good job. keep it up maaaaaannnnn PEEEEEAAAACE! - January 8, 2002 by Jonathan Smith
What a great idea! - Very original and creative and it's user friendly so I give it a High 5 - January 4, 2002 by La Dolly
... - Whoa, this skin rocks! It's colorful, and cute. Great Job! - December 29, 2001 by Leon B
Cut em some slack - Hey peeps give the kid a break (ONLY 9!)Good job kid keep it up - December 29, 2001 by Emory Necessary
Crayolamp - This is wicked. My 3 year old son loves it - December 25, 2001 by Nathalie Stone
IT'S SOOOOO CUTE! - I love it! Its very colourful and bright. Great job Mr Jones - December 21, 2001 by Chanelle Allia
LOVE IT! - Very CUTE! - December 15, 2001 by Melanie Mayfield
Support young art!!! - I am truly in support of this!! Give the 9 year old a pat on the back for me!!! Keep it up!!!!! - December 10, 2001 by Mike F
CUTE - CUTE CUTE CUTE CUTE CUTE CUTE CUTE CUTE CUTE CUTE!! real cute.. lol... but the mini bowser popz up even if u haf it closed.. kinda annoying... and u can't realli c the #'s.. .but overall...good job - December 10, 2001 by : : LoUdGaL : :
neato - man this took a lot of talente and time this i like so keep up the good work - December 6, 2001 by (c)acdshfan 2000-2015
Work of art - Really creative! Also original, complete, and clean and clear. - December 3, 2001 by Alan Swe
Okay... - It's very awesome I saw, it's just hard to see the things you need to click on, maybe instead of white use blue or something - December 1, 2001 by Courtney c
Wheres The coloring Books - I really loved your idea well executed too. Make sure you pat that 9 year old on the back for this one. - November 27, 2001 by Will 9180
Very creative - I like this one! It's too cute and it looks like it took a lot of creativity! - November 5, 2001 by Courtney Ritchie
my first?download - i wantto downloadthis one - October 22, 2001 by Tina M�ller
So sweet :) - any chance to get an inner mb area and a mikroamp ? - October 17, 2001 by cyana h
Nice - Very nice idea! - August 20, 2001 by Jenel Khan
Colorful - Creative idea for a skin. Soo. . . childish. In a good way. - June 13, 2001 by Anno G.
Its - crayon - June 5, 2001 by dark-wing ďż˝
great design - reminds me of my childhood - May 23, 2001 by your humble God
very cool - must be hard to make - May 20, 2001 by Jay Williams
not bad - better than metal - May 18, 2001 by Tommy Broutin
I am more into the metallic ones - I like metal better but if you want this cozy kid stuff on your desktop then it's great for you - April 2, 2001 by Joachim Skinnes
My first, my only! - This was the first skin I ever downloaded and I love it as much today as I did when I first got it. You can keep those loser Metal Skins. This is TRUE imagination! And despite what you may think, this style of skinning is just as difficult as, if not more so than, making things all shiny and glowing. - April 2, 2001 by Duk ...
This is such a cute idea! - I love this skin! What a nice change from metallic skins! - March 31, 2001 by Jayn Plecas