>
Skins

>
SUI Skins
cPRO2 Aluminum v1.3
Default skin for the brand new cPro2
Default skin for the brand new cPro2
cPRO2 FINAL RELEASE! Updated skin v1.3!! Default skin for ClassicPRO2. Simple and clean, with some details and ideas from the new and popular Windows 8 interface but with its own winamp twist. Get the new cPro2 at http://www.skinconsortium.com/index.php?page=ViewDownload&itemID=61. And here you'll find extra color themes and goddies: http://victhor.deviantart.com.
Download skin
| | | |
| --- | --- | --- |
| January 8, 2013 by Victhor skins | 168060 downloads | |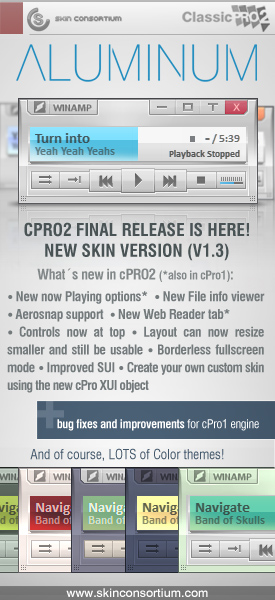 Staff review
Default skin for the brand new cPro2 (in beta stage)
This one is a great skin, simple, clean, very usable, and has colorthemes. Excellent job! Keep on the good work. Thanks for your submission. Thanks for the update. I love these colorthemes.
Comments