>
Skins

>
SUI Skins
cPro
POP!?
simple, 2d..and rounded rectangles
"simple, 2d..and rounded rectangles"Thats the theme this time round for my second colortheme cPro skin.Eventhough the emphasis on 2d, there is a shadow to separate the skin from a same colored background.If you want truely flat 2d you can disable Alpha Blending in the Winamp Preferences.The name "POP!?" comes from my sister's comment that the skin reminded her of pop art.
Download skin
| | | |
| --- | --- | --- |
| August 10, 2009 by Alvin Chong | 22161 downloads | |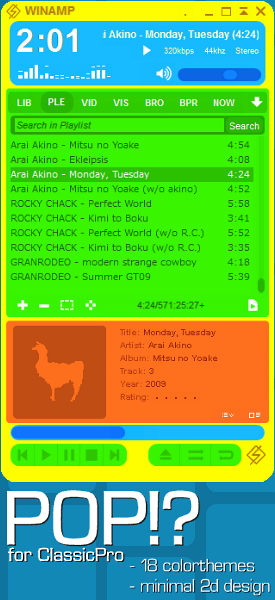 Staff review
Try colorthemes!
Hey! don't worry! This is not the only one color scheme of this very good skin. Download it right now and give a try to some great colorthemes. Nice 2D design, very easy to use. Thanks for your submission.
Comments
Test - May 25, 2010 by rishupreeto oberoi
The most efficient and usable cPro skin out there. Thank you so much Alvin. Simply the best. Some of the color themes are very pretty. - April 29, 2010 by drmnys x
Great Colors - Forgot to rate this the first time...Seriously, give it a try, you'll probably find some colors you like. - August 12, 2009 by emeraldstorm3