>
Skins

>
SUI Skins
cPro
Mecha
A salute to mecha anime!!
My first colortheme Cpro skin!The design of this skin is kind of inspired by the RX-0 Unicorn Gundam and with most of the colorthemes being based on mecha colors, therefore the skin is named Mecha.Do play around with the options in the watermark widget. - [Last updated: 31/8/2010]
Download skin
| | | |
| --- | --- | --- |
| August 10, 2009 by Alvin Chong | 491057 downloads | |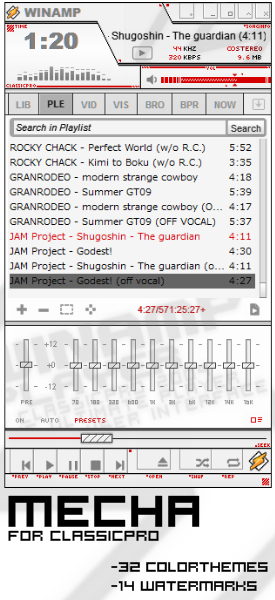 Staff review
Uh?! CPro with waternarks?
3rd winner of ClassicPro Skinning Contest 2009 (by Skin Consortium). Nice design and colorthemes. Interesting use of watermarks (very unique!). Thanks for your submission.
Comments
thanks 2 u - June 5, 2010 by kuwaitam kuwaitam