>
Skins

>
Entertainment
Corpse Bride
In Theaters September 16th!
In Theaters September 16th!
The Winamp 5 ?Corpse Bride? skin is set in a 19th century European village, this stop-motion, animated feature follows the story of Victor, a young man who is whisked away to the underworld and wed to a mysterious Corpse Bride, while his real bride, Victoria, waits bereft in the land of the living. Although life in the Land of the Dead proves to be a lot more colorful than his strict Victorian upbringing, Victor learns that there is nothing in this world, or the next, that can keep him away from his one true love. Be sure to check out this cool skin and see the film in theatres September 16th.
Download skin
| | | |
| --- | --- | --- |
| September 6, 2005 by Corpse Bride | 883119 downloads | |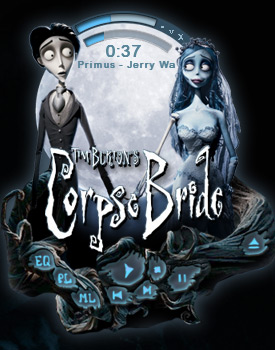 Staff review
I always cry at weddings.
A cool yet ghastly skin.
Comments
nice - ...very nice... - April 30, 2008 by pucca pucca
i like it - why i cant download it - October 22, 2007 by sephyanti utomo
Beautiful! - I love it! And i love Corpse Bride - September 2, 2007 by Emely Fagnell
help!!!!! - how do you put it up on media player????? - March 13, 2007 by Francesca Deacon
Corpse Bride - I LOVE IT!!!!!!!! :) =) - August 25, 2006 by Maggie Parsons_Clark
Corpse Bride - Love this skin it's cool and easy to use. - July 3, 2006 by Dolores Valdivia
Corpse Bride - I can?t use this skin. i don?t kwon how i do it. - March 31, 2006 by Paola Prune
Very Nice - It's a very BEAUTIFUL skiiiin ^^ Not only because it is of the Corpse Bride (yeeey!!!!!!), but also because you made it very VERY well!!!!! It's gorgeous *---* - March 12, 2006 by kasey mitsuri
ok - Its ok - March 11, 2006 by Indrid Cole
Van Dortastic - I really like this skin, it captures the feel of the movie well, a very artistic picture. - February 12, 2006 by Pete Chess
Pretty excellent... - I love this skin. The curved timeline makes it very unique, and it features the 2 main cast of the show. The buttons are quite properly placed. For the playlist, it shows the songs very clearly and the design is nice. Overall is a nice skin. And the show is nice too. =) - January 15, 2006 by Kenshin Spy
greate - :) - November 19, 2005 by kate kate
corpse bride - i love this movie - November 18, 2005 by Elisa Halilovic
p r e t t y. cool . SKIN - This is a good skin except when I first installed it, I didn't know how to change the volume. - November 3, 2005 by DIANA nguyen
good - It's nice skin. - November 2, 2005 by Agnieszka Okrzesik
aucun affichage?? - je n'ai aucun affichage - October 30, 2005 by well fabrice
Nice. - Nice skin, I sure go to that movie when it;s out here :D - October 11, 2005 by Simon Colijn
Too bulky! - For those of us on smaller screens it's way to big! I also don't like the edges - they seem really pixelated and not smooth at all. Over all it's not bad, but I won't be keeping it. - October 1, 2005 by Thomas OMalley
Wow! - This movie looks so friggen good, and this skin even more badass! - September 24, 2005 by mat mills
Im luvvin it - OOO!!! This is such an awesome skin to relate to the movie! Graphics A+!! Great effort! GO SEE THE MOVIE! - September 24, 2005 by Kermath Davies
corpse bride - muy, muy bueno, es entendible - September 18, 2005 by nurit ginel
Poe/Pratchet's style - For me at last something different form all that techno-like stuff. As an old shadow world fascinate I give the skin the maximum rating - It is really GREAT!!! and that spooky sense of humor - looking at it I feel just like reading T.Pratchet's Johny and the Dead story.... !!!! MANY THANKS FOR AUTHOR !!!!! - September 11, 2005 by Przemyslaw Wiszniowski
Simply 1 of the best skins ever! - GOOD WORK CORPSE BRIDE! A VERY NICE SKIN!!! - September 10, 2005 by Alessandro Zara
Bjootifoll! - A ghastly skin for a ghastly movie! Tim Burton is God in my mind, and I've got every single movie he's done this far. Now, about the skin: Beautiful! Gothique! Perfect? Almost, the only thing missing is something I "complain" about every time: No shuffle/repeat/x-fade buttons? Bah, fix this small flaw, and this is a 5 star for sure! Can't wait for the movie, yaya! - September 8, 2005 by mattias nilsson
I am excited for this movie - So fun! I am really getting pumped for this movie. Tim Burton = My GOD! From the pictures it looks amazing. ps Jonny Depp if you read this email me!!! - September 8, 2005 by Lady GRRl
Corpse skin - although the movie will be amazing, the skin just didn't do anything for me, there are much better skins out there. If you want the corpse bride look that badly, download a wallpaper of it. - September 8, 2005 by alex crenshaw