>
Skins

>
Entertainment
ComplexRock
Blue Man Group's Complex Rock Tour
Blue Man Group's Complex Rock Tour
A skin for the craziest show around, BlueManGroup. Includes mikroamp, support for Winamp 5, and AVS.bmp and NUMBER.bmp for older versions of Winamp

There are also animated cursors. If they get on your nerves, there are instructions on how to remove them in the readme.txt (hit alt+s to view readme). The cursors demonstrate some of the more popular Rock Concert Movements. Hope you like it.
Download skin
| | | |
| --- | --- | --- |
| December 4, 2003 by James Potter | 35106 downloads | |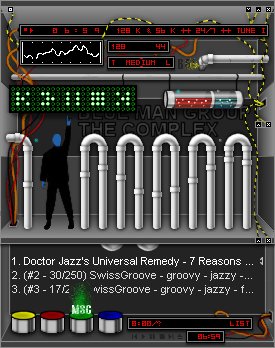 Staff review
Crazy skin for a crazy show.
Some good animations. Text in Library a bit too default.
Comments
cool skin - i love the options at the bottom and the volume bar!!! cool skin - June 12, 2005 by sharad bhat
Awesome - Awesome skin. I love it especially the mouse cursor. Anyways, Great job. Keep making skins. - December 24, 2003 by Cool Dude