>
Skins

>
Entertainment
Colors 4TAH
Official My Surrender winamp 2.9 skin
Official My Surrender winamp 2.9 skin
done for My Surrender.with their new album "Colors For The American Home" there comes a new skin.hope you like it! /c-spec------------http://www.mysurrender.net(oh yeah, names and titles have nothing to do with current situations or any war...)
Download skin
| | | |
| --- | --- | --- |
| October 4, 2003 by c - specter | 143141 downloads | |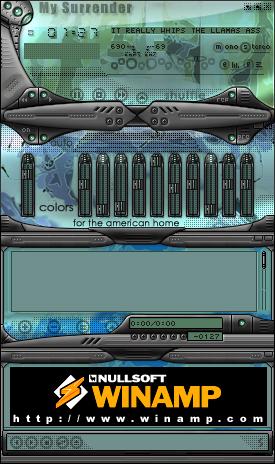 Staff review
Approved.
Thank you for your submission.
Comments
Cool Skin - I just love the absence of symmetry ! - January 27, 2006 by Maheshnarayan Sarasan
Cool - This is a really nice skin. - June 26, 2005 by Arch Angel
Spectacular! - Never have I ever decided to get into a band based off of a winamp skin... till now. Very good job. - July 9, 2004 by Jackie C.
Oh my god - This skin is beyond gorgeous. I never thought I'd find a skin I liked more than that Radiohead Injektilo one, but I think this takes the cake. I bow to your skinning skills. I am completely owned by you. - September 6, 2003 by jessica quest
Awesome - I love the gray. Damn that makes it look cool. - April 6, 2003 by Ian Swift
Yay! a winamp 2.9 Skin - It's too bad you don't have window titles though, because now with the GEN.BMP and GENEX.BMP files more and more plug-in deveopers will hopefull use those, and it gets rather confusing to have like 50000 identical windows. Oh well, nice job though. - April 4, 2003 by Kevin Menzel
holy S**T! - This is absolutely fantastic! - March 30, 2003 by Jim Boynton
just great chris! - jep, what can i say. u know my opinion. - March 27, 2003 by mr gfx