>
Skins

>
Computer/OS
Clear your Mind
Mozillium
Netscape's 'Mozillium'-look for winamp
CLEAR YOUR MIND

Plain. Modest. A balanced minimum of detail. Welcome to the new Mozillium.

The perception of beauty is context- dependent. From that thought, this was designed to match Netscapes 'Modern Mozillium' theme. For the complete experience, D/L that theme for your browser. Also, set a soft wallpaper, dim the lights, and play Arvo Part. Clear your mind. Rest your eyes on this skin. Contemplate on childhood.

Anyway, this is my first skin, i hope you like it.

-Laurens Berger

Credits to Sailfish, for making the Netscape Mozillium theme; and to [...] whose eq&pl icon i stole, thank you :).
Download skin
| | | |
| --- | --- | --- |
| December 25, 2004 by Laurens Berger | 200475 downloads | |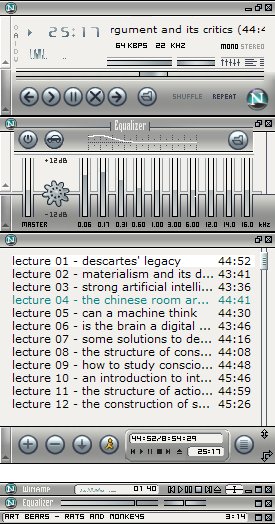 Staff review
Nice and slick.
The skin looks great, simple and yet complex and pretty. However, it needs more work. Shuffle and repeat need proper buttons, and the main buttons need a proper pressed state. Also, the playlist buttons really need to be highlighted when the cursor is over them. There are lots of bugs as well. Finish it and this will certainly get 4.5 or more.
Comments
Great skin, but why the Netscape logo? - Why the Netscape logo instead of Mozilla or Firefox? (you would have to modify those logo's to work with this skin though, because they are the wrong colors (red)) - June 1, 2005 by Wulf Saxon
My favorite - My favorite - space saving, contract, cool look. It might be more neutral, no Netscape, AOL logos and icons. And bit more controlable - more resize controls etc. - April 25, 2005 by Bohuslav Roztocil
very cute and comfortable plugin - "title" (;;; - February 4, 2005 by Alexandr Kuznetsov
best's - x - January 25, 2005 by iv b
Good Job! - Pretty good! Nice and simple, and the match with Netscape its quite original. - January 18, 2005 by Atteyo Thiefoworld
WOW! - Man, this a great skin for us, users of the good old netscape.... Greetings for you dude.... beautiful...... =D Just, please add, the notification of songs, and your work is perfect... Greetings from brazil.... Ps: Sorry my english, as said i'm brazilian... - January 13, 2005 by Wesley Dias
Simple and very sexy - Very simple but pretty good showing. - January 13, 2005 by bingo bingo
Swish - Really, really slick. Only gripe is the use of the netscape icon but meh, can live with that when the overall skin is this nice. Expert job ! - December 30, 2004 by ran93r .com