>
Skins

>
Computer/OS
Classix Player
Simple skin for the classix mood.
Simple skin for the classix mood.
My very first modern skin. This is actually a port of the WMP version. To activate mini mode click on the "Classix" below the volume control. Comes with 15 colourthemes but you can make more with the Colour Editor component that can be downloaded from the forums. Notifier enabled. 4 modes changeable. Seperate playlist window for use with other modes.And also thanks to all the helpful people of the forum! ***[10/6/2009]: added window sizing + doubleclick titlebar to shade or maximize + other tweaks and fixes
Download skin
| | | |
| --- | --- | --- |
| June 2, 2004 by Alvin Chong | 201169 downloads | |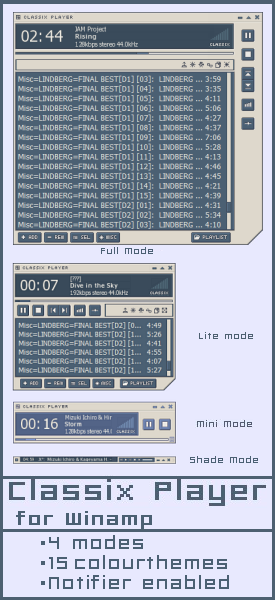 Staff review
I like what I see.
It is different, but very user friendly.
Comments
So Close! - After browsing through all the skins here for about an hour I finally found something that is attractive and functional.Perfect except that there is a 50% chance that the first letter of the Artist's name will be blank, and the time elapsed numbers are very pixelated, especially the zeros.If you could release a version fixing these minor bugs I'd be thrilled. - January 31, 2009 by Nich Nachocheese
At LAsT!! - MAn!!! I Really Love your skin! i used it a long time ago then changed the pc and now the first changed is my winamps skin with yours!. 10kuByeb - February 26, 2008 by MarkoZ Nietus
The Best I have Seen - Really nice feelingIdeal if you want a simple but not classic :] - January 18, 2008 by nine kaa
Wow just what I was looking for! - I registered just to be able to rate this 5 and give my appreciations to you for having made this. Thank you!Everyone, check this skin out. It's by far one of the best, if not the best, skin i've seen.Pure, simple, elegant, bongtastic. - December 30, 2007 by Kai Nevalainen
Great Skin, BUT.. - Hands down to the skin's author, but I recently experienced having a green thing beside my scrollbar when I upgraded to Winamp 5.2.497. Check http://img213.imageshack.us/img213/9191/greenampbx8.jpg to see what I mean. - September 27, 2006 by firstname lastname
I like it a lot! - I've previously only used classics scins for my winamp. When I found this one, I couldn't skip further on, I just had to try modern. What I like about it, is that it's plain and simple, and of course the different colours. The popup with mp3 information is a really nice touch, since you don't have to fokus winamp and then do "view fileinfo" to find album, title and such. Thumbs UP!!! - April 5, 2006 by Thomas Pedersen
THE BEST - This skin is far the best skin for winamp! Clean, simple and at last it changes the badass winamp control layout, i hated it :) thanks! - February 27, 2006 by NYePiD uLoFeN
the best - My search is over - this has absolutely everything I wanted in a skin. Everything is accessible from the main window - no awkward right-clicking just to open preferences or the media library. It's clean, attractive, and navigable; every button is where it feels like it should be. Nice subtle non-blinding color choices. The built-in song notifier is a great touch. Absolutely perfect. - February 19, 2006 by Sara Jansson
Very nice - Something different...Very clean, still easy to use. 5 stars from me! - November 27, 2005 by firefly fx
The very best skin I've ever seen here - Simple, yet elaborate. Clear and beautiful. I like the docked shade mode especially. However, I could use shuffle and ML button in that mode, not just PL. But this skin is SUPERB anyway. Thanks Alvin. - November 16, 2005 by Jano Ziak
best functionality in a modern skin - This is an excellent skin. I love the feature where it pops up a songticker above the system tray. I listen to the radio a lot and it's nice to just glance down when I hear a new song and easily see what it's called. There are plenty of colours available. One complaint: when in "light mode", you can right-click and get rid of the playlist editor, but all that happens is that the song names go away while the playlist woindow and its buttons remain. - September 18, 2005 by travis rempel
nice one - this is the first modern skin that i've found that's actually as good as\better than the default winamp modern skin. great job! - June 19, 2005 by Timo Kujansuu
Hey - This sikin is absolutely awesome! Good job. - May 14, 2005 by Bartosz Sumowski
Brilliant - This is the best skin I have found on here. Matches my windows theme, great options, brilliant layout, good features, and really easy to use. I would give it 6 stars if I could. - April 18, 2005 by Fabio Camara
Clean. - Just clean, and that's all that's needed. No confusing hidden buttons, no guessing at what you're looking at. I have a dual-monitor setup, one for work, the other for my ADHD. ;-) This skin doesn't *make* me look at it, but when I do look at it is easy on the eyes. Thanks, and keep up the good work. Ever think about making a XP theme based on this? - April 2, 2005 by Michael Hall
Good except for one big flaw :( - Good looking sking that matches my Windows setup. However, when playing a VBR encoded file, the kbps meter goes crazy and causes Winamp to take up 30% of my resources. When I use another skin Winamp takes up only 2-3% at the most. - December 20, 2004 by Ryan Johnson
Nice! - Smart, clean and simple! :) - December 3, 2004 by David Deans
Cool Skin - This is one of the best skins I have seen for version 5.05. Very clean design with a lot of cool features. - November 2, 2004 by Arun Kumar
The Best !!!! - This the Best Skin I've never seen. - October 25, 2004 by Athanathea Vonschwarzenwalt
Simple and elegant. - Outstanding, although I prefer the default color scheme... One thing that seems a quirk to me, is the next/previous tracks. The downward arrow being next just feels awkward to me. *shrug* - October 18, 2004 by Tim Stevenson
This is what I've been looking for. - For quite some time I've been searching for a skin, where the playlist is the dominating feature of the skin. After all I really don't have much use for those great looking buttons (like in the "ccpc" or "Official Witchblade TV Series Skin") because I have the basic navigation commands bind smartly to the keyboard. This skin also looks cool; it doesn't need any fancy texturing onto it. When you use it in the Dark-colour theme it kinda reminds me of Dell-computers with a drop of testoterone on it. One of the best things is the seek-bar adjusting to the width of the window. Most practical and precise. So, I just wanted to thank you Calvin. Thnx! (I signed up for winamp.com just for this single post.) I have 2 (3) wishes for the next version of this skin: 1: It would be swell if you could view the album art in the main window all the time, not just for the max 10 seconds in the notifier. There's plenty of space between the volume control and the song info in full-mode. There's also a lot of space to view much more of the song's info, like Album (one of the most important info) and track number or codec used. 2: As I use the seek-bar a lot, it would be even more practical if it was maybe 3-5 pixels larger in height. In the way that you have it in the Ashen-skin. One wouldn't have to 'aim' at it so much to use the it. Of course, it wouldn't look as "Dell" as it looks now, but maybe you'd like consider it. May the Force be with you. - October 3, 2004 by Teppo Tulppu
great! but..... - great skin... but probably will never use it. i just cant use a skin without the open file button.. if im missing something let me know. - September 25, 2004 by andrew homar
holy moly! - ive been using winamp and this site for years, used tons of skins but this is the first time im posting simply because... this is exactly THE SKIN :D theres a ton of hot sparkly skins on here that are fun for exactly 5 minutes, this skin does exactly what they all miss: ITS USEFUL! the shade mode is near perfect, thin, takes up only as much space as a titlebar on whatever window u have open. and the full mode is super tasty as well. way to use winamp 5's abilities! i cant wait to see your future skins, this is one heck of a start! - September 24, 2004 by putty lucker
GREAT - Simple and smart!! Very good looking skin! - August 31, 2004 by Andor Brudi
Cool! - Great skin, I love the colour choice. And, in response to the previous poster who was confused about the play button, the pause button also functions as a play button. :D - July 12, 2004 by James Brown
Simple is Beautiful - Thanks for providing us with this skin, Alvin. I've yet to find any other modern skin that doesn't make me want to gag or take up fifty percent of my desktop, or as is most often the case, both. 'Classix' is aesthetically pleasing, simple in design, configurable, and highly functional. The ability to configure the skin's color, for example, simply makes me want to leap with joy. Excellent work. :) - July 12, 2004 by Alex Raven
?! - Where's PLAY?! I had to go all the way to the minimode to play.. - July 4, 2004 by T W
Another request if possible? - Hello! Been using this skin for a few weeks now and loving it! Simple design and very effective. Naturally, over time things are added or improved upon. Can I make a suggestion. The transport bar is a little thin. Can it be made larger so that when you skip ahead in a song you don't have to be so precise with the mouse? Obviously, certain people will think it's fine at the moment so can it be added as a option "Increase Transport Bar Thickness"? Or whatever! lol Just an idea which has come around since loads of "mis-clicking". Many thanks! - July 4, 2004 by Boyd Fields
One More Thing - It would be nice if the skin would revert to its previous mode when expanding from shade mode. Right now it just goes to full mode. In fact, I'm curious why you have full mode and lite mode separate -- lite has all the features of full, but uses skin space more efficiently. - June 23, 2004 by Jason McCay
Kewl!! - Thanks very much Alvin. Didn\'t think you\'d actually do it... lol. Great skin!! Cheers :) - June 20, 2004 by Boyd Fields
Neat. - For the Windowshade mode, I'd like to see buttons for the equalizer and media library. I like to operate Winamp without having to expand it to full mode. - June 18, 2004 by Jason McCay
good skin - i like this skin... i like simple skin... i can't english speaking... i korean i find mini-mode spend 20 minuite... click CLASSIX Letter under volumn control and switch mode... - June 8, 2004 by jung jinjong
Very nice!! - This skin is great and I'm sure you'll keep on improving it. If you do, ;), then can I make a suggestion? Cheers. When in "mini" mode (click on "classix") can you make the player sizable, length ways? At the moment it is fixed and as a result the title and bit rate display have to scroll to display the full line. I LOVE the fact the time is so big!! All it needs is the bit rate to stay still lol. BTW, I know this can be done in "Full" mode but then you cannot get rid of the playlist section :P - June 8, 2004 by Boyd Fields
I just like it! - I just love this skin but one thing could be added visualisation! - June 5, 2004 by mothafucka wouldliketoknow
Superb functionality! - Ik realy love this skin. Its clear, functional and simple. If it had more colorshemes it would get 5 stars!! - June 4, 2004 by Spidey Man
Less is more ! - This is the best skin I'v ever seen, no frills, it's litte, smart and easy to understand. :-) - June 3, 2004 by Uno DeiTanti
Attractive, Simple, Functional - Thus far, every modern interface that I've used is too visually busy to be a truly functional. In contrast, Classix is minimalist and extremely functional; yet it manages to maintain a measure of beauty. Excellent work! - June 3, 2004 by qortra matthias
Best Modern Skin - Clean and usable, nice layout, looks great. My only complaint is the main window volume control could use some work: when you click and drag the volume toward 100%, it jumps back to 0% as soon as the mouse moves too far right. It is also a bit difficult to see. Otherwise, the skin is great -- approaching perfection. - June 3, 2004 by Pascal Getreuer
Nice, but needs some more work. - Shade/Stick mode buttons are too small and clustered, difficult to move/resize. Volume control is bugged. Lot of wasted space in the main (artist/song/file info) window. After playing with this skin for an hour, I still haven't figured out how to activate the mini-mode. My suggestion would be the following. 1. Fix the volume from wrapping back to zero. 2. Put some sort of simple vis/meter in the empty space to the right of the (artist/song/file info). I think a meter would look really cool. 3. Get rid of the shade/stick mode altogether. In my opinion, the shade mode is difficult and destroys the model of simplicity that the skin emphasis. The mini-mode--which I could not find, but looks nice in the pictures--could be the shade mode. Finally have a look at the following skin: http://winamp.com/skins/details.php?id=138934 (Classix 10k Modern) - June 3, 2004 by Bidit Mazumder
Great Skin - The best skin I've come accross so far, great in winshade mode, text is very clear and still readable at high desktop resolutions. One small prob, quite difficult to move and resize when in winshade mode. - June 3, 2004 by Andrew Darbyshire