>
Skins

>
Animated
Cinnamoroll and Friends
A skin with Sanrio's Cinnamoroll!
A skin with Sanrio's Cinnamoroll!
My guilty pleasure: I'm totally in love with Cinnamoroll. So here is a skin featuring the adorable puppy and his friends - Mocha, Capuccino, Chiffon, Espresso and Milk. As well as some delicious cinnamon rolls of course. :)

I made this skin, as usual, to be as gentle with the eyes as possible.. And, most importantly, super CUTE. All the windows are skinned. The skin also looks very cool if you put the equalizer and main window beside each other, and the stretched playlist beneath them both. ;)

Cinnamoroll, as you all know, is copyrighted to Sanrio. Visit www.sanrio.com for some extra-cuteness. :)
Download skin
| | | |
| --- | --- | --- |
| May 8, 2006 by Marta [encore] | 301662 downloads | |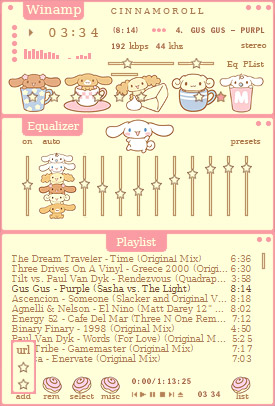 Staff review
Super cute and fluffy, nice pastel shades, good all round skin.
Comments
Kawaii! - wow! i absolutely loved it! it was like love at first site! x3 keep up the great and kute work~!!!! ^.~ - November 21, 2007 by Narean Leng
Very cute! - girls would love it >, - November 11, 2007 by Kris Xia
Cinnamoroll... - I LOVE IT!!! i love cinnamoroll too!!!! ^__^ - April 18, 2007 by redcherrie123 empty
Kawaii! - This is such a cute skin. I am amazed at how well you incorporated all of the Winamp aspects. It's rare that I find a complete skin that's just so darn cute. ^^ - January 31, 2007 by Irene Wolfson
cute - This is such a cute skin! - January 27, 2007 by venessa hill
FLUFFTASTIC! x - *:*:*:*:* yippeeeeeee...This skin is lovely..thank you... it is something to make you smile! :o) The colours are restful and yet vibrant and clear. It's funtional and cute and comforting..and we all need a little bit of that sometimes.... I hope that you stay creative and make some more skins Marta... take [email protected] *:*:*:*:* - January 6, 2007 by milli bit
Wonderfully cute skin - very nice; a lot of cute fun. - November 26, 2006 by chacal la chaise
hjk - jkh - October 27, 2006 by Anastasia Tulpa
great !! - I LOVE CINNAMOROLL VERY MUCH AND UR SKIN IS REALLY GD !!! - June 18, 2006 by ling ling
Very cute! - I think it's adorable! I love everything about it! Very simple, but still looks great. love the txt 'n' everything. - June 13, 2006 by Lilliam Infante
Too dang cute - This is a cute skin. Not overly filled with graphics but very nicely composed. Also very functional. I love the little cinnamonrolls for buttons, nice touch. - May 11, 2006 by Crystal Fiquette