>
Skins

>
Animated
Chobits
AutumnAmp
Chobits - AutumnAmp for WinAmp
This is a skin featuring Chi from Chobits. This was a request from a friend, so the colors and layout isn't completely mine (it's a bit too bright... ;) ).
I just followed instructions and this is the result!
The skin lacks images for external plugins, something I may (or may not) add in the future.
Download skin
| | | |
| --- | --- | --- |
| February 8, 2005 by Jonas Theslof | 244336 downloads | |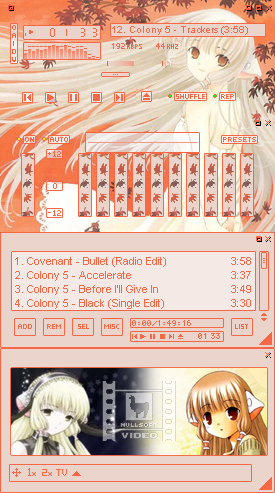 Staff review
Very nice.
I disagree about it being too bright. I think the colors are excellent for the image. Some very good design choices in here, though many of the buttons are rather generic.
Comments
yuck you call this a skin?? - November 7, 2009 by sr.saurab
Chii - I like chii very much thankyou. - July 4, 2007 by sakurasaki nao
Great - A very good, clean skin. I would enjoy seeing more from you. - December 11, 2006 by Brett Atkins
cool - It's too bright but it's cool. - August 21, 2006 by Zary Jack
Chii = Cuteness = Kitty - July 20, 2006 by Kaitie_Lynn Parker
FINALLY!!! Incredible work - Perfect job...finally someone who has done an expert job at the anime skin...you even included Shuffle and Repeat in such a way that didn't detract extremely from the image, but also did include it. And it's of Chi my favorite character from Chobits (although I'm not 100% sure how to spell her name). The colors don't cause problems in any mode (including Media Library)...truly a credit to anime lovers and Winamp....KEEP MAKING SKINS PLEASE!!! PERFECT SCORE!!! - February 17, 2006 by Mark Ninnis
awesome - I've seen a lot of skins in my time, and this is one of my favorite. Orange and Chobits is a winning combination! - January 2, 2006 by Cassandra Edgerton
Love it! - I would like to use this skin on my winamp, but unfortunately I only have winamp v2.09 on my pc. My pc is unable to run the newer versions of winamp successfully. Was wondering if Jonas Theslof could modify this skin so it can work on my winamp as well. It would be very much appreciated. Alida - September 5, 2005 by Alida Liebenberg
Magnificant - I think the almost coral color accents her blonde hair and amber eyes extremely well. It\'s a beautiful skin! I even like the generic buttons (I'm not too fancy of a person). - May 28, 2005 by Ambular ^^;;
very sweet - i liked this skin its very girly :) - April 16, 2005 by Nilda velasquez
Very pretty skin... - Very nicely done, nice choice of image and colours. - March 20, 2005 by Kitty McGann
hi! - this thing is asome!!!!! - March 16, 2005 by Jessica Park
Good - I thought that this skin was rather beautiful. I like the weird symbols and everything..very unique..I agree that the buttons are a little generic but it looks nice all the same. - March 7, 2005 by Kylie Nunya
Chobits Skin - I also think the colors are great and not too bright. I think it\'s cute, whatever the season. - March 6, 2005 by Tammy Davis
Lovin the fall! - I agree, the color isnt bright at all. It creates a soft glow about her and you did very well in making me belive she was standing under a tree in the mid of Autmn. The EQ and buttons arent all that bad either. Most of all, She is oohhh so cute! - February 13, 2005 by Jason Green