>
Skins

>
Transportation
Chevy Number 8 Car
The #8 Car Chevy Winamp 3 Skin...
The #8 Car Chevy Winamp 3 Skin...
is your answer to all your Chevy Rock in Roll racing needs. Driven by Dale Earnheart Jr. On September 6 the Winston Cup series is going to add even more attitude when some of today's hottest acts pair up with Chevy's hottest drivers at the Rock & Roll 400 in Richmond, Virginia. With cars designed by the artists, this is a race that's sure to be remembered by NASCAR fans for years to come. User interface and coding by Petrol Designs.
Download skin
| | | |
| --- | --- | --- |
| July 29, 2003 by Chevy Rock and Roll 400 | 187340 downloads | |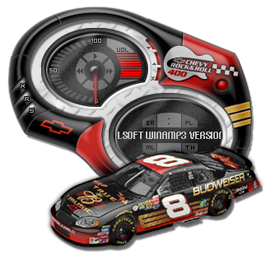 Staff review
Vrooomm, Vroomm
It's Nascar season. Yee Haw!!!!!!
Comments
Chevy rock and roll 400 - this one rock and is the best of all the rest - August 3, 2005 by Denine Hebert
24 needed - its a cool skin but it be alot cooler if it was a jeff gordon!! - March 30, 2005 by damien dhyde
chevy number 8 car rocks - dale jr kicks but - March 13, 2005 by Roy Combs
Nice! - I like this skin. However, the status indicator (0-50-100 red needle) can only seek through a song. It doesn't move by itself as the song plays :( Bug? - February 26, 2004 by Chris R
*no coments* - What Tha He** Did u think when u made this skin?! Its really sucks, but very easy to use.... - August 7, 2003 by Aresh Azar
auto blitz - that's cool,..i like it - July 31, 2003 by c_system jr
Great - I love this skin its about time someone made a nascar skin.Could be bigger though. - July 30, 2003 by Stephanie williams