>
Skins

>
Consumption
Center Fresh
Center Fresh
Center Fresh - Zubaan Pe Rakhe Lagaam
Nagging wife, annoying boss, irritating tele callers. Arrey yaar, take a break from all the annoying things there. Bus sabke mouth par zip laga, sit back and listen to the music that you like on your mast Winamp player which now comes with the freshest skin you'd have ever seen - The centre fresh skin. To laga sabki zaabaan par laagam and enjoy pop, rock or Hare Krishna Hare Raam.
Download skin
| | | |
| --- | --- | --- |
| November 25, 2009 by center_fresh | 381128 downloads | |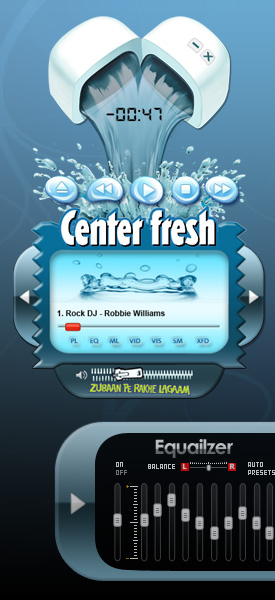 Staff review
Give a break to your mouth; listen to fresh music with center fresh. Truly refreshing!
A very complete skin, good usage of some brilliant animation with functionalities blended together. Go ahead and experience a wave of fresh and good music that shuts you up!
Comments
look it to freshy!freshy - December 16, 2009 by Eskimo04 S
Amazingly Fresh !! The Water splash animation on the skin looks cool. Media Library UI (especially highlight colors) could have been better. - November 30, 2009 by vanajanataraj
Sorry but why red text on a black background for the playlist? And even harder on the eyes is the very odd coloring in the media libary. Also I dont get why the main window has to be so small in todays modern skins. And wheres the bitrate info? - November 28, 2009 by psygnosis2097
Cool skin!! Promo videos are awesome!!! - November 27, 2009 by sudhindra aithal
Looks Fresh! and I liked the Volume Control Design :) - November 27, 2009 by Shashikiran
Great animation and spectrum analyzers ... - November 27, 2009 by Ashok Bania