>
Skins

>
Transportation
Celica Amp
Featured Skin, October 9, 2003.
Toyota Celica 7th Gen Skin.

My second Winamp3 skin. Recently updated to work correctly with winamp 5. Customize your Toyota Celica GTS but choosing the body kit, tail lights, color, and more! Custom window visualizations and tons of different animations. Includes extras such as song "milage" and specifications. 18 different color themes to choose from. Very fast for a 4 cyl ;-) Hope you all enjoy because it took many many months of work... (p.s. sorry for my former attitude on winamp5)
Download skin
| | | |
| --- | --- | --- |
| October 9, 2003 by James Nikolai | 269665 downloads | |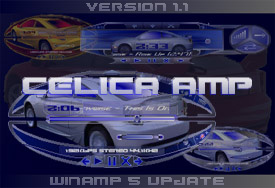 Staff review
Small skin packs a punch.
Are you a Toyota fan? Than there is a good chance you'll like this skin.
Comments
Perfect - I think, it's one of the best skins. If you drive a Celica join My website www.celicaheaven.de - July 11, 2006 by maxi bucher
Sehr gut - Das passt perfekt in mein Gesamtschema von meiner Internetseite www.celicaheaven.de - May 28, 2006 by maxi bucher
omg you read in my minds !!!! - i am a celica lover this is one of my favorite skin and i really like that you can change the part for more stylish car nice work. XD - July 16, 2005 by momo itani
Sugoi!!! - What a great great skin! Wow James lemme tell yoiu that's a really good vwork! [clap clap] I'm a Celica lover and now I'm a your-skin-lover lol. I really enjoy your skin, you're great man!! ^_____^ Arigatou gozai masu!!!!! (ahem sorry, thank you very much for your great skin!... wow, how many time did I say "great"?) - June 1, 2004 by Julie Roy
"Looks Fast..." - Sweet... Now I can stare at my baby while I'm at work! First I thought, "If only it was black." And then a couple tweaks in the options panel and 'bling'! All options were thought about when you made this one! Great model for others to use! - November 27, 2003 by Larry Beougher
Sweet - I think it is interesting because you can change the modifications on it.Gooooooood Job! - November 27, 2003 by Brandon morris
dude - dude, this is the best skin i have ever seen. you should make more with different cars. - October 24, 2003 by mark siegel
It Dun Get Eny Betta Den THis!! - I've seen alot of Skins.....Well my search is over for my favourite. Its got great features. easy to use and wicked ass colours. Get graphics and I AM PROUD TO HAVE IT ON MY DESKTOP!! it is the best yet! (also the celica kicks ass) - October 23, 2003 by mike111 mike111
Very cool skin! - High quality features. More options than I expected and little cool details make this skin fun to use. This skin is well worth checking out. - October 19, 2003 by johnny walker
:) - NICE SKIN! respect - October 17, 2003 by Timur Yuzhakov
fre say it - its verry cooooooooooooooooooooool - October 17, 2003 by fre deswaef
What bugs?? - What were the bugs you were talking about Joachim Skinnes? I'm not sure what kind of changes you meant to the graphics. Olah Marcel, it was completely my idea and design so I'm not sure what you mean or did you think it looks like something else? Still, thanks for the feedback :-) - October 11, 2003 by James Nikolai
Very good, but... - I accept that your a car fun, it's a great skin, but if you will be original in the future, I want to say if you will come with your own idea, your own design it will be greater and that will reflect your work. - October 10, 2003 by Olah Marcel
Very Cool! - Very cool feature, you can customize everything, The Color, Hed light, Spoilers, etc. - October 10, 2003 by Mark Calulot
OoOoOoO - I always liked the Toyota Celica and this skin is just G-R-E-A-T!! but... there is a downside to, and that's why you just get 4 on this skin. Because the graphics are not so good as they should be, plus some bugs.. Fix these problems and this skin will be the only one i'll ever use. - October 9, 2003 by Joachim Skinnes
2 Hot 4 CPU - I'm a big car fanatic n this is the skin i been watin for - October 7, 2003 by Ricardo Heirs
Bravo!!!!!!!!!!!!!! - I'm not a car fanatic, but this skin is cool!!! I love it! - October 6, 2003 by Dejan Neskovic
Eye Like It - I'm no fan of Toymotors - but I like this skin. It's got some clever features. . It's well worth your time to take it for a spin. - October 6, 2003 by Brad Wyatt