>
Skins

>
Entertainment
Catwoman Winamp5 Skin
Catwoman Winamp5 Skin
Catwoman Winamp5 Skin
The Catwoman Winamp 5.03 skin brings you into a sleek and stealthy world of Halle Berry?s portrayal of the sultry comic book character. Catwoman is a sleek and stealthy creature balancing on the thin line between good and bad. Like any wildcat, she's dangerous, elusive and untamed. Packed with effects and features this skin is a must have. Be sure to check out Cat woman only in theatres July 23rd. Built for Winamp by Petrol Designs.
Download skin
| | | |
| --- | --- | --- |
| July 6, 2004 by Cat woman | 795252 downloads | |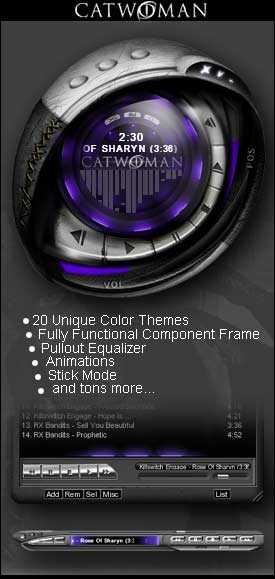 Staff review
Me-wow.
Halle Berry in a tight cat suit. No one can deny the appeal of that.
Comments
cat - like the colors love the animation just the right size - September 15, 2009 by SEXKITTEN R
Amazing - This is the most *purrfect* and original skin I have ever seen. Instead of simply using Hall Berrys face or images of Cat Woman, this creation uses features from the cat suit and the cat eye shape in an original, beautiful and stylish way. I love the colour options. And the most important thing for me is *ease of use*. With many other skins I need to spend at least 15 mins to figure out what all the buttons do - this one can be used straight away without having to go to University first. ;)Fantastic job! :D - January 8, 2008 by The Mad Cat Lady Buchner
Love this skin - Clear buttons make it easy to customize your music with such ease that a novice could do it with no problem. I love the colours, the shape and the animations. The eye shape is perfect as it doesn't take up a lot of room, and gives you the feeling that the eye is going to blink any second. I absolutely adore this skin. I'm still exploring all the features and everything like that, but I really don't like the shade mode... it seems rather big and long... more of a nuisance rather then help. Other then that I really do love it. - December 19, 2006 by Sladie Wolf
5* - A work of art. - September 8, 2005 by Veet Voojagig
catwoman - it's the best skin i have ever had looks smooth in all it's actions keep up the good work - June 13, 2005 by colin WYLIE
Perfect design - I found your skin type very attractive and unique. This skin has also deep impact. I liked it so much, it is an impressive type of skin. - February 4, 2005 by Tarik Aslan
Cat eye - hey thats really cool skin...vith gr8 effects and color schemes - January 8, 2005 by Sameer Mhatre
THe Best - Huih!!! the best skinn right now - November 27, 2004 by Ajea Ajea
1 - 1 - September 4, 2004 by Adam Szymachniak
catwoman - aaaaa - August 29, 2004 by peter oh
excellent! - Exellent use of style, shape, and colors. The various color themes available give you a 'new' skin option every day. Some are a bit harder to see, but depending on your desktop background, they may have varied effects. The 3 buttons across the top left are unlabeled, though you get desciptions if you hover-over with your mouse. The descriptions are poor, utilizing the word "Toggle" in all of them. There really is no point to indicate that it is a toggle, and takes up valuable reading time, as the description should be a very quick hint or reminder to let you know which button is which. If your eyes have to stray to the 2nd word instead of the first, you have to think too much. Otherwise, the skin is great! The buttons are clear, the volume is labled, and there's a clear 'X' button to quit. what more do you need? hehe. enjoy it! - August 6, 2004 by neys sturdivant
Here is the cheese - This piece is at least the best skin I?ve found on this site. You can get Equalizer, Playlist and Medialibrary on one click, you can change the action "in-eye" with one click, you have the freedom to choose from 20 cool colors und you got a direct link to Catwoman-Site and gallery. I just say:rrrrr In cooperation with my desktop, it is the hottest cat. - July 24, 2004 by Alex Szamborski
Volchok - Interesting - July 23, 2004 by Vasili Yadchenko
Good lightwork - Realy nice, i like the illuminated ring and top of playlist - July 21, 2004 by bozar 16
Super!!!! - Super super super:-))))))) - July 19, 2004 by Leon Arapoglu
The skin itself is beautiful! - Too bad the movie is such an embarrassing piece of garbage! - July 16, 2004 by Jainie Starr
hm.... - let's say, typical petrol work.... nice graphics, but too boring for my taste.. not even mouseovers on buttons. and it's very poor in my eyes that with the color themes become just the displaycolors changed. - July 8, 2004 by i rontz
Me Likie... - This skin looks sharp! I love color themes on the diplay lights. I think my favorite part are the player controls on the component frame! Why don't more skins offer this?!? Keep your head high Petrol... ignore those fools with an axe to grind. - July 8, 2004 by Ground Hawg