>
Skins

>
Sports/University
Capped
Very versatile.
Very versatile.
Put a Sports team (Football , Baseball , Soccer , Basketball , Hockey ect..) or College, Highschool,

or Any Wording you want on this Cap.

The Font is called Collegiate and is very versatile.



The Skin Lettering script was made by

Jory Compendio



There is Also a Album cover/Song Notifyer script made by Jared Kole and Pete Clark. (iron2000 placement script)





Graphics and Main coding by QuadHelix


Download skin
| | | |
| --- | --- | --- |
| July 5, 2004 by QuadHeliX Barber | 168318 downloads | |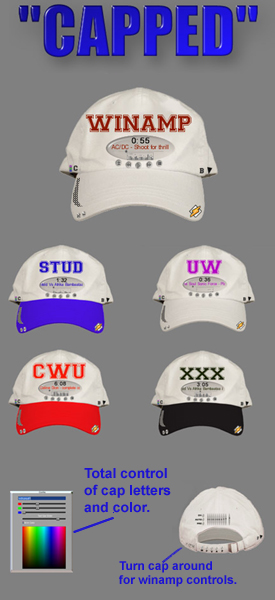 Staff review
Holy Hat, Batman!
A very original and cool idea, though not the best looking thing I've ever seen. And the play/pause button is wierd...
Comments
I J E P - June 3, 2010 by [email protected]
Capped - AWESOME ! ! ! Why this idea wasn't developed before is beyond me. This is true genius at work- so simple, yet so flexible and so cool. Congrats to the developer! - March 25, 2006 by Mike Waggoner
Cool But... - Need to be able to change the cap color as well as brim color. - February 3, 2006 by John C
Love the concept - I put my favorite sports team and colors on the cap (Avalanche). All the controls are there, once you get used to them they work great except for the afformentioned pause-play button. The notifier won't bring up the album cover after I upgraded to Winamp 5.094 Too bad. I liked that feature. Will it be fixed anytime soon? - July 30, 2005 by Bob Beavis
cooper - hi - July 8, 2005 by ahmed mohsen
Very nice - Great idea.. I like it and will use. Thanks a bunch! - July 24, 2004 by s burton
like the idea... - but the gfx's are minimal, seems you only created this one for the custom name script? - July 23, 2004 by UUL !
A "Hat-trick"! - This is a great skin because: The whole cap idea is very innovative This is the only skin which I have had which can be customized (your name) The colour themes are cool. The only thing which would make this skin completely perfect is if the top part of the cap could change colours but I gave it full stars anyway. If u don't got it u need to D/L it. Great skin. - July 22, 2004 by Lance Cherubin
This is good - :) - July 19, 2004 by Michaela l�fqvist
A tip of the hat to QuadHelix! - This is by far one of the more satisfying skins, modern or classic, simply 'cause it's so much fun to interact with it. Most skins only offer changing color themes, whereas this allows text adjustments as well. Hope this will spark some creativity with the other skinners out there. - July 8, 2004 by Scott Snively
untitled - cool skin for all sports fans. I do agree graphix are a little sloppy. Tighten up the screws and "Hats off to ya" (no pun intended). - July 7, 2004 by sid vicious
quik cap - Its really hard trying to place things on a hat without making them look to out of place and cluttered. I thought that for what i had to work with people will be more interested in what the cap can do. I am pleased with the rating. - July 7, 2004 by QuadHeliX Barber