>
Skins

>
Animated
Calvin and Hobbes
Based on the great cartoon.
Based on the great cartoon.
Includes a skin for the Amarok plugin.


The skin is designed to use the "Universal Fruitcake" font, which you can get here: http://www.1001fonts.com/font_details.html?font_id=753


Visit the official Calvin and Hobbes site here: http://www.ucomics.com/calvinandhobbes/


If you like this skin, I have a somewhat similar Calvin and Hobbes SkinCalc skin here: http://www.deviantart.com/view/5363406/


Enjoy :)

Thanks to Reverbe for improving the graphics of Calvin for me :)

**SMALL UPDATE: Now includes a bonafide Minibrowser skin for old-school users :)
Download skin
| | | |
| --- | --- | --- |
| May 15, 2004 by StillWater skins | 200338 downloads | |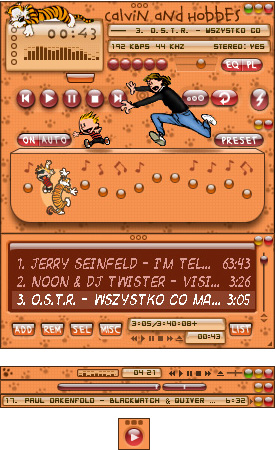 Staff review
Calvin and Hobbes.
A little different from the usual fare.

Quite good but not overbearing.
Comments
my favourite - The BEST ! - March 15, 2008 by miss shmishonja
gazi - it's funny;)) - December 8, 2007 by gazi gazelka
Pretty Good! - One Time I Cut Out A Calvin And Hobbes ChristmasComic Strip Out Of AnAustralian Newspaper AndIt Was A Rhyming One FromBeginning To End, It WasSuch A Funny Clip. But I've Lost It And I Can'tFind So I Hope I Get It Again Soon. As For TheSkin It's Pretty Good. - October 6, 2007 by Joshua Wells
That's it, I'm calling the orphanage tomorrow! - It's brilliantly done and the colours are wonderful. I like it more to look at than to use, but it's great work. - November 6, 2006 by Charlie McCarthyism
All Right - Awsome - September 22, 2005 by Mark Elliott
Calvin! - I wonder what kind of trouble Calvin is getting into now? I love Calvin & Hobbes. You did them justice with this skin. - June 27, 2005 by Arch Angel
good - very funny! - May 16, 2005 by kim meejung
Calvin and Hobbes will forever live on. - Glad to see that there is someone out there that is a fan or cares about Calvin & Hobbes. Buddy, you deserve 7 stars. This skin is comical just like the strip, in the fact that once again Calvin's mom is running after the little trouble maker for who knows what. Also, Hobbes lying on the top, chillin' like he always does. The dancing in the middle goes with whatever it is that one listens to. Plus, the paw prints makes this closer to home with the fact that Calvin & Hobbes is a very good comic strip. (A big fan.) So Stillwater skin, you are a very creative and great graphic designer in my book. With this skin, Calvin and Hobbes will forever live on. - May 16, 2005 by Aero Tech846
Cool - I always liked Hobbes. This skin is really pleasing to the eye. - April 21, 2005 by Steve Saldivar
Oops - It looks like Calvin is in trouble once again. What a comic! To tell you the truth, I really do like the color. The paws and music notes throughout only enhance the cute factor. - March 14, 2005 by Dawn Heinzman
Yess! - This is by far my favorite skin so far. I downloaded a lot of them, and I think this is the one I'll stick with. The images are awesome. It's very well put together. I have nothing bad to say about it. Great job. - January 24, 2005 by Awesome Ashley
Calvin and Hobbes - Clavin and Hobbes rocks!! So StillWater skins rocks!! - January 15, 2005 by Sloane Strus
hiano o - hiano o - November 15, 2004 by Noora Hassinen
good - good - November 9, 2004 by AeRi Yi
by StillWater skins - 10 - October 28, 2004 by Helena Zimackova
very good - saticified. little tricky to find everything at first. The picture of the dancing calvin and hobbes could be actually dancing. otherwise a very good skin. - August 15, 2004 by Matt Deckman
calvin done right - great job, plain and simple- - July 12, 2004 by Rev. David Clark
CALVIN! - I like this one, I like it a lot. - July 12, 2004 by Bethany Pratt
Perfeito - Perfeito - July 1, 2004 by Ang�lica Tavares
Fun skin - Cleverly laid out. - June 14, 2004 by Guani Lee
Sad - I love Calvin and Hobbes. Always have. So, after I download and apply this skin, should I run out to the store at breakneck speeds and purchase all the Calvin and Hobbes merchandise I can find? Be silent, consume, die -- and don't forget it. Off to go find an Enron skin... - June 12, 2004 by Mike Hemmerling
Calvin & Hobbes - This skin rocks!!It's one of the best I've seen yet!It's very user friendly and fun to look at!Highly recommend it. - June 2, 2004 by Demoness Wolf
Very Slick! - This skin is a subtle work of art. Very polished throughout the skin and slight little details will almost go un-noticed but I like them. The EQ bars are very trick with the music notes changing and I love the volume bar effect. Although the animation might appear subtle, there are many in this skin. I guess mouseover would be better to describe it. A well thought out skin. I like it alot from a design point of view. Good clear layout. Thanks for sharing your work. You can check mine out if you like. (skin search - Binegar). - May 20, 2004 by James Binegar
Refreshing skin - Telling the truth I was expecting more animated skin. :) - May 17, 2004 by Zarko Jovic
Winamp Skinning Progress Goes "Boink?" - A very nice and simple to use classic skin. A must for any Calvin and Hobbes fan and for anyone looking for a simple to use skin that isn't the standard fare of metallic shiny things. Zarko: animation is very limited in a classic skin; it is restricted to button-pressing and the song and time tickers, so it is impossible to have more animation in this skin. - May 17, 2004 by toejam 07