>
Skins

>
Retro
CaesarAmp
CaesarAmp
CaesarAmp
After skinning egypt (LuxorAmp)
I decided to skin Rome! All
components have been skinned
in exquisite detail. Plus, to
be truly authentic, it's all
in latin!
Download skin
| | | |
| --- | --- | --- |
| July 23, 2006 by Nullsoft Classicz | 169970 downloads | |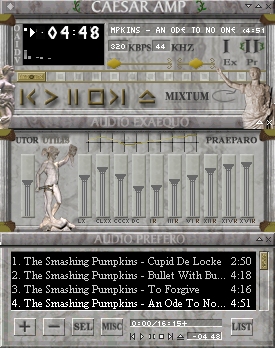 Staff review
Nice old school looking Roman skin...
The stone texture background works very well for this skin. The statues are placed well... the EQ displays are great. Nice level of detail to this skin. One suggestion... I think the two statues on the main window might look better if they are completely on the main window....that way, if the windows get separated, the EQ won't look strange at the top. Great work.

Original Design by Alex Jackson.
WA5 update by Jones.
Comments
Doing it old old school - I don't know what drew me to the oldstyle Roman look, but overall, it looks very much uniform, with not too many frills and extras that distract from the way it looks. The pillars for the Equalizer is clever! However, since the words are in all in old Roman, unless you totally memorize what Winamp skins all say on each part, you get easily lost as to trying to figure out what words mean. I mean, the video screen says UIDUS or UIOUS (I can't tell), and the font for the playlist would be better off being a san serif font, not a serif, which totally ruins the look. Otherwise, I downloaded it and may use it from time to time. - January 8, 2007 by Andrea Schiefer
Very Nice - It's a very cool skin! This is one of my favorite skins of my winamp. It is a must! - January 5, 2007 by Anthony Lazzarino
Somethin' classy 4 a skin - An original theme 4 a skin ... anywayz ... antiquity fans and history teachers , enjoy! - July 24, 2006 by george ursu