>
Skins

>
Retro
C U J A M
the amp that time forgot.....
the amp that time forgot.....
Hey! Download this, drag it back to your cave and get some stone age sonic therapy!.....
Cujam is fully skinned. Includes animated cursors and MikroAmp support.

UPDATED - Now includes skinned Video, Library, etc, for newer versions of Winamp.

Visit my website to see more of my skins.
Download skin
| | | |
| --- | --- | --- |
| January 16, 2004 by Richard Pettifer | 340863 downloads | |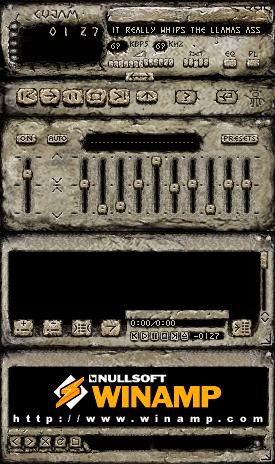 Staff review
the amp that Winamp lost.....
Yabadabadooh...Flinstone Amp at its best. Very nice detail on this skin, made with only a hammer and chisel.
Comments
After all these years, this is still my favourite classic Winamp skin. Cujam on! - June 12, 2010 by harl windwolf
Calidad! - El mejor skin clásico con todo! - January 18, 2007 by Eduardo Nolasco
much effort, crappy look - it looks like a vomit stained piece of toilet paper - June 30, 2006 by Matija Lovric
My favorite skin since 2004 - Just cool skin - June 12, 2006 by STYX T
If Cavemen had PCs... - ...Winamp would definately look like this. I only wish the font was more readable. I know you can read it, but my eyes aren't in the best shape, so for people who don't have 20/20 vision, still download this skin but just look a little deeper in the text. - April 30, 2006 by Marc DeGuzman
Original - If cave men had computers with Winamp, this is what it would of looked like. - September 17, 2005 by Nicholas D
ROFLCOPTER! - Gj Commander buttnuts, this really is the 14th worl wonder...Damn i watched The Flintstones every day when i was little XD - September 12, 2005 by Kaa Pee
by ivailo paliov on Aug.12/2005 - Just perfect!!! - August 13, 2005 by Ivailo Paliov
amazed - This is absolutely one of the coolest skin on this site! Incredible work. - March 14, 2005 by erik andreasson
Pierre taill?e - Very good ! - December 20, 2004 by William Wallace
WoW! - WoW!No word better describes this skin...it actually looks like it's been crafted using a hammer and chisel!Very easy-to-use and unique-looking.Great work! - November 21, 2004 by Rahul K
"rock" star - awesomely wonderful!!! - July 7, 2004 by patrick wilkinson
Flintsones rules. - How did you get those stones into your computer?!? Not by the CD-ROM I guess. - July 3, 2004 by Thomas Nordstr�m
if you say" C U J A M " that's the reality - ** If you say good to this skin it's your destiny If you say "wow" to this skin it's your imagination if you say "UNBELIVABLE" it's your heart beat and if you say" C U J A M " that's the reality - April 24, 2004 by dulan suraweera
good skin - Still one of my favorites. Good job. - January 19, 2004 by Cat Dreamer