>
Skins

>
Transportation
Boxster Amp
The Sound of the Boxster V2.1
The Sound of the Boxster V2.1
Updated for Winamp 2.9

Featuring my Boxster - one of the most beautiful cars Porsche ever built. Play your music at 160 mph with the canopy down and enjoy the world spinning faster than ever !!!

Also includes a MikroAmp skin, a customized inner MB area (you need the MikroAmp plugin to see it), an AVS preset (high speed spinning 20'' wheel ;-) ) and a skin for the DFX plugin (included as BoxsterDFX.exe, thanks to wildrose wally who made the installation file)

enjoy
cyana ;)
Download skin
| | | |
| --- | --- | --- |
| June 10, 2003 by Mischa Klement | 1492400 downloads | |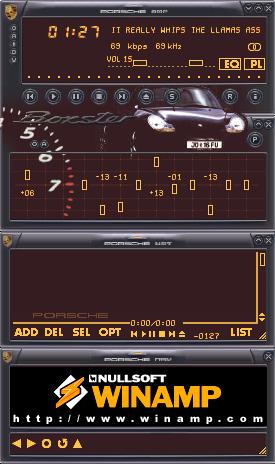 Staff review
VAROOOOOOMMM!!!!!!!!!
Mischa you've blown me away! Check this out, and experience the illusion of controlling this mad machine. In this composition you are the driver. NOW GO!
Comments
Rikey - OK! - September 7, 2006 by David S
Boxster Amp - very good - September 5, 2003 by serdar camlidere
Great Job! - I'm not a fan of Porsche's cars, but this skin is a really good one and looks like the Boxter! Next time try to make a Lamborghini Diablo Evolution by Affolter :D... - June 6, 2003 by Markus DeLaBaguette
COOL! - This is not bad. this was created in agust 2001 when there was not enough 3d software avaialable but this is still good! - May 30, 2003 by Sikander Shahjahan
Another readable, good for high res skin - Very nice. I run at a ver high resolution (1280x1024, normal size WinAmp). This is another few of the skins that is highly readable thanks to the color scheme, and as an extra bonus in this skin, large labels. Well done Mishca & Thanks! - May 7, 2003 by Village Idiot
CAR WORLD - STREPITOSA - February 22, 2003 by walter dalpadullo
BUYA! - This is an exellent skin, c'mon, wots can be better than the combination of winamp, and porshe! - February 2, 2003 by michael edwards
Alwaysed........... - i have alwaysed love Boxsters and i now love this amp i have it for ages! - November 30, 2002 by Scott White
Quite nice - i myself loves skyline gtr but that skin wasn't good enuf... this porsche skin is by far the best looking car theme... keep it up ! - November 21, 2002 by bobby eway
Great Skin, Great Car. - Nicely done. And the comment before mine from Jed: "I love cars, and Porches aren't really anything special" doesn't make sense. He goes on to praise Mustangs? Hahaha. Good job man. Porsches rule. - September 16, 2002 by Frudrig D Chaos
NICE - I was just browsing for skins that caught my eye, and I saw this one and fell in love....nice work - September 8, 2002 by Kristy Breitenbeker
Subtle and solid! - Awesome skin! The image of the car subtley blends with the rest of the skin, yet at the same time it pops out at you. The controls remind me of sitting in a Porsche. You've capture the essence of the car. Nicely done. Keep up the great work! - August 8, 2002 by Very Cool Dude
I am not Sergi... - That's funny... This site sux... - August 3, 2002 by Lesis LeSaN
Heavy! - Dis is a Heavy skin for winamp! safe x - August 1, 2002 by Roberto Silva
Cool!!! - This is crazy! I love the digital equalizer, makes it seem more advanced in a way. Buttons are nice and big, but the shuffle and repeat buttons are a bit too far from each other. Very elegant and orderly, yet very in your face at the same time. I love this skin, a very good work of art! - August 1, 2002 by Phil Hristov
Love ya Boxter - Smile...you just won a Porsche Boxter...skin!!! Can't wait for the plug-in!!! - July 27, 2002 by Hercules 4u2
Mmmmm - gosh..i just love porsche... couldn't get much better then that boxter to the one called carrera gt 2001 model! anyway pretty good design!! - June 21, 2002 by thomas victor
damn - that shit's off the chain B. - June 6, 2002 by Lauren Lloyd
TITLE! - I just think, that all the skins that use some images are ugly - May 22, 2002 by Stan Chibashov
YOU don't know a thang - What the hell is wrong with you people...? I suppose the skin is a bit fuzzy looking, but that's what you get from working with PSP or Photoshop. You turn blending (or whatever...) off, it'll look strange and it looks really crappy. The title bar writing IS really hard to see... Nah... It's looking a bit TOO blurry now... It's not that good is it... CRAP! I sound like a twat now... Good skin. Improve or die :) - May 14, 2002 by Winamp Rocks
Fixe - Portugues - O Skin t? fixe! English - The Skin is cool French - Le Skin est bon. - May 1, 2002 by Alexandre Dinis da Fonseca
OMG !! - Great skin !!!! Loved it !!! I love this car aspecially Good Job man ! - April 29, 2002 by Liran H
solid 4 **** - But it doesn't look that good on my desktop, so I moved on to other skind...... - April 22, 2002 by richard allen
It's allright, not bad - But, mayby you can make it more gothic i think it would make more downloads :) - April 19, 2002 by Dark Death
cute........real cute - if u ask me, thats 1 nice skin, i must say, ubt its kinda hard 2 read...good luck next time - April 15, 2002 by Buck Pearson
amazing - thats one sexy ass skin if i do say so myself. Looks nice, works good. if you have winamp it would be a crime not to own this skin. ____ _/ |_\__ |____|____| o o - April 8, 2002 by Mike B
Excellent - I think this is the best "picture" skin I have seen. Most are just skinners, but you got the whole Porshe effect. Very nice. - April 6, 2002 by William Eby
Cool!!! - This is a really funky skin!!! ne body whos ne one must have! - April 4, 2002 by Micky Samon
Boxter, hmm?... - I hate to bring this up, but isn't this the car that killed Bobby Phills? - March 25, 2002 by JP Worley
Yeah, Porches are ight - I love cars, and Porches aren't really anything special, but love the whole car thing! You guys should make a skin out of a Mustang Saleen S-281! - March 16, 2002 by Jed Carpenter
Cool! - This skin is cool! It makes a change from the usual Mazda MX 5 one I hav on......can u make one of them pleezee?! - March 11, 2002 by Steph Hall
boxters are ummmmmm......nice?..duh~! - GOOD STUFF - March 11, 2002 by Cody Pomerleau
My Fav - This is absolutely my favorite skin. I've downloaded others, but this is the only one I use. It's a beautiful picture of the car, the buttons are clear and unique, and it's just an awesome skin! - February 24, 2002 by Sarah Michelle
I don't know much about cars but... - This is a great skin dude. - February 11, 2002 by Christopher Sumpter
this rulez - its exellent the best and the car rulez - February 7, 2002 by shane fodera
Pretty Good - I think this is a pretty good skin but I really think if u are going to make a porsche skin at least make the back ground a different color than the car it sorta looks like headlghts and a window stickin outta nowhere but I cant complain I cant even Make Skins - February 1, 2002 by Jim Socks
Cool - Why u guys dissing this amp?? i think its fuckin cool! wayda go! - January 27, 2002 by The Skin Hacker
The skin I always go back to... - is this one. It is a nice looking skin, but it is also the best one that I've seen when the windows are minimized. It is one of the easiest to read and use. It is not spectacular looking, but it is the best at doing its job, which is being an easy to use and simple user interface. - January 18, 2002 by Stephen Morgan
Critics are Harsh - Though it doesn't look like anything super, it doesn't look like crap. I'd say that this skin is slightly better than mediocrity, but not enough for an extra star. - January 18, 2002 by Shael Jenias
This is great! - I don't usually like car amps but this is an exception. You have done a wonderful job. - January 5, 2002 by Cat Dreamer
Finally! - Finally, someone put out a good Porsche skin. It took long enough! - December 30, 2001 by Terry Matthews
Great skin dude - Dude sweet skin the thing is cool its good and stylish u've done a nice one there - December 21, 2001 by Solid Snake
yeah! - Though I'm not a cars fan, this is blowing me awyay! Great skin! - December 19, 2001 by Nini ~
Boxster Sucks! - Nyce skin, but I hate them boxsters! U should make a 911 twin turbo..o'well...still arrite - December 6, 2001 by Moe Gani
i think its kool - This is the best car skin ive seen so far.its well layedout and its just flat-out kool.Godd job.keep it up!:-) - November 27, 2001 by Tom Cooper
AWESOME - What a skin easy to read and looks F___ng hot! I have a 930 slant noise, not a boxer but a Porsche...my Kenwood kind of looks like this even the back lite! Great job! Don from Los Angeles - November 21, 2001 by Don Matthews
go boxter! - my my favorite car in my favorite color*drool*oh what good job one of my fave skins now!! - November 19, 2001 by steven schrayer
Vroom....!!! - This is the best porsche skin I've ever seen!!! - November 18, 2001 by Made Indra
? wow - THIS SKIN IS THE BEST SKIN I'VE EVER SEEN! I LOVE IT!U CANT MAKE A SKIN BETTA THEN THIS! EVERY1 WHO DONT GIVE THIS SKIN 5/5, DOESNT HAVE ANY TASTE! one of the details i like best is the porsche logo for the menu button 5 stars u really earn it! give me 1 more of this style! - November 14, 2001 by Johan Willenheimer
Wow - This is a really cool skin. You can see that real work's been put into this one (like the EQ!) Definitely a quality Amp, miss this one at your peril! - November 11, 2001 by Martin Neal
Very cool - I must say I wasn't entirely blown away at first, but this skin really grew on me. Excellent colour scheme, and the picture sits nicely without obstructing the buttons as in some other skins. In my top 3. - November 3, 2001 by Andy Parth
Its aight - The car is hot to death but something about it says "You're gonna have to change me soon". It tends to get boring buts its real nice - October 27, 2001 by Pamela Mc Coullough
Kick Butt - This skin really kicks the llamas ass fo sure!!! - October 27, 2001 by Charles Shin
good job - good job man - October 23, 2001 by Darksword Traliorn
Vrooooom! - This skin rocks! My only gripe is I have to keep the eq open to see all of its greatness :D. The yellow text and rounded edges look straight off of a Porsche dash at night! - October 5, 2001 by Erik Tomlinson
Boxster Amp - August 15, 2001 @ 6:37 AM best porsche skin I've seen - September 15, 2001 by mike a
Great!!!!! - This is a great Skin keep up the good gork!!!!! - September 1, 2001 by Roberto Mart�nez
Damn - Geez, one helluva good skin here......Excellent subject, easy to use, nice to look at. Any more where that came from? - September 1, 2001 by Clinton Ducas
Wow Keren - Ck,ck,ck Indah nian apalagi di balut dengan suasana yang serba hitam menimbulkan jati diri Porche sebenar. - August 29, 2001 by Taufik VAlentino
How - This is a Good skin for the win amp keep it going my frind and make more skin of cars, Lotus, Porshe Ferrari, etc, and different colors, Again ASSOME!! - August 29, 2001 by Hector Garza
Porsche - gr8 skiiiiiiiinnnnnnnnnnnn.just perfect - August 29, 2001 by Aman Dayal
Ready, Set, GO!!!! - Love it..... - August 25, 2001 by Kenneth Pearson
Good. - Very good skin. Nice car! Nice way of using the picture. Very good. Continue making this kind of skins. - August 25, 2001 by K.R. Smit
This is great !! - Very nice and clean. Great contrast. Good (Porsche) colors. - August 23, 2001 by Henrik Skovbjerg
Ferry veldhuizen - ONLY PORCHE!!!, nice picture, and keep on going, ferry from the netherlands and you know PORCHE RULZZZZZZ!!! - August 23, 2001 by ferry veldhuizen
GREAT - these is a great skin! i love the buttons and the colours - if you ever sat on a boxster you will notice that this skin really looks like the interior of a boxster! - August 22, 2001 by itay lazarovitch
I like it. - I never thought I would like any of the car skins. This one is fresh. - August 19, 2001 by Will Correa
Heroynaz - Its cool - August 18, 2001 by Heroynaz Alex
Good Effort - I wish I could Give u 5.5 Stars! - August 18, 2001 by Bobby Singh
Almost Best - Yep, Mischa Klement did well on skin. Good color combos and cursors. Only thing I want in that skin is animated cursor (+ info on cursor if possible), then no one will deny it's the BEST skin ever made. O X L N C - August 17, 2001 by Shunail Tejani
Good skin - This design is awesome...but you have to keep all the components on top of eacgh other - August 17, 2001 by Johannes Rehnman
:) - A pic skins the way as it should be. Great, clean execution.doesn't get much better that this :) And if you love Boxters (who doesn't?) your're hooked up for life with this one! - July 22, 2001 by ampburner (aka Stephan Hoekstra)
cool - please make some cursors - July 2, 2001 by sick bastard
Sweet - this skin is wicked! boxterz are one of the best carz eva! - July 1, 2001 by bob joe
standard cursors - and buttons that could do much more.... this could be worth a five, with just a couple of hours more work spent - June 25, 2001 by nani banani
my favorite - this is my first review and I give it to my favorite skin. I'm not much of an artist but I think this one looks fantastic. Keep up your good work! - June 22, 2001 by Rob Davis
Hey Mischa - I am a big Porsche fan and me and my friends would like to have a Carrera 4 (993 type) skin, black or dark blue. Could you make one for us? Please. Thank you, sincerly Kevin Kanzian - June 11, 2001 by Kevin Kanzian
average - cool, but nothing spectacular - June 7, 2001 by Andy Coppola
Damn shame - I had this skin and it was my favorite. Then my computer crashed and I miss it. Thats why I downloaded it again!!!!!!:-) How i love this skin, let me count the ways. 1,2,3,4,5,6,7,8....... and so on... - June 6, 2001 by Padme B.
not bad - but I hate the cursors - June 4, 2001 by stoned donkey
wow !!!! - best car skin so far !!! love it !!! - June 4, 2001 by John Miller
not bad - but I've seen better skins. The front window is too much taken over bye the buttons, andthe buttons would be better with a little more 3D. The cursors too can be better. Still, it's a good skin for a great car - May 25, 2001 by Thomas Frentzen
pretty cool - very nice work, wish I had one, too :) - May 24, 2001 by Ginny Yeatman
Giving it less than a 4 - is a crime!! Gining it more is an overstatement, because it has a few things that could be a lot better... But this skinner is good enough to make that better in an update, I guess - May 19, 2001 by Indian chief
GOOD - GOOOODDDD Just Good - May 12, 2001 by zhenyi low
this one rocks - I have seen the other Boxster skin, but this one rocks - May 12, 2001 by Peter Mahrle
That's cool - WOW.......................................................................................... - April 25, 2001 by Cobra Rimvis
Like the real thing - Terrific and functional at the same time. Truly a Porsche among the skins - April 24, 2001 by Lynn C.