>
Skins

>
Retro
Box0r V5
The original...
The original...

Yes folks, this is it, quite possibly the first freeform Winamp skin ever made, Box0r, a skin so great we even had to fix the player so it'd work, (make sure you're using Winamp5.05 or newer).

Like Lounge, we've gone back to the original, fixed the broken bits, added in the bits we forgot to put in originally, given it a good polish and shoved it out the door in it's all new Winamp5 guise, sorry it took so long but you know how things work around here. :)

Original design by Morgan 'Splif' Thomas.
WA5 version whipped into shape by Mr Jones.

Download skin
| | | |
| --- | --- | --- |
| July 28, 2004 by Nullsoft Skinz | 1208343 downloads | |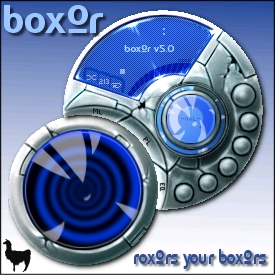 Staff review
Are you still reading the comments?
Don't waste your time reading the comments and the ratings, download this skin and enjoy it already.
Comments
Nicely done, but... - I really like the layout, the overall look, and the general "disk-ness" of this skin. I can't seem to get the rotor to dock with the main window though, and furthermore there's a lack of customization for different color themes, where instead there's an insult to those who use color themes. I don't care for personal insults from any software or other products, and would like to at least see the insult removed if the author will not produce other color themes for those who want to further integrate the skin into their desktop theme. - May 27, 2009 by xyie4seasons
Just stinks - and becouse i like my player to match my desk top so want to change colors I SUCK? Well so does your player! Eats more ram just to run your simple and stupid visulation1 - December 15, 2007 by chris foye
Wow..I'm speechless! - This is the ideal skin for any person who enjoys little details that just make the skin special, the knicks and knacks for exploring while you're bored, as well as those who just want to enjoy the music. It has the perfect effect of the New Age look that is popular with the males, and the reflective, bejeweled look that catches the female eye. With spectacular shading and cool shades, it's a dream come true! - August 9, 2006 by Patricia P
What ... other skins ... no thank you ! - I have had this skin since (or about) I installed WinAmp. It does the job perfect, it's compact, looks really nice. I cant say enough good things about it. It's skin that fits my desktop perfectly, I tried a few others there just nothing compared to this. Thanks for a great skin :D - October 8, 2005 by John Kiely
Nice job - I'm a big fan of funky designs, and I love the color scheme (good thing as the skin options tell me I suck for wanting more colors... :) I don't like the rollover playback buttons, as cool as they look, I like to know where stuff is without mousing over... same for the toggle buttons etc, I love how the equalizer docks so nicely on the main window... the edges are a little rough and the playlist window is a little undefined, but overall, very tastefull and well done. ;) - September 22, 2005 by James Tocci
Another skin with notifier? - I wonder if there's any other skin with notifier as boxor has... Or could anybody provide information for configuring this skin, interested in changing font in notifier in order to view info in my native language which is Russian! - August 14, 2005 by le_meilleur kwigebo
l337 pwnage - 17 r0xx0rz ur b0xx0rz 1nd33d. I voted a 5 because it's cool, its original, i like the vis thingy, and err.. it's round? and yeah, it has l337 talk in it (gaming lang. for those who didnt know) - January 31, 2005 by Vegard Guttormsen
Super GREAT - Wow - November 23, 2004 by Bogdan Apostol
dode - oh thats so cute one i hope every one injoy by it thanks all - November 1, 2004 by khaled omran
another shape pleaase - if u could posibly make a similar skin but in the shape of a rotory engine triangle it would be posibly the best skin! - October 30, 2004 by kevin scheibe
freeform - Not too pretty. In fact, there have been many "freeform" skins @ WINAMP. They were incedible. Perhaps Wimamp staff has a record of them somewhere. They were fantastically coulourful, many with themes. Art. JJ - October 30, 2004 by Joan Janzen
I like it a lot! - I really like this skin, but I prefer to use the winshade mode. The fade-in notifier is really cool! - October 12, 2004 by Tim Williamson
Awesome - This is probley the sweetest skin I have ever used 5 stars buddy keep them coming!!!! - October 12, 2004 by Sean Mauze
Really Cool - Good job! - September 22, 2004 by 5566 Marquez
ll - ll - September 15, 2004 by l m
Pretty Blue Face - I like this skin enough to keep it, a lot of fresh effects and it's pretty... And I love the rotating strip around the volume button, the 'rotor' could be more speed-sensitive, maybe contort a bit in time to the rhythm of the music? At the end of the day, while I do like this one, it also manages to be boring, and bulky, and won't see that much use. - September 6, 2004 by LionHeart Khanna
Very Nice - I really like the way this one is set up. Enough blinking lights to keep me happy, not so much as to distract me. The little pop-up covers for the 'close window' buttons is also pretty smooth. - September 5, 2004 by Chris Flora
Koolness - I like it...kinda confusing on how to use it at first but then after you learn what each button is its all good. - September 4, 2004 by Katie Yankee
OoOoOoh!!! Very nice! - Cool skin dude! Nice aditional window for the rotor. Innovation is the key for success?? - September 3, 2004 by Rolando Garza
agree with the first person - i listened to the first person telling me not to read the reviews and so i did and its awesome. and by the way if your reading this GET THIS SKIN NOW ! dont read anymore just get it. - August 23, 2004 by psycho _maniac
cool! - i think that this skin is pretty bad ass. the edges are a little...well...edgy. i like how the buttons reveal themselves on mouse hover. thumbs up. - August 17, 2004 by Jordan M
woot - so i don't normally (if ever) review skins, but i have to say that this has been and still is my favorite skin of all time... big props to jones and wally for resurrecting boxor from prototype purgatory! - August 13, 2004 by Saens
Nice but unpractical - Nice but unpractical - August 12, 2004 by PontusS SarsP
staff???????? - btw, @staff: why didn't at least THIS skin get 5 stars in "Originalty"???? as the description says, this is one of the first, if not THE first freeform skins, what could be more original as this,where nothing else is around to give you inspiration??? - August 12, 2004 by i rontz
weeeeehaaaa!! - yay! finally it's back! great! :) - August 11, 2004 by i rontz
Another Excellent Oldie from Nullsoft - This one is pretty weird, but it is an excellent freeform skin. The rotor is certainly a unique addition, but it is rather cool. The brushed metallic surface (with cracks) and blue LCDs give this one a stylized, yet also old/beat-up feel. The winshade is excellent, including all necessary buttons. This also features the new notifications with the album cover display (like on K-Jofol), another great addition. Overall, boxOr is another excellent addition to the Winamp skin library, especially if you are looking for something a little different, but still completely functional. - July 30, 2004 by toejam 07