>
Skins

>
Computer/OS
BlueCurve Winamp
Featured Skin, May 15, 2003.
To match the XMMS Skin. Fully done for Winamp 2.9x
Download skin
| | | |
| --- | --- | --- |
| May 15, 2003 by Paul Hanson | 49606 downloads | |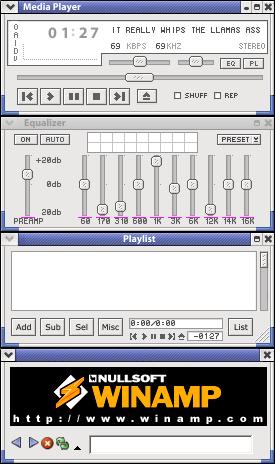 Staff review
Approved.
Thank you for your submission.
Comments
Great Skin - Great Skin. really looks like red hat. - February 28, 2006 by Brian Krische
God job! - My default skin :-) Thanks - October 21, 2005 by Peter Polonkai
The Best - It's such a simple yet sophisticated skin. This is one of the 3 that I will only have in my skin directory. Best skins are: SpyampY2K NucleoLog V102 - w/ out the add and of course...BlueCurve Winamp. If you need good, clean, skins that go w/ anything...choose these 3 skins. Work w/ almost all of my wallpaper. Richard - September 9, 2004 by Richard Sparacin
Excellent! - Wow, it's the best skin I ever seen! It's clean and beautiful. Hey Paul, you could make more color schemes for Bluecurve, it'd be very nice! - July 12, 2003 by Jefferson Niitsu
like it very much - one of my favourite skins, looks fresh and is easy to handle - July 7, 2003 by Norman Bruderhofer
Beautiful! 5 Stars! - Stylish and simple, just like it should be. Good job! - May 30, 2003 by Ken Price
lil-jay55 gave it - it is the THE BEST! - May 28, 2003 by lil-jay55 streeter
The perfect skin - Very simple and to the point. I have been using Winamp since the start and this is the only skin I ever felt compelled to use. Great work. - May 28, 2003 by chris dwell
BlueCurve Winamp is so pretty - my favorite today with Hater. - May 24, 2003 by daren jazz
Nice - Simple, yet elegant. - May 23, 2003 by Tabrays Nawab
Yuck - It sucks i tink - May 23, 2003 by Daan Janssen
damn!!! - WOW MAN.. NICE WORK!!!!!!! first time i see something ported from linux to windoze,,,,, nice job and good idea!!!!!!!!! i luv that skin, it comes with red hat linux gj gj gj gj!!!!! - May 19, 2003 by HyperioN OrFeO
BlueCurve Winamp + DFX Skin - very nice :p looking cool together with the blue curve dfx skin :) thanks for making such a nice skin ! - May 18, 2003 by tom souverein
and toto too!! - Great looking skin! One of my favorites, super easy to read and use. Looks killer on XP!!!! simple, clean, fun, and practical... I may never change my skin again! - May 17, 2003 by Zachary Barr
Well done - Really smooth design, good work. It looks slightly less interesting when minimised, though. - May 17, 2003 by Bjorn Verryt
Nice - Yep...really good...the colours integrate well and its very usable as well..nice buttons too :) - May 16, 2003 by uNi .
I like this one. - ...its very clear and readable. - May 11, 2003 by Win Pimp