>
Skins

>
Entertainment
blink182 feeling this
A skin for a great band!
A skin for a great band!
This skin is based on the "Smiley" from Blinks's new album for Nov 2003.It has winshade/normal modes with a lot of animations, a custom vis, many color themes.Updated Oct 27: Added crossfade, shuffle, and repeat buttons. I tweaked the color themes so that they act correctly in winshade mode. I also added the custom vis to winshade mode.
Download skin
| | | |
| --- | --- | --- |
| October 27, 2003 by Clickmatch Inc | 291164 downloads | |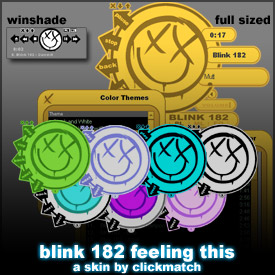 Staff review
Happyness = Winamp,
And a skin like this. Includes equalizer, studio components and a permanent smile.
Comments
:D - Even though I'm not a fan or doesn't listen much to blink 182... I LOVE THIS! I've been looking for a skin that have something to do with smiley faces? I wish people would make more skins that includes smiley faces, you know how the buttons can be different emotion of a smiley face. Sorry if you don't know what I'm talking about. I'm happy with this skin for now. (: - January 16, 2008 by Amy Guan
Really, really great work !!! - Damn I love this skin and I love Blink-182^^ I´ll use this skin for the rest of my life ;) thanks man - September 30, 2006 by x x
simple & cool - this skin is simple and very cool u have alot of colors and u can make u feel better .. !! - August 30, 2006 by JaiRo EvaN
Hell was released b4 it do - Hope blink still lives in our hearts and souls...ROCKERZ RULZ!! This skin rockS!\m/ - February 25, 2006 by Edmund Gilbert
I'm Feelin This!!! - Fate fell short this time your smile fades in the summer, place your hand in mine, i'll leave when i wanna!! SICK SKIN!! - October 12, 2005 by Fatima Miah
I like it - I like it but its not downloading right. Its not downloading with a program to open with and window media player doesnt recognize it. I have a fairly new computer (less than 6 months) so i dont think its anything wrong with that..I really like this skin so if anyone can help me, please IM me at dem0litionXlovrs or email me at [email protected] Thanks - October 2, 2005 by Pam Pam
i love it! BUT IT DOSEN`T WORK!!! WHY? :((( - can u help me? :( - July 17, 2005 by dread_dee hehee
perfect - absoulty wonderful, who doesnt like blink182 and who wouldnt love this skin. its not to much not too little...just right! onelove - February 12, 2005 by mari posa
Fantastic and Original! - This is a skin which has been thought over before executed. The result? A harmonic compisition of colour, smoothness, shape and form, much the same to that of Blink-182's music itself! For any Blink fan that uses Winamp has not downloaded this skin, WHERE HAVE YOU BEEN! Don't like Blink? Download it anyway, it looks amazing. - December 6, 2004 by James Preston
YEAAAAAAAAA - awesome skin, very original, and awwww i love the blink smiley! YAY blink! everyone download blink!! tom and me r getting married one day... - November 28, 2004 by Kelly Delonge
nice - pritty cool the only think i think is missing is the original cover colours and the blink 182 would look good if you took it off the cover.anyway my thoughts.still you gotta love that face!!!! - February 20, 2004 by Brittany Wright
whooooooooooo hoooooooo!! - Go blink. Yea, I swear I'm not a fan.. - December 15, 2003 by michael baggley
Fantastic! - Simple! Even if you're not a blink fan, you can't deny how gorgeously simple this skin is! It is great to leave on and not just another try at the cyber-hyper-realistic-futuristic skins that seem to plaque all the creative minds out there! Smashing work! It's viewtiful! ;) - November 27, 2003 by Elonic Talreveu
??? - why cant i download this? i click on download, but the skin remains to what i had before, not the new one. - November 17, 2003 by Mark Blethen
poor - dont give add for the name shake - October 29, 2003 by matt hilferty
I must say - This is a must!!! Uber COOL, shiznit and all that!!! - October 28, 2003 by Nachiappan Veerappan
Nice work - Looks nice, but a bit incomplete =) - October 26, 2003 by QuadHeliX Barber
what's my age again? - 5 stars! w00t! - October 26, 2003 by Krzysiek Dryja
Hmmmm... - I dont't watch it yet but it look nice =) - October 26, 2003 by hammer head