>
Skins

>
Stylish
Bionica v2 classic green
Featured Skin, November 6, 2003.
green! very green! greeeeen! this is a color mod of Bionica v2 (http://classic.winamp.com/components/detail.jhtml?componentId=134364) with the color scheme from Bionica v1. I hope you like, enjoy.
Download skin
| | | |
| --- | --- | --- |
| November 6, 2003 by 883 [breed] | 149041 downloads | |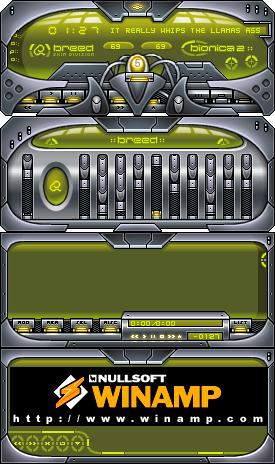 Staff review
It is still a very nice skin,
But I really like the color scheme in the other one, so much better.
Comments
One of the best. - I have used this skin off and on since its release. - September 5, 2005 by Robert Norton
Awesome! - This is very nicely done :) It goes very nicely while listening to death metal hehe - February 11, 2005 by LuAnn McMurry
PHAT!!! - This is the most phat skin i have seen i like how 3d it looks. Welldone! - December 27, 2004 by Jarred Rudolph
so so good - Most insane wa 2.x skin I've ever seen. - March 24, 2004 by Taber Buhl
phat1 - Great skin, you've done it this time man. - December 16, 2003 by Henrik Asenklint
great skin - very creative and the colors are nice . - December 15, 2003 by nikkie c
Rzecz dobra bardzo, wielce... - Co? rzec mo?na? Bardzo dobry skin, ale czy nie podlatuje lekko dresem? - December 15, 2003 by Meeqoo Bro
Very Nice - I like this a lot. Haven't used much besides my skin "The Silence". I really like green of course, and this suits the craving. Great job! - December 14, 2003 by The Silence .
Yah!!! - This thing is cool. Love it! - December 13, 2003 by Oleg Snegov
smooth player - like a butterly - December 10, 2003 by anupam jain
good - congratualtions - November 28, 2003 by hamdy nabil
HELP ME ! ! ! - Have you got 'nothing of emptiness' skin, if you have, please mail it to me! [email protected] - November 28, 2003 by altair4444 .
good - but not as the original.The skull in the equalizer was really cool,but it is still good skin - November 26, 2003 by iliya slavchev
Whips the llama's ass! - Rules! Very good m8!!! - November 24, 2003 by Lukasz Marciniak
Tada. - :) - November 24, 2003 by lionel hirard
Green Is Not Your Enemy - It's true. Green is not your enemy. I guess I feel that way because I'm an Irish descendant. Green has been my favourite color since I was a kid. Nothing ever looked good to me without the color green. In fact, this skin looks better than that Simon kid in our Oral Communications class. There's this girl in our class, and he's always talking about her behind her back. Hell. He doesn't even know her. He's probably been listening to that Bosnian guy Admir........or however you say is name. Anyway, that Bosnian's been talking behind her back to just about everybody. Now that he's been talking to Simon, Simon's stupid enough to believe him. I hear every word he says about her. Mostly about how she looks. Who gives a shit! I don't have a problem with it and neither does the rest of the world, so Simon & Admir should stop trying to get the rest of the world involved with their hatred against this girl. If they hate her that's their damn problem. That Admir guy already ran his mouth to this other Bosnian guy in our Accounting II class. The one with the blonde hair. I bet the reason they never turned in their homework in that class was because they were too busy worrying about her. Man...I tell ya..Simon, Admir, and that blonde haired Bosnian guy don't even know this girl. These guys think they know all there is to know about the ones that they hate. Like she always said "Don't Judge A Book By It's Cover.....Especially If You Haven't Read It." That's my word of advice to them. This girl has done nothing to them. Not a damn thing. She's just going to school to get her Associate's Degree in Computer Information Science and has a G.P.A. that's above a 3.0. The last thing she needs is for people like them to stand in her way like a bunch of fucking obstacles and try to take that away from her. Those guys.....especially Simon...got a lot of issues. And I mean A HELL OF A LOT. I speak for all of us when I say.....THEY ARE AN EMBARASSMENT TO ALL MEN!!!! To tell you the truth...I think they sleep with each other. Anyway, good job on the skin. - November 14, 2003 by c/o '04
What a beautiful design! - I've downloaded tons of skins, but this is the first time I actually registered with this site - just so I could give this skin kudos. Well done! - November 13, 2003 by John Edwards
whoa - thanks for the feature! - November 13, 2003 by 883 [breed]
Cool Skin - Very nice skin. Very sharp and detailed graphics. I like it. I actually like it better than the other one but that's because I like the silver border better than orange or whatever color it was you used on the other one. If you like making skins you should use this one as a template (keeping the steel-colored border) and just change the color of the screen part (the part that's green in this one). - November 11, 2003 by larry .
Como siempre... - Excelente! Me deja sin palabras! Quiero mas de estos! - November 8, 2003 by Veronica Mogni
I?eeieuii!!! - Aecaei ioee?iue, ii oy??eiaaoi ?eoa?o?y eiiiee. A oae - eea??ii!!! - November 8, 2003 by Salamander ...
very very nice skin! - maybe a little depressing colors (little contrast) but overal very nice!! - November 8, 2003 by Lenx ( (L )
Congrats for the feat. - Keep up the good work my friend. - November 8, 2003 by Andreas Nilsson
Nice colors - Hightech, beautiful style. Just like the previous version... - November 7, 2003 by Imre Benedek
That's good! - This skin is beauty :D, perfect for me... How it looks in blue?? Better? No, I don't think so... tschuss. - October 31, 2003 by Daniel K
Awesome - I'm giving this skin 2000+ stars.. what the heck, all of the stars you can count on the sky is all yours.. Nice Job.. I just can't stop playing around with this skin.. and it's all on v2.91.. ahhh... Very nice, hey, do you have this on navy blue? Man.. I dig your skin.. Got any more? - October 31, 2003 by Azdhy Lolo