>
Skins

>
Entertainment
Batman Begins
The Dark Knight Returns!
The Dark Knight Returns!
The Batman Winamp 5.09 skin explores the early legend and the Dark Knight's emergence as a force for good in Gotham. In the wake of his parents' murder, disillusioned industrial heir Bruce Wayne (Christian Bale) travels the world seeking the means to fight injustice and turn fear against those who prey on the fearful. He returns to Gotham and unveils his alter-ego: Batman, a masked crusader who uses his strength, intellect and an array of high tech deceptions to fight the sinister forces that threaten the city. Download it now.

Be sure to check this epic film in Theatres June 15th!
Download skin
| | | |
| --- | --- | --- |
| May 17, 2005 by Batman Begins | 1266708 downloads | |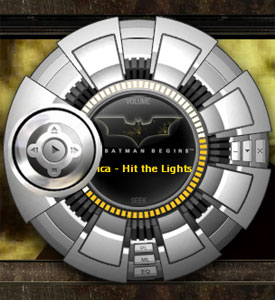 Staff review
Not quite 'Year One' but looking just as good!
With 'Memento' famed Christopher Nolan at the helm this is sure to revive an ailing bat-franchise!

While you're waiting, be sure to download this utility-belt worthy skin!
Comments
Wonder how many Bat-ruffies the staff got slipped? - The main skin is ok, there are better skins that really have a more "Batman" feel to them, but the rest of the skin is horrible. Too dark to see. No outlines on the fields in Media Library, so you can't find the space to type searches without some click-and-guess. No variant color themes. This thing would stick out like a sore-thumb in the Batmobile dashboard! - March 19, 2006 by Michael Blank
batman - bat - March 10, 2006 by robin smedsrud
co0Lish - diz batman skin is totally co0L! i luff it! - December 21, 2005 by faye aini
An instant favorite... - Great skin for a fantastic film. Now if we could just get a Justice League Unlimited skin... - August 8, 2005 by Caped Crusader
By the Bat-freak - Absolutely my dream come true!!!!! but...................considering the official website, the skins not exactly upto the mark. Why dont u consider souping up a little bit......like make it kinda interactive and have some optional skin settings. and the upper-left-hand corner of the playlist window has a pinkish tinge...u might wanna take care of that. otherwise id like to say.............kudos and keep it up. of course, theres always room for improvement!!! - July 3, 2005 by bran dmello
The Best - Its the BEst!!!!!!!!!!!!! - June 28, 2005 by Hasya Shah
craig - how the hell do you install this? i cant do it!! - June 27, 2005 by Craig Martin
hi - im so vry intersting of this skin of batman......thanks.. - June 21, 2005 by carlyn cuado
the best - great - June 19, 2005 by Tony Lipstok
Very Good. - In a whole; the skin is very modern. For BatMan fans you want to have this one. here's my notices: 1- I liked the navigation buttons a lot but the rest of the skin is not as good as it is. 2- If the volume colors were reversed it would have been better. 3- It would have been better if the EQ came in external window. (Keep Us The Good Work!) - June 17, 2005 by Edward Blacksmith
Muito bom - lindo - June 16, 2005 by Jairo Gerber
KOOL - I am psyched for this movie! - June 7, 2005 by Bobby Field
amazing - this and YIF are tha very best skins - June 4, 2005 by Mller Newman
Crap is Ads - This skin, YIF and TND Winamp5 Skin all have the same stupid ad. Anything with Unwanted ads gets nothing for forcing something on the ppl - June 4, 2005 by keltic jp
extreme - just cool,cool and more cool.its perfect. - June 3, 2005 by Vidhyatharan Kumaravelu
Enjoy - Team Nullsoft - May 31, 2005 by 2hmed elgamal
Clean, easy to read and use - Excellent skin. Only minor complaints about the volume control lights and peak lights. But it's easy to read and use. The shademode is very good--easy to read and use--unlike some of the others which require scaling to twice the size to figure out the controls. As for the batman logo--it's hardly noticeable, which is fine with me. Long after the movie is gone, this skin will survive. Nicely done. - May 30, 2005 by Gary Higashi
decent skin - but if there wasn't a bat logo on the display nobody would believe that this is a sponsored skin. This is way to shiny and clean for the batman franchise. - May 27, 2005 by 883 [breed]
Eh - The volume "fill" seems to be reversed between the shade and normal modes, one fills with yellow, the other fills with white? The playback control area looks rendered but the rest... does not. I don't get a "Batman" vibe from this at all, other than the logo slapped on the display. - May 18, 2005 by Pete Clark
-Na na na na na Batman - I like the Bat Belt idea. Very coolio. I am so flippin' excited for this movie. How about puting the trailer inside next time?? - May 18, 2005 by Bobby Field