>
Skins

>
Entertainment
Austin Powers Goldmember Skin
Austin Powers in Goldmember
Austin Powers in Goldmember
Now in theaters!
Download skin
| | | |
| --- | --- | --- |
| August 19, 2002 by New Line Cinema | 684041 downloads | |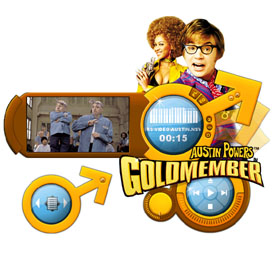 Staff review
Austin Powers in Goldmember
Now in theaters!
Comments
oh behave !!! - nice pictures...and thats all pittyly - August 14, 2003 by arvi m�ndoja
A Little Big - Nice design but that male symbol on the left could have been closer. - April 1, 2003 by Reilley Adamson
como si te pegaran mierda en los ojos - nothing else to say - February 22, 2003 by Marck Hansen
SHUT IT TOSSER! - THE LAST PRAT WHO KNOCKED THIS, IS A COMPLETE TWAT, THE BEST THING SINCE SLICED BREAD! YOU NEED TO TAKE A CHILL PILL KNOB. - January 26, 2003 by danny jones
COOOOLLLLLLL!!!!! - very cool year bl?r' gewesen - December 13, 2002 by Martin Jensen
IN THE WORDS OF THAT CULKIN KID FROM HOME ALONE - "I RATHER LICK A WET TOILET SEAT..." - December 6, 2002 by jon parker
SIZE is BIG - Good skin but the size is really mattering here but good effort. well donw - November 29, 2002 by mirza aziz
No Title - Tell me something about how to open your .wal-files - November 26, 2002 by Jorgolf Haitler
shagadelic - Yeah Baby Good one - October 30, 2002 by Nicholas Akerley
great skin - paul you are an ass the movie doesn't suck but you do! And this skin is great it isn't hard to handle or small. - October 26, 2002 by badclark the-bad-boy-family
Groovy Baby! - This skin is swingin' baby! - October 21, 2002 by Matt Garforth
PERFECT Skin - Man this has to be the best skin i have seen! i love it how you added the movie trailer to it and the equiliser is incorporated into the glass bubble thing instead of a seperate window. its sick. i love it!!! If you havent got this skin peeps, DOWNLOAD IT NOW!!! - October 10, 2002 by Steph Everett
Its a little - big, in size (file) but a nice skin. The movie wasnt as good as the first 2. - September 30, 2002 by Lee Roy
Five Star Press!! - I give it a five because Austin Powers: Goldmember rocks!!! - September 12, 2002 by Joshua Drennon
Very good movie and a very good Skin - This is about the best skin i have ever seen....... Just so you know.... - September 11, 2002 by Oddbj?rn Skjong
GREAT!!!!!!!!!! - This skin is absolutely great, I just love it!!! - September 11, 2002 by Bj?rnar Vister Hansen
yeah, um, see.... - while "cool" at its release, the "coolness" of this theme (and anything Goldmember anywhere!) has become stale and UNinteresting. while the construction of the skin was well-done, nice effort, etc, the theme is dated to a movie that was, itself, a played-out idea the third movie came off ok, but no more skins from this movie, please. if you have enough talent to make a skin, at least make one worth while. remember: for something to be classic, it cannot be based on current trend or style. it is something constructed originally and independatly of everything else. it also has to be good, though. otherwise its just weird crap... use your imagination at least a little more! -a - September 7, 2002 by nyc boi
AUSTIN POWERS - I AM WEIRD: I HAVENT TRYED THIS SKIN BUT DOWNLOAD IT! IT LOOKS GOOD! - September 6, 2002 by Chris Toogood
vaya una mierda - Austin Powers is one of the worst movies ever made, is really sad. This skin is not much better. Bad movie+bad skin= piece of shit - September 5, 2002 by Daniel Iglesias
Austin Powers - Well, its Goldmember alright! This is an awesome skin. - September 3, 2002 by Johnny Douhhget
Ergh! 2.0 - Oh, one more thing. The term, "Goldmember Skin" dosn't evoke positive mental imagery when compared to movie events. *grins* Cheers folks. - August 30, 2002 by Erik Bordenkircher
are you dumb? - keep working, i`ve seen bad skins... but this... this one really sucks . - August 28, 2002 by william prino
"Oh behave.....!" - This is MY type of skin!!!!!!!!!!1 - August 28, 2002 by Per Holth
I love Austin Powers - I was glad to get an Austin Powers skin for the new winamp,but It could be better, oh well. I hope there will be more and groovier Austin Powers skins to come. - August 25, 2002 by Kathy Stewart
um - not my type of skin AT ALL, but yeh its good. - August 24, 2002 by heart attack
"Yeah, baby, YEAH!" - The movie rocked, and the skin's fun. - August 21, 2002 by Reed P.
Boo.. - This skin have a great look! But things like the link to austinpowers.com when you click on Goldmember and the bundled preview just make it suck.. - August 19, 2002 by Jeremie Pelletier
mmmmmmmmmmmmm - yea baby!!!! gdgdgd skin its cool - August 17, 2002 by paul muscat
grrrrrrrrrrreat! - Aij chiahuahua! I like it! - August 13, 2002 by Ida Lundgren Hovde
luv it - oh behave! - August 13, 2002 by edward marcel
Dang - Bionce is sooooooooooooooooooo hottttttt - August 12, 2002 by Jhonatan Castillo
Shagtastic baby! - This skin is one sexy beast, yeah baby yeah! Very shagadelic and tres chic. - August 12, 2002 by Javed Mohammed
Well cool - It's well cool. The best skin for Winamp 3 so far. - August 12, 2002 by Gordon Valentine
Very Shagadelic Baby!!! - Oh behave! This skin is EVERYTHING an Austin Powers fan could want in a Winamp Skin and is very Shagadelic! - Cyb3rd00d - August 11, 2002 by Cyb3r d00d
yumm - This looks like a really sweet skin - August 10, 2002 by Zlatko Kreso
Decent - i think austin powers is the sh*@ but i just don't think the skin adds up to the movie i really enjoyed the movie and the skin makes it look like crap big and smelly just like fat bastards ROFL ne-ways whoever did the skin can come up with somthin better PeAcE OuT - Acid - August 10, 2002 by Shaun Floeter
all right - dis skin be all right for movie goerz like myself - August 10, 2002 by Raca4rmDa209 209Raca
Official Austin Powers 3 Skin - This skin rox! It's cool! - August 10, 2002 by Joline Hebert