>
Skins

>
Consumption
Artzar
Featured Skin, November 6, 2003.
The official skin of Artzar.com. A showcase of our best visual art with a slideshow of 30 images taken from 16 different galleries. Components are fully skinned, and feature graphics adopted from the landscape paintings of Barbra Fuoco. Controls and titles hide when your mouse is elsewhere to create a clean look (can be disabled to improve performance). Enjoy a random progression of images, or choose your favorite by right clicking in the slideshow area. Configure the control hiding and slideshow options by pressing the icon below the playback buttons. Double click on an image to launch the Artzar gallery from which it was taken. Want to turn up a good song or turn down a loud file? Right click on the volume slider to change the level for just the current song. If you want a Winamp experience that looks as appealing and artistic as your music sounds, then download this skin.
Download skin
| | | |
| --- | --- | --- |
| November 6, 2003 by Mike McCaffrey | 155336 downloads | |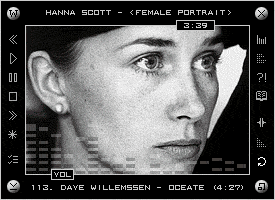 Staff review
Turn your Winamp into an art gallery.
Unique concept nicely executed.
Comments
Jazz műfajhoz a legjobb! - Hell?! Nekem nagyon bej?tt ez a design. Egyszerű ?s sz?p. Aj?nlom mindenkinek! Ami?ta ez meg van, egyszer sem haszn?ltam m?sik skin-t. - June 16, 2006 by donee Mr
Great! - This one is just perfect. It's fine, it's beautiful, and it's arty! :) You've put those buttons around the main window in a great way, and the main window and playlist fit each other perfectly. I like those switching pictures btw :) Great job! - November 13, 2004 by Allah Akbar
Most attractive & practical! - I have to say, I've seen a lot of skins, and this is definitely the nicest one in looks. You can lock your favorite picture out of the many that they offer, my favorite is "Purple Flower" by Tim Zorn, and the player itself is very well designed with a very attractive interface. The position bar scrolls across the screen while displaying the time, the buttons fade out when you take the mouse off, the text is legible and clear, I could go on, but just download this and see for yourself! - May 17, 2004 by Christian Montoya
My Favorite! - I have been faithful to Winamp for years now and have gone through a hundred skins.. but this is my absolute favorite ever.. I love everything about it.. - February 3, 2004 by Jamie T
A+ Skin - Very classy ski. The pics that are included are quality, and adding your own images it's terribly hard. I really like the great layout and roll-over mouse effect. Great SKin, I'm going to stick with it for a long, long time. - December 16, 2003 by Margaret Havey
Downright Amazing - The pictures and added features are great. I especially love the mouse-over effects and the time bar. The only thing I'd like to see is the option to put in my own pictures. - December 15, 2003 by John Harag
Good skin - This is a good skin...not my type, but definitely good work. I just wish someone would make one just like this where i could put in my own pictures easily...i'd love that. There's that media whore one, but good grief, i have to be a computer programmer to do that crap. Plus, it's a circle which ain't so great really for pictures. Anyway, yeah, good job on this...not my type of skin really, but definitely a skin to be proud of. - December 6, 2003 by Kyle Taylor
Marvelous - Absolutely the best thing I've seen around. Quite elegant, functional, full-featured. Give it a definitive try, you'll will not leave it for anything else! - December 1, 2003 by Tomek Maciag
GREAT! - wow i think this is a great skin especially if ure into the arts. LOVE IT i'd give it 10 stars if i could! - November 21, 2003 by Chris Ivester
Innovative - Very cool skin! It's simple, but very well done and enough original features to shake a stick at. Good job! - November 14, 2003 by Pete Clark
???????? - ok but needs pictures of your girl friend - November 11, 2003 by Kenneth Combs
Nice, too nice =) - This has got to be the nicest skin ever made on earth - wow. Lots of details laid into the work and some brand new functions....But there's a but! - I have been watching my cpu now for the last minutes, and it runs quite high unfortunately. I have a 1700P4, 512DDR and 128Geforce4 FX card - But though I have all this it still goes from at least 30% up to an 84% - and it fluctures very much, changing 2-3times per second..... But I'll try to keep running this since it's soo nice! - November 9, 2003 by chris just
Adding Images - Due to technical constraints with the Winamp skinning environment, it was impossible to include a "Add Your Own Image" function to the skin, so please don't hold that against us. I have created a document with step by step instructions for modifying the skin to use your own images. See the skin documentation at http://www.artzar.com/winamp3/1-0/index.html for details. Feel free to redistribute the skin with your own art in the slideshow and windows, as long as you follow the guidelines on the customization page. - November 8, 2003 by Mike McCaffrey
Great stuff. - Absolutely excellent. I like compact skins but this one has made me rearrange my desktop. Only needs 1 thing: Ability to load personal pics. The ones provided are going to get stale sooner or later - even if they are v good. Great work. - November 8, 2003 by Mark Payne
Neato - The "Song Volume Mode" that you access by right clicking on the volume is great! It sure works well to prevent the volume creep that you usually get when you keep turning up good songs and then forgetting to turn the volume back down. Other skins should incorperate this feature! I think that showing the Artzar logo every time the controls fade is a bit pretentious and self-promoting, but luckily that can be turned off in the options menu. Besides, Artzar doesn't seem like they are a for-profit organization or trying to sell anything, so I guess it is okay for them to toot their own horns a bit... - November 3, 2003 by Joe Hill
Rexoid - Ok I'm 4th download..this is new, and I like it. An improvement would be a mechanism for adding images to the slide sequence, and detail readme on instructions, size, format of same, etc. A bit more "art work" in the mouseover visible controls would also help. Color Change Options for the Black borders and bevels? Illustrates the flexibility of Winamp3 very well. Like options..and full song title left up in frame is a good one. - November 1, 2003 by Rex McTyeire
nice - all the stuff i said in the forums still pretty much goes :) good job, i like just chillin and lookin at the art. cya - November 1, 2003 by Dan Wenner