>
Skins

>
Entertainment
American Rag
Featured Skin, August 21, 2003.
Fiercely Original Clothes. The American Rag Winamp 3 skin brings fashion and music to the forefront. Style and music have always gone hand in hand. This skin gives you access to cool information about the Lollapaloosa tour with bands like Incubus, Jane's Addiction, Queens of the Stone Age and many more! Check out this skin and enjoy American Rag and Lollapalooza all summer long!
Download skin
| | | |
| --- | --- | --- |
| August 21, 2003 by American Rag Lollapalooza | 85087 downloads | |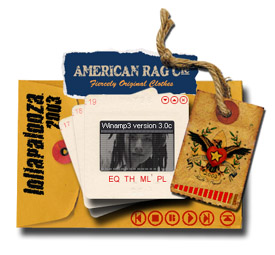 Staff review
Get all gussied up for Lollapaloosa.
Clothing, Concerts, Media Players...all go hand in hand right? Use this skin and get info about this Summer's Lollapaloosa tour.
Comments
Incredible!! - I totaly love this skin!! it's one of favourites, I completely adore it!!!! - April 29, 2008 by Nicky Rosberg
Excellent! - I love this skin so much. Look good with/out alpha blending. It's so unique and artistic yet clean and tidy. The full window is perfectly design but the shade window (the smaller version) is what I love most. Cute, small, yet informative without much unnecessary stuffs. 5 stars for you. Highly recommended for people who know what is art. - October 6, 2003 by Kevin Kee
or or or or - iginality...... WOW. this is so original and messed up. Hmm. I do not like th fact that some un known group is the "topic" but yeah. Ish nice. o_o - September 10, 2003 by Vuk D-P
Joey and Ana on Crack - Okay... Audioslave... Incubus... A Perfect Circle... Jurassic 5... The Donnas... Which of these bands (and then some) are boy bands?!?!?! Pretty cool skin too. - August 8, 2003 by Kevin Norris
awesome - I love the way it looks and everything about. - July 25, 2003 by ashley keenly