>
Skins

>
Cool Devices
Airtel
Song Catcher
Now set your desktop alive with Airtel Song Catcher Winamp Skin.
Is your favorite song playing somewhere around you? Now setting it up as your Hello Tune is easy. So what are you waiting for? Now make your friends jive to your favorite numbers whenever they call you. Surprise your callers by changing your tunes to suit your moods. Nothing sounds better than the company of friends and good music. What better companion than Airtel Song Catcher Winamp skin on your desktop while listening to your favorite music. So go ahead have loads of fun with Airtel Song Catcher.
Download skin
| | | |
| --- | --- | --- |
| June 14, 2010 by Song Catcher | 3959632 downloads | |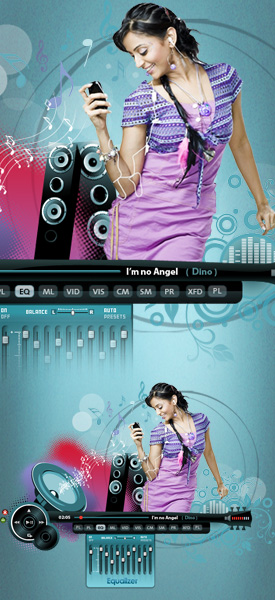 Staff review
This Winamp skin is a great catch!
Beautifully crafted it's a treat for the desktop. Users will like the color and vibrancy of the Winamp skin.
Comments
cool! - March 30, 2011 by tommyjr700
pretty woman! - March 24, 2011 by Tommy
µL¥i¤ñ - March 24, 2011 by 蘇孟煌
aaa - February 23, 2011 by gatao maringa
nice - January 23, 2011 by [email protected]
nice - January 17, 2011 by tweety
sdfgsdfg - January 9, 2011 by Демис Коноплёв
Great. - December 17, 2010 by [email protected]
bad skin.... - December 11, 2010 by spongshga
gdg - November 18, 2010 by [email protected]
More spam - October 31, 2010 by [email protected]
Spam-skin - October 18, 2010 by Michael Ludwig
great - September 16, 2010 by [email protected]
ggzzfr - September 10, 2010 by [email protected]
very charming - August 10, 2010 by rajesh kumar
[email protected] - it`s a new style -VERY GOOD!! - July 28, 2010 by [email protected]
cool but i cant instal that - July 22, 2010 by [email protected]
Very Good - July 20, 2010 by [email protected]
cute :) - July 17, 2010 by [email protected]
fantastic - July 16, 2010 by HADI Ahmadi
Most unusual and beautiful. I love it! - July 5, 2010 by Nani St
Very interesting skin....gives my desktop a cool look when I play it...made by a Pro for sure.Airtel rocks! - June 30, 2010 by devvig
nice ! - June 21, 2010 by sudhindra aithal