>
Skins

>
Cool Devices
Airtel
Hello Tunes
Wish your song out aloud to Saif and Bebo and listen to your favorite tunes!
Get set to jam and groove in with Bebo, Saif and Airtel. But, before you embark to paint the town red, start at home by dazzling up your desktop with the colour of love. Whether it is romance or rock - fun or fusion - jazz or jhakaas, inspiration flows out of this frilly design. Scratch that disc, blast those headphones and wear your best suede shoes. Its time to party at the gloss garden. Just gaana bolo and hello tune pao. It's as simple as that. Lose yourself to the music of your choice and drown in the divine symphony. Who says you can't be your DJ? Spin on!
Download skin
| | | |
| --- | --- | --- |
| February 11, 2009 by prixa p | 475795 downloads | |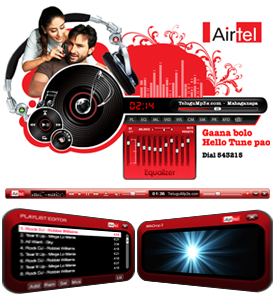 Staff review
big experience
This skin will fill your desktop with the color of love! A big interface with lots of details for your viewing pleasure.
Comments
ok - nice and cool - March 7, 2009 by ragnar bekker
this is more perfect - Thanks to Author - February 24, 2009 by kristo lembu
bebo kills me everytime. - saif and bebo is hottest jodi in this beutifull world. - February 20, 2009 by nitin varun
Marvellous - This is very excellent feature.i really loved it.... - February 14, 2009 by shanmuga priya
Glamour & Glitz - what a different experience, after a long time something like very different has been tried in winamp skin arena. If you are Bollywood fan, Airtel - Hello Tunes skin is the one for sure you should have for your collection. Truely said in the punch line Gaana Bolo Hello Tune Pao. - February 14, 2009 by Preetesh Chouhan
Superb - This is very excellent. I really enjoyed and loved it!!! - February 14, 2009 by Prashant Tatti
Glamorous - Wow!I liked the hottest Bollywood couple on my desktop. Download this skin and get saif bebo grooving on your skin as you listen to your favourite songs. - February 14, 2009 by Chanda Gohrani
Cool and easy - Now when your friends call you , they will no longer have to hear that boring old 'Tring Tring'. Instead, they can groove to the hottest new tracks on the music scene, every time they call you!! - February 13, 2009 by Ashish Saraf