>
Skins

>
Stylish
Act3scene2
Featured Skin, August 15, 2002.
Skin Armory Act3 Scene2.
This skin is created by Raj.I/O and coded by the skinarmory. It is still a prototype, but we would like to give out a sneak preview.
Download skin
| | | |
| --- | --- | --- |
| September 12, 2002 by Naamloos . | 629935 downloads | |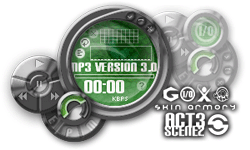 Staff review
One of the more popular Winamp 2 skins makes it's debut for 3
This is a prototype but still really cool. I can't wait to see what Raj will do next.
Comments
THE EVER WATCHFULL EYE - This is one of the best skins i have ever seen when you look at a skin and say to yourself thats somthing i would make if i could you know its gold THE EYE i had this skin for two weeks before i noticed it REALLY REALLY NICE - May 7, 2004 by achmed mandula
hmmm.... - yes its okay, i like the skin very much. its full skinned, and thats what i like 2. many skinners dont care bout the media library and leave it like the normal skin. and whats with the blank readme?!? the volume woks fine, theres no negative volume only thing i hate is the font. its too big but its tolerable. nicely done, plz make color themes - October 5, 2003 by b silver87
Another interesting design - All buttons appear to be present, all windows are skinned. The only downside is that the "small mode" (as they call it) doesn't make it that much smaller. Other than the empty readme, I don't know why they call it a prototype (missing color themes? I like the default one though). - March 14, 2003 by Kilyn .
One of the best skins ever. - I used this with my winamp2 and now it's with my winamp 3 and I love it. It's compact and has nice colors. :) - February 13, 2003 by connor fraser
Im very Impressed - This Skin is really great! Thanx for making it! - January 26, 2003 by Philippe Brousse
i like - Its small enough but not too small, looks great and its all there. this is a sweet skin ladies!download it now! - December 20, 2002 by chris wilkinson
NICE.. - Complete Skin! - December 6, 2002 by grand bkk
Nice! - Everything will be cool if it's a lot bigger. If only I can set the size too like what I can do with the other skins. - October 27, 2002 by Dashken C
....... - Not so good - October 17, 2002 by Rishabh Saraogi
well done - it fits nice and doesnt take up much space. also easy to use, nothing is hard to read. - October 12, 2002 by Core Orange
I love this skin !!! - I just gotta say that I downloaded this skin and I love it .... it looks great ... its compact and can get even smaller !! It works and doesnt give me any problems you thought of everything .. even the color is nice .. !!! Thanks - October 11, 2002 by Tina Wamser
not bad... not bad at all !!!!! - this skin is good but i cant load my old playlists now..... - September 26, 2002 by Martin Vrabec
Can't wait for finsihed - This is one of the best winamp 3 skins out there. Easy to use, not harsh to look at, I just wish they would skin the rest of the windows and maybe change the green to blue. :) - September 26, 2002 by John Johnson
Nice - I, your Lord and master, command you to download this skin. - September 24, 2002 by Jonathon Grooms
I love it - I want ac3scene1 back :( - September 20, 2002 by Adam Cruse
So cute - Man it's so cute and small, easy to use and doesn't disturb you at all! Man i love it! :D - September 14, 2002 by Giacomo Lindgren
Great "corner" piece - I love it, it fits perfectly right by the minimize maximize and close buttons just to the left of them... and it never seems to cover anything important up either. I love what Winamp3 is capable of doing. - September 13, 2002 by Gavin G
Yeah man , THIS ROCKX - That's what I call a perfect skin! Not oversized, all Buttons clear and just greatly coloured! Download it !! You'll hardly use anything else once you've tried it ! - September 10, 2002 by Quer Schlager
Smooooth !!!! - I really don't know how some people give this beauty less than 3 stars, it has great colors, smooth user-intuitive interface ... it's really the best around, can't wait to see a new scene of this act - September 10, 2002 by Andy Rivera
Pretty Nice - I love the colours, but I don't like the size. Way too small for me, I like the bigger skins. - September 9, 2002 by Mark Olaveson
Cool - cool - September 7, 2002 by Dawid P
This is the one! - Nice design, very easy to use, and it fits well on top of almost every app. If I was the one to choose, I would put this design as the default skin for winamp. - September 6, 2002 by lielolilo lielolilo
Are you down with the sickness? - Best skin in existance, and it isn't even done yet. - September 6, 2002 by Jordan Mack
Exellent - I'd say this is the most amazing skin. It was well thought out, and it's easie to use. One other thing i like is the small mode. The colors are well put together for every different one. This is the one of the ones i use most. - September 2, 2002 by Josh M
smooooth! - fits nearly perfect in the right upper edge of the screen, does not cover important buttons of other applications... - September 1, 2002 by flo de
best!! :) - Ok, this was the first skin i tried and its the best one out there. Perfect size and after some trying it's easy to use. Also the colours are great :) gg. - August 31, 2002 by Marijn Freriks
Yep. - Small is good! Volume is a bit sticky. Otherwise it is the best. Orange background would be cooler than the green.... for the next version naamloos. - August 30, 2002 by mean adam
5 STARS - NO explanation!! Nice colour small and wicked design!! :) RULES - August 30, 2002 by Adrian Pandev
Nice one ... - One of the best skins available out there, with easy navigation or u can say easy to use ... - August 30, 2002 by Aditya Widyapratama
Good skin - Very nice skin. A couple of suggestions would be to make the EQ dockable, and to be able to change the background colors. Good size and button placements! - August 29, 2002 by Michael Guthrie
A sweet skin - A sweet skin, but I would have liked the circles to be a bit larger, but else a rather impressive skin, I especially like the little thing with the play button, shifts between play and stop my regards Richard - August 28, 2002 by Richard Kure
Asthetically pleasing - Great skin overall. The only thing missing is a transparency setting. - August 27, 2002 by Aaron Soderholm
Its the bast - The Act3scene2 is bast sikin in this page ! - August 26, 2002 by Lucas Ferraz
sucks - It is too small and has nothing - August 24, 2002 by zach p.
CUTE~~~~~~~! - WOW IT'S SO CUTE~~~!I LOVE THE COLOR~! And all bottons are clear,that's good. - August 24, 2002 by tracy qin
Great Skin - All the buttons are easy to see and easy to get at. Also small enough that it isn't cluttering up my desktop. Everything you could ask for in a skin. - August 24, 2002 by Scott Fulton
Wow, I AM amazed! - This skin's great! The only problem I have with it is that it tends to cut out parts of the file info. But all-in-all, great skin! - August 23, 2002 by Aquatakat the Kat
Ut oh!! - When I downloaded this skin, I got this error: ~~~~~~~~~~~~~~~~~ Internal Server Error The server encountered an internal error or misconfiguration and was unable to complete your request. Please contact the server administrator, [email protected] and inform them of the time the error occurred, and anything you might have done that may have caused the error. More information about this error may be available in the server error log. -------------------------------------------------------------------------------- Apache/1.3.14 Server at localhost Port 80 - August 22, 2002 by James Paul von Helton
great !!!!!!!!!!!! - yeah man ! Act3 Scene1 was already the best skin for winamp3 beta but this one is exactly what i want for my winamp ! thanks a lot just a wish : what s a pity that the song title doesn't appear on the winamp screen, there is just Winamp3 full version and it is a bit annoying - August 21, 2002 by tom daubigny
help Ymdat - y can't change this skins y am download it but skins face don't change please somebody help me? [email protected] (turkce bilen varsa sevinirim) - August 21, 2002 by can bayat
Love at second sight - I love this skin a lot. Its design and the way the text integrates with it is great. The only thing I dont like is how the thinger and equalizer lock in. It looks a LOT better after you dl it then it does in the pic. Definetly the skin I will be using the most. It has beatiful colors to switch to also. Later versions will be very cool! - August 21, 2002 by Austin Roug
Very Nice! - Small and Tight. Very Nice! Love It! Keep up the good work! - August 20, 2002 by Steel Fu
aaaaaaaaaah - this is awesome dude, cant wait for the final version to come out - August 20, 2002 by Smyth Smithers
Just A rating - Form manipulation: 3(stars) contrast: 4 Completeness: 2(Don't mind if I do) Originality 4 Comment: looking from here it's a smal size just the way i'm trying to make my first WA3 skin i can see that you haven't got all the codes worked out keep up the good work though - August 19, 2002 by Scorge Unknown
very nice - I really like this skin. It looks very clean. the gfx's are great, and its just nothing wrong with it. Good Job! - August 19, 2002 by nick fun
Awesome - I think this thing is simply beautiful. The best skin for winamp 3 thus far in my opinion - August 19, 2002 by Joey Wolfe
Raj does it again. - By far the best W3 skin I've seen and use; compact, elegant and a step above. It's not just a winamp skin, it's pure pleasure to the eyes that can make even the worst songs look good. - August 18, 2002 by Zane Green
I like it too - Nice skin - Perfect! - August 18, 2002 by Martin Hooper
Really, REALLY great skin. - I really love this skin, it fits perfectly for my personality. Small, doesn't take that much place so I can have it shown all the time. Buttons are... some are easy to find, others don't. But I have fixed that in my own way, instead of an *Open* button I only rightclick and select open instead, otherwise, pause, play and search is easy to find, the layout on the *screen* with the visulisation, song info and time, it's just.. GREAT, if I could give it 10 stars I would have. But 5 have to be enough, I'm waiting for more skins from the same maker ;P - August 18, 2002 by Marcus Engstrom
Practically Perfect! - Out of all the new W3 skins there are as of now, this one has to be the best of em. Only thing I could even complain about is docking and playlist. But who cares! So compact, so cool looking, so ahhhhh hope they make it even better! - August 18, 2002 by Jeff Dyson
winamp crashed when this skin appled - winamp crashed when this skin appled - August 17, 2002 by Arthur Iwanow
Interesting - I must be of old school, the design was done well overall, I myself look for ease in locating the button features. Though I prefer the more "basic" and easy to see skins, this artist sure did a fine job - August 16, 2002 by phil g
It does go to 100% if you scroll with your mouse ;) - This guy really knows how to put a WickEd design together! loved his "act2finale" skin too. - August 15, 2002 by jack lantern
Awesome. Purely Awesome. - This skin is great, it matches my desktop perfectly and is very easy to use. Winamp was great before, but now Winamp3 and its freeform capabilities make it the ultimate! - August 15, 2002 by David Harrall
sweet - Awesome design, sweet colors, clean interface, nice and small, and great coding! Being able to switch EQ presets on-the-fly without having to hit "load" is a really nice touch...very useful. This skin has it all! I just wish all the compents moved together, without having to hold down the alt key. - August 15, 2002 by Cheeky Boy
small rocks :D - hey man, good skin, compact and clear, but the only thing i really noticed is that you cant move the whole amp at once. - August 14, 2002 by Jaap Klaver
This is my favorite skin from the first 14... - This is my favorite skin from the first 14 skin releases for winamp3, and somehow this is a prototype. Nicely done: small and stylish, yet with access to everthing without the need for even a right-click. There are still a few problems though, like the volume control (it can only get it ti go up to 92%). - August 13, 2002 by Some Guy
Finally!! - I've always hated skins that are too big, too hard to use, or too cryptic. This skin is a breath of fresh air - small, creative, yet has buttons that are easy to see and easy to use. I'm not crazy about the colour, but then colours are low on my list of concerns :) - August 12, 2002 by Jonas Courteau
Nice and compact and stylish - Compact and stylish, just what I need! - August 12, 2002 by Dave Wilkins
"Too Small" My Left One - I don't know about the rest of you guys, but I don't like having a skin that occupies 25% of the visual space on my desktop. Some of us use their computers to do that crazy thing called "work". I like this skin simply BECAUSE it is small, and looks nice to boot. Some notes, though: I've experienced issues with the various color themes that I've seen with a couple other skins too. Most of the color themes, when I switch to them, the top 40 pixels or so are totally screwed up. I'm led to believe that this is WinAmp3's fault (not the skin's), but it's certainly frustrating, since the color themes that do this consistently are the ones I want to use! - August 11, 2002 by Eric Kolb
Smooth. - If this is a prototype... can't wait to see the finished product. This skin is absolutely amazing with it's nice smooth and round look combined with the very nice bold font. I must also say that the color themes are excellent, each has its own appeal. Won't be needing a new skin for a long time. - August 10, 2002 by Tuomas Lecklin
very cool - very cool, but the volume control has some serious issues... I didn't know there was such a thing as negative volume. - August 10, 2002 by Robby Pace
Pretty slick - Nice. Tidy. Out of the way. Woulda gotten 5 stars.. but I hate the font. Aside from the font its done REALLY well.. but just as a personal preference, im not feeling the font. - August 10, 2002 by N J
Sucks - It is too Small - August 10, 2002 by Daniel Gutierrez