>
Plugins

>
General
ystatus
Dsplay your current Winamp song/artist info on your Yahoo Messenger
Dsplay your current Winamp song/artist info on your Yahoo Messenger
This is a simple Winamp plugin that will change your Yahoo Messenger Status to currently playing song automatically. You don't have to change your Y!Messenger status text manually to tell all your friend what you're listening, this plugin will do it for you. You can even change the status text format and add custom message.
Download plugin
| | | |
| --- | --- | --- |
| November 1, 2003 by bambang setiadi | 37539 downloads | |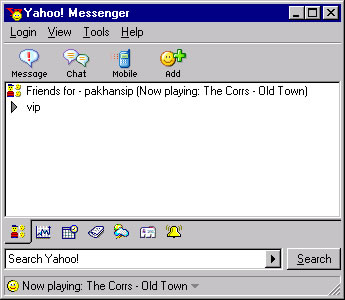 Staff review
Yahoo Messenger status
Fairly straightforward plugin that allows you to display your current Winamp song/artist info on your Yahoo Messenger.
Comments
Yahoo 9.0 - Does not work with Yahoo 9.0 - January 8, 2009 by Joshua Scott
---
Another on that doesn't work with 7.5 - Changes the status every other time but no to the song playing but to a previous status message Messenger 7.5.0.1 beta - November 16, 2006 by John Welch
---
what title...? - It just works! I tried other 2 and this was the third and works. - August 1, 2005 by Marius RAU
---
Pathetic!!!...U need better R&D - Pathetic flaw you left there.....all my present custom status messages were erased....and it changes all 5 custom messages...and rotates them...I know the "secret" you found about the sendmessage 273.....but you need to do some RnD ....well I have found the solution that only first two custom msgs will be affected...and will be replaced as soon as plugin is unloaded..my plugin is almost done...watch out will be posted soon!!! - July 8, 2005 by Sudhanshu Sohoni
---
Crashed on second song. - Crashed on the second song it played, and doesn't clear out your messenger status when you close winamp. - February 6, 2005 by Randall Black
---
Best one yet... - Its not another program like others, its a real plugin that works With Winamp 5.08d/Yahoo 6... I love it!!! - January 29, 2005 by Martin Rudolph
---
One bug... - I have latest (5.08) Winamp, latest (6.0) Yahoo, this works PERFECTLY! Very simple... only bug is that it occasionally puts the status as 'busy,' which annoys my Trillian using friends (it alerts them each time I go busy), but other than that, I love this plugin! - January 18, 2005 by Aaron Kunkel
---
Crashes on latest version of Winamp + Yahoo Messenger - I gave this plugin one star. I have the latest version of Winamp (ver.5.08) and Yahoo Messenger (ver.6) it crashes every once in a while when you're online with YM and Winamp with this plugin enabled. The problem probably appears because this plugin was last updated 2003 and was not updated for the latest versions of Yahoo and Winamp. I'd give this a 5 star rating if it weren't for the crashes. Except for the crashes, this program is great, very simply to use, no author website ads and other unnecessary stuff (5 stars if no crashes). I already contacted the author and he said that he'll email me when its fixed. Right now, I'm using the plugin made by Andre None, it's not that good but gets the job done and there will be an ad telling you to go to the author's site once you've closed Winamp, which sucks. Anyway, I encourage users of this plugin to email the author and tell him of the problem. Here's the author's website URL: http://www.mycgiserver.com/~bambang/ - January 12, 2005 by Heffer Wolfe
---
nice! - i went on and tried all the plugins for yahoo messenger status. this seems to work the best - good job! the only thing is that i already had one personalised 'do not disturb' status in my list on the y!m, and y!status picks this 'do not disturb' in rotation after every 5 songs (which i suppose seems to be the limit). anybody know how to clear the list on y!m? otherwise, it works great. ;-) - September 27, 2004 by ian fisher
---
working with yahoo mess 6.0.0.1671 - well i started using this pulg-in months ago and i had to re format my comp. So i installed the new mess, but then it wouldnt work (not showing what i was playing like it did before) So what i did to solve this problem was install the old mess build 1358, then reinstall 1671 over that. Now it works go figure. I hope u come up with a fix for the new mess. But other wise i like the plug thx. - July 27, 2004 by stephen daley
---
^____^ - I would have thought computers would be asexual (read review below)... but ehh ~shrugs~ Works great with Yahoo 6, simple and to the point... though my shoutcast station doesn't seem to like it :( - July 7, 2004 by Cyleia Alexandre
---
well... - since my gay computer wont let me download it..i couldn't tell ya what i think.but if it worked for me i'm sure i'd love it. - June 14, 2004 by Allison Bressmer
---
Works in YM Beta 6! - I'm really glad I found this plugin. YM Beta 6 shows what you are listening to in Launch, but I don't use Launch. This plugin let's me do the same thing with my WinAmp 5. No problems found so far, and I've switched songs a few time just to be sure. - May 3, 2004 by Summer Wilson
---
Functional - Simple, easy to setup, easy to change the message to what you want, does what it says it does, nothing more, nothing less. Just right. - March 14, 2004 by Christina D
---
:) - Simple but nifty... - January 30, 2004 by Djordje Trifunovic
---
nice - well i use yahoo alot and ive used a few status progs to show what im listening to. This is the first one ive seen that does its thing in the background. It works well with winamp 5. If u dont have 5 yet u better go get. - December 18, 2003 by stephen daley
---