>
Plugins

>
General
YAmp
Updated to show headphones or idle icon next to ID
Updated to show headphones or idle icon next to ID
Visit http://elitenick.com/?page=yamp for the newest version.--


Displays song that user is listening to in Winamp in their Yahoo Messenger Status. Works with Yahoo! Messenger 6, 7 and 7.5. Options - User can put a custom message before AND after the artist & song is displayed, and add either a headphones icon or a fake idle icon next to their IDNote - YOU MUST HAVE "Remember my ID & Password" CHECKED ON THE LOGIN FORM IN ORDER FOR Y!AMP TO WORK ON YAHOO! MESSENGER 7.5! Also, this will not work on Yahoo! Messenger 8 beta.
Download plugin
| | | |
| --- | --- | --- |
| July 20, 2004 by Nick Morris | 99327 downloads | |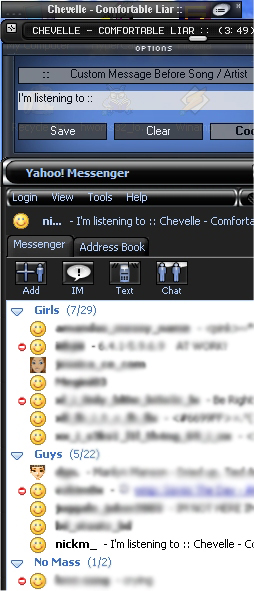 Staff review
Straightforward Yahoo Messenger status plugin
Let your Yahoo buddies know what you are listening to. Compatibale with Yahoo Messenger 6. Allows for you to customize your display message... fairly straightforward.

Note to author: the submission server is having issues so it is likely that the updated file will not migrate across.
Comments
WHEN - when are you going to update this so we can use it with beta 8? this program is the shit but now i cant use it :( - September 20, 2006 by judy hester
---
Re: To Seeing on other side w/ Yamp - The other buddy has to have you listed on their end to see the liink, it works fine for me. If you wish to see it just add "his_evil_kitten_J" to your Yahoo, I will be more than happy to walk any one through the Yamp. DJ Angel check out our station at; http://fairytale.wavestreamer.com:4674/listen.pls Station is called "INS-Radio" International Network SoundSystems Playing only the Best Hitz 24/7 - March 28, 2006 by Tamala Foster
---
Half Works - It does change the status on my end, even when songs change; but on the other end people do not see the status changing. It changes my status to them to the song that is playing when the plugin is started and stays on that song. This is the same situation with all of these plugins that I have tried if they work at all. With this one, the adding a custom message in front of the song title works to a point as well. When I use that feature, it changes on both my end and the other end, but the song that was playing when the plugin was started still shows. Then when I try to remove that custom message, it removes from my end but not the other end and people still see that message. - February 2, 2006 by John C
---
Yamp M6 - It was very easy for me to figure out, which was great... except I cannot get it to show the whole song like you have in your example picture. It just shows the band and then the first 2 letters of the song. For example... Instead of showing No Doubt - Hellagood it only shows No Doubt - He Any suggestions? I tried clicking on the link here to the site, and it seems to be disabled. Thanks. :) - January 19, 2006 by karee barrett
---
my review - it works fine- does what it says. i even like this person\'s associated site. but this plugin leaves an ad banner on the bottom of your yahoo chat window- not cool- i dont care if the plugins spam their site in my status sometimes- no worries for free rite? but that ad on the bottom of my chat window isnt cool. tell me how to get rid of it! - January 8, 2006 by K1Lr 1
---
Awesome! - This Really works, changing your TIM Status, but I have a suggestion. For the next version try to make it like the common WinAmp Plugins I mean no tray icon and no window, it willbe better if you could do all that stuff from the WinAmp Plugins Menu. Anyways I still like it! - December 25, 2005 by Benjamin Davila
---
Don't listen to the guy below me - Of course it's going to have to show SOMETHING when you have the plugin on but no song is playing. Just CLOSE the plugin and CHANGE your Yahoo! status. Need I say "DUH"? - April 20, 2005 by Jeremy Brockbank
---
Great way to look stupid. - As soon as you turn off winamp this program will pimp out their site in your status on yahoo. Just like all the other ones out their I've tried. Yet another unmentioned feature. Shady stuff. - February 6, 2005 by Randall Black
---
Ta-da! - Does exactly what it says it does, and let's you customize the part of the message before the actual title and artist. The only problem I have is that it sometimes adds a "busy" status to you when you first start it up, but I think that goes away when you change the song or play the same one again. And the whole "not part of Winamp" thing bothers me a little, but it's cool. But you SHOULD be able to move the toolbar, you know... Or maybe default it at the top-center of the screen, as opposed to the top-left where window headers usually sit... But, like I said, this thing does exactly what it says, and is the best at what it does. - January 8, 2005 by Jeremy Brockbank
---
real good - Ok it works alot better than the plugs on this site. But this is not a plug-in, it looks like u reworked matt's prog (the 14 yo from canada). Im not ripping u i like it, just wish it was in winamp (that would then make it a plug-in :)) Good work ill use it and check to see what changes u make. harry_p0th34d - August 13, 2004 by stephen daley
---
Great! - Works on any Y! version. Anything you play in Winamp will now show up. You can even add a special message like "Winamp is currently playing:" before the music writes out. One thing I did'nt like is when Winamp stopped, the status stayed the same, so I had to manualy change it. What a lazy person I am. =P - August 1, 2004 by Irondude Taylor
---