>
Plugins

>
General
WShed
Winamp Scheduler
Winamp Scheduler
Wshed is a free program which you can use to schedule the opening of a song/playlist in Winamp at a specific time. It also supports other commands, predefined jingles, cross-fade mixes, random songs and more. You can ban certain songs and also monitor the ones that play at specific time intervals.
WShed also supports opening other files, like pictures, videos at specific times, and can also shutdown the computer.
Download plugin
| | | |
| --- | --- | --- |
| December 16, 2005 by Daniel Jurcau | 23348 downloads | |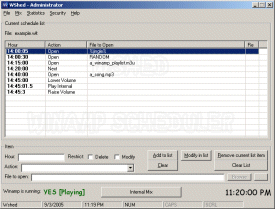 Staff review
Interesting.
Comments
Just what I needed - Nothing I found floating around seemed to answer my needs except this little excellent program.All I needed was for something to pause music at 17:00 PM and start it at 6:30.... why was it so tough to find something like that? Kudos to the creator. - June 4, 2008 by Dominus Sadus
---
Gold! - This thing rocks and is now running a television station in a cold dark corner of British Columbia. Thanks Daniel Jurcau - October 29, 2007 by Andru McCracken
---
Failure - I tried to get this to work with it closed, opened, saved, etc. It just didn't work. - June 7, 2007 by Milo Garth
---
very useful - very useful to shutdown winamp on a network where bandwidth is $ - July 4, 2006 by dante stager
---
makes a nice alarm clock. - Feh. Those bulky PHYSICAL clocks are a thing of the past. - January 2, 2006 by manchild netherton
---