>
Plugins

>
General
WPT
Winamp Playlist Text
Winamp Playlist Text
The program allows to change a font, font size and color text in a Winamp player. And also equalizer colour change to blue colors. All changes saved in "Winamp Playlist Text" skin.
Download plugin
| | | |
| --- | --- | --- |
| February 14, 2002 by Oleg Yankovsky | 6580 downloads | |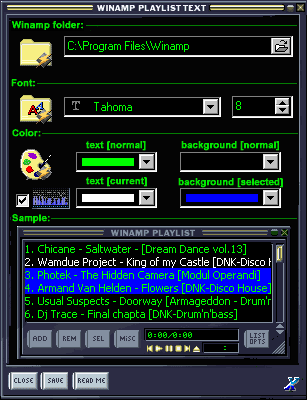 Staff review
Customize playlist window
This is a neat plug-in that allows you to change font, font size, background color, and select color for the Winamp playlist. The only problem is that it seems to only work with the base skin. Would be a lot more useful if it worked with any skin.
Comments
Perfect for TV-based entertainment pc users - If you're using an PC purely for entertainment media (mp3, divx, etc) through your TV, this is the plugin for you! I've been wholly unable to read the default playlist on a 640x480 or 800x600 res displayed on a regular TV. Until this plugin! It lets me make the playlist font as big as I need. I usually doublesize my winamp window to make the main window & EQ readable, but for some reason Winamp doublesize doesn't affect the playlist, thereby creating a perfect use for this plugin! - May 28, 2003 by Matt Weier
---
very useful - not bad, u are able to change ur fontart and fontsize, colors etc. in your playlist. A plugin I was searching for so long. Particulary if you want to show chinese characters or other characters of different languages, if your system supports it. I give it 4 Stars, because this plugin only works with the base skin. waiting for an update, which works with other skins. - March 31, 2003 by Sebastian Lac
---
hm.. - I dont like it. Whats the point about it anyway? - February 18, 2002 by Martin Liland
---