>
Plugins

>
General
Wmon
a Winamp monitor for mIRC
a Winamp monitor for mIRC
Wmon is a plugin that sends a message to mIRC every time there is a song change in Winamp, messages are fully customizable (Full action, ID3v1/v2 tag, CDDB, Shoutcast and mIRC control codes support). A DDE service is available for controlling the plugin from mIRC, it uses the new SendMessage() feature of mIRC, version 5.90+ is required...
Download plugin
| | | |
| --- | --- | --- |
| December 14, 2001 by Frederic Fosselle | 40293 downloads | |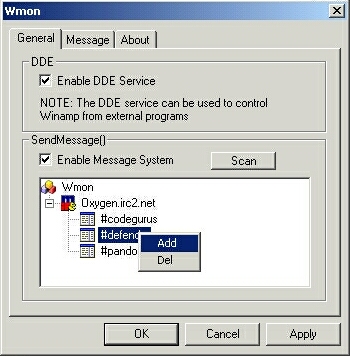 Staff review
Allows you to add messages for mIRC
You can customize a message on every song change in Winamp.
Comments
Only missing one thing. - The only thing this plugin needs is multi-server support over mIRC. I constantly chat over more than one server at a time, and the plugin only displays in whichever server window I currently have open. Otherwise, definately the best 'Now Playing' plugin I've seen or used. - April 6, 2006 by Draco Magnus
---
aged badly - doesn't seem to work with later versions of mirc... 6.14 - August 11, 2004 by Patrick Salbaing
---
hmmmm - firs af all no matter how good is this plugin if he doesn't work with new mIRC that is avalible to download from mirc web site.. so if's not... then this plugin means nothing for me ( even that he could be great) so.. if u're doing anything then do it for new mirc 6.* or create 2 version of your plugin.. cous eit doesn't work with my mirc 6.14 :[ - June 8, 2004 by Adam Mylka
---
Excellent work - This looks like something that could definately replace mircex as my spammer plug-in. Now, if only it had a token for the filename with full path. Oh, and the reason it doesn't work with mIRC 6.x is because it locates the mIRC window by using its window name. 5.x used "mIRC16" or "mIRC32" depending on the bit version installed. Since 6.x is only available in 32-bit flavor, the window name became "mIRC" ... If you feel like kludging the support yourself, open the plug-in in your favorite hex editor (edit /70 to use MS-DOS EDIT in binary mode :) to search for "mIRC32" and null out at least the "3" or both digits if it suits your fancy. In MS-DOS edit, you type a null with CTRL-2. Save, enjoy. - August 25, 2002 by Chris Moeller
---
mIRC Version - Seems to work with mIRC 5.91, but not with mIRC 6.0+ - August 18, 2002 by Stephanie Y
---
Great - This is one hell of a plugin, with amazing customization capabilitys. Avi n, you can use the "/me part" in the small box before the message you just type "me %2". - April 17, 2002 by Kevin ...
---
The Best Of All - never saw such a good plugin, it just misses the /me part, but it works gr8 with no problems at all - November 2, 2001 by avi n
---
Neato! - A little confusing, but it actually works (unlike all the others I have tried...) - October 4, 2001 by - TLSPRWR -
---
Not too shabby - It looks good and it's easy as heck to use. There are a few problems, like no wild cards when you set up a server, and you have to use the /msg # command, though this can be worked around, but all in all it's a great plugin. And the guy himself is relatively accessible. - September 6, 2001 by Ian Menzies
---
Praise the Lord - finally something understandable - September 2, 2001 by Daniel Noce
---
The Best I've Seen..But... - As in the post title, it IS the best WinAMP2mIRC plugin I've seen available, but it lacks a few things. You can certainly customize the message, but where it lacks in the fact that you can't really "script" mIRC to change the values as well as I'd hoped. You're stuck with the authors output for things you could probably script to be better formatted to the way you want it. All in all it's the best plugin as I said, but hopefully future updates will allow more user customization than the current version does. - August 31, 2001 by John Marr
---