>
Plugins

>
Input
WMA Full File Name View
Shows the file name (instead of fields) for WMA files loaded in the playlist
Shows the file name (instead of
This plugin was developed because the default WMA plugin (in_wm.dll) does not give the user a choice for displaying filenames in the playlist. This plugin allows you to see the filename of the given song in the playlist. Useful for people who organize their music files according to conventions, or for anyone who has a large quantity of WMAs.
Download plugin
| | | |
| --- | --- | --- |
| December 16, 2002 by Steven Mauceri | 116438 downloads | |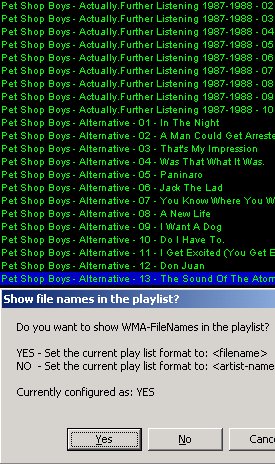 Staff review
Now you have the choice.
Better wma playlist control.
Comments
alt 3 doesn't work nemore - alt 3 doesn't work nemore 4 me - September 6, 2004 by karl ravioli
---
The plug-in is awsome - I would personally recommend this because when I use my windows media player (which really sucks). I try to play my wma files in winamp 2.91 (newest version) which rocks and the information wont come up in the library, Just the filename which really sucks. I personally think that there should be a CD Copier added to winamp to copy the files into MP3's. These WMA files also are stupid because if you have winamp 3.0 it has the ability to crossfade and the wma files won't because of some protection on them. I think a CD Copier should be the next thing that is produced with winamp 2.91 and 3.0. All I have to say though is that this plug-in is awsome. Keep up the good work. - October 20, 2003 by Andrew Benson
---
It's about time! - YAY! This plugin Rocks! I absolutely hate windows media player and now I have the option of playing my .wma files in winamp *and* I can also see the track info, too! (Hey Steve could you create a .wma --> mp3 converter plugin? Then I could get rid of Winblows Media Player forever...which would rule.) - January 25, 2003 by Christine Iwanski
---
asd - asdasdasd - January 2, 2003 by Alexandr Barykin
---