>
Plugins

>
General
WinAmp Notify
This plugin notifies you about which song is playing in Winamp
This plugin notifies you about which song is playing in Winamp
This plugin notifies you about which song is playing in Winamp(TM). The info about the song will be shown in PopUp.
Download plugin
| | | |
| --- | --- | --- |
| June 15, 2004 by Sergey Gershovich | 80005 downloads | |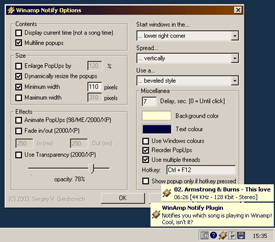 Staff review
Handy song info notification plugin
Straightforward plugin that simply displays current track info in the Windows Task Manager tray. You can configure the look of the popup notifaction (text color, fade speed, etc.). Convenient way of track ID'ing without having to pull up the Winamp window.
Comments
It's very useful plug-in - Thank you for it! It's great! Can I ask you one small addition? I need to some more information about mp3 file in toasts. Could you add path to playing file. Please add ability to cusomize showing information. Thank you again! - February 9, 2007 by Igor Prolis
---
Great. Just needs a couple more features. - Very nice. Does what it says, nice and light. Very handy if you like running from the tray. Would be better if you could stack new popups at the bottom and move the old ones up, so the newest message is always in the bottom right hand corner. Also, if there was an option to animate the popups from the bottom of the screen rather than the right hand side. Otherwise, a neat plugin. I like it! - February 27, 2006 by Iain F
---
Great plug in...better than modern - Much more control and better than the modern skin's control. Thanks, just what i was searching for. - January 4, 2006 by masoud y
---
YEEEAAAHH - What a friggin brilliant idea! Why should the Modern skin users be treated special?! Hah! fuckers! But, anyway, excellent plugin; one that compliments and betters my Winamp experiance immensely. - August 25, 2005 by Josh Fullah
---
very nice - very nice plugin for winamp's classic skin users. - June 24, 2005 by espero horla
---
An Excelent plugin, but... - First of all, nice job! I think this is a very usefull plugin. it's only defect is that everytime you play a song, appears a diferent "notify" messages. i mean, if you change a song that doesn't likes you, again and again, the computer's desktop gets full of "notify" messages. If you could fix this and make use of just one "notify" message for all song, it would be terrific !!!!!!! - May 16, 2005 by edwin parada
---
Wow - Ive only used this plug for a mere two tracks and im already in love with it and its capabilities....very very nice lil addition...kudos to sergey....I hate having so many apps in my Task bar and i hate having winamp in my toolbar and not being able to view what im listening to with easy, thanks to sergey...problem solved you rock - April 28, 2005 by C D
---
Great! - Only thing this is missing is priority, if it could be programmed to show up like it does usually while playing warcraft, halo, etc, cleanly, then itd be the best plug in ever created, even now its one of the bests, I just hate the way it flops out on games. - April 24, 2005 by Jeremiah G
---
Works a treat - No offence to the Winamp people, but I prefer this one to the Official Winamp one. - March 27, 2005 by Matthew Lloyd
---
Simple, Easy, Perfect - this is great, like the other guy: 'just what i wanted'. cheers. - February 2, 2005 by steve earp
---
Exactly - well.. that's exactly what i was looking for! Thanks dude! - December 27, 2004 by Ernst Keuss
---
Love it! - Works perfectly as I expected. Love it! - December 20, 2004 by Jason Willett
---
The Best Plugin For Notify - I'm really enjoing it! Today I decided to find plugin for displaing song title on the screen and... that is! It has a lot of diffent options, so you can configure it as you like. Thanks to the Autor! Pavel. - December 13, 2004 by Pavel Agalecky
---
Loving this Plug-In - I came to Winamp.com earlier today to look for a plug-in that can tell me what song is being played, and this simple plug-in does just that! Sometimes when I am playing games or working on something, I am unable to find out what song is currently playing, and this tells me in a very nice way. Highly recommeneded! My top 3 plug-ins of all time. - November 30, 2004 by Victor Ly
---
Great plugin - handy, dandy, and all-around sweet. great option set, and very useful for those that are curious about their song titles. download it... you'll like it :D - November 24, 2004 by Daniel Leyzberg
---
Simple - I like this plug-in because it is simple. Not too many options etc. Great plug-in! - September 5, 2004 by Christian Tang
---
Nifty - Does just what it says it does. If only it was able to use teh colours from the genex.bmp for the BG and text colour, and to grab the font from pledit.txt that would be sweet, but idk how hard that is so 5 stars from me :) - August 24, 2004 by dlinkwit 27
---
Looks like the one of K-j?fel - It is a good plugin. Only the K-j?fel skin has an option that looks like this one. Only i didn\'t get de plugin working, when the previewbutton is pressed it works fine - July 26, 2004 by jr Heuwing
---
Good but one more info needed - I think this is a handy little plugin and I like it. But it would be much better if Album information can be displayed in the pop-up. If the information display (title, time, etc.) is fully customizable, I'll give it ten stars. - July 10, 2004 by satya namak
---
Something is missing - This is the best notify plugin yet as written earlier, but there is something that isn't perfect yet. It should be possible to choose what info that shows, like removing "stereo" and adding Album name, and what order they show. As mentioned in another review one pop-up window is enough. Quite anoying when I change songs repeatedly. Another option that I miss is to disable transparency, or control the opacity on the information seperatily from the window, and how long it should show, this way the info could show all the time while the window disappears after 4sec. Anyway, you have done a good job on this plugin Sergey Gershovich - June 26, 2004 by Roger Jacobsen
---
The best notifier plugin so far - This is the first notifier plugin which supports Windows 9.x. I like the customizations you can make for it, although it would be nice if you can modify the font and text display and have an option for colors based on the skin. I would have given it a 5 star rating, but I noticed the "Use Multiple threads" won't disable, so my screen fills up with notifications if I'm searching for a song using next and prev. Hopfully it gets fixed next version. - June 20, 2004 by Leon B
---
This is nice - A good system tray plugin. - June 16, 2004 by Emil Butiri
---
One of the better tray plugins - Could have used a few more options for how the text was actually displayed (having a huge title display in a big long line looks kind of weird) but it's overall a good solid plugin. I recommend it. - June 16, 2004 by Aquatakat the Kat
---
Nifty Plugin - Pretty simple, it tells you the current song info on the bottom of your screen. Useful for when winamp is minimized and you don't know what song is currently playing. Ill sure be using this for a long time. - June 15, 2004 by Lee Zukemistein
---