>
Plugins

>
General
WinAmp Crossfader ver 1.01
Crossfader for WinAmp
Crossfader for WinAmp
What exactly is this utility doing :====================================1) You can manually use the crossfader between two WinAmps.2) It will automatically crossfade at the specified time, when you push the button.3) and lastly ...... It will mix the songs. The crossfader is automatically activated (automatic must be checked) if a song in Winamp(1) is gonna end within the specified time. Then WinAmp(2) starts a new song from its playlist (overlapping must be checked) and so on.
Download plugin
| | | |
| --- | --- | --- |
| February 18, 2000 by Zdenek Broz | 450087 downloads | |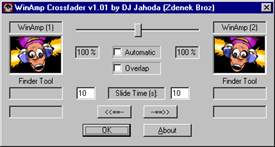 Staff review
Winamp is my lover and my...
DJ, thats right kids. You too can play along and be your vary own DJ and Croos fade like the pros. [email protected]
Comments
Easy to use and gets the job done.I used this for a party in high school 7 years ago, and now again, when I needed this small feature this is the best tool I found! - June 20, 2010 by Ian Trout
---
really good one - I must warn that this little program wont work with the modern skin of winamp 5. so you need to switch to the classic skin of winamp this prog gets 5 starts from me. Great Job!!! - September 16, 2004 by m h
---
Just can't figure out the locking procedure - It probably deserves more then 3 stars, but it has succeeded in making me nuts trying to get the locking done. I read the readme file and did everything that it stated. I am able to run 2 instances of Winamp and can play 2 songs at the same time. I click on the graphic and hold down the left mouse key. I get the cross, but I do not understand what to do with it. Any insight on this would be helpful. Good day - September 5, 2004 by Rory Lane
---
y - so good to be true - December 26, 2003 by antonio pacheco
---
Tray List? - Good plug-in. Put one playlist genre into one WinAmp instance ( say, Rock ), put another playlist genre into another WinAmp instance ( say, Dance ) and put Crossfader on automatic and you have the perfect scenario for a party to please ( most of ) your guests while you get drunk. Works much better than the other crossfaders and you have an option to speedily change the track playing as well as the genre. To place into the Windows Tray List just use the "Show Desktop" icon ( although Crossfader will pop up again ). Usage had me fooled until I R.T.F.M. ;-) - December 11, 2003 by The Elephant
---
Nice - This Plugin is very nice but one thing annoys me: you cant but it into tray!!! - April 15, 2003 by Carsten Niermann
---
Neat Tool - I just tried it, you can start two instances of Winamp, make two Playlists and then the program will change between them by Fading. Works very well and its free! - January 20, 2003 by Nick Name
---
Why use anything else? - I honestly think that there should be more DJ's using this kind of stuff than expensive DJ equimpent! For DJing, this is THE plugin! There is nothing else! The only way I can see approvement is if you could also manage to crossfade the Vis' too. That would be hard! Oh, and A note for those who's plugins dont work. Try this: 1) RTFM (Read The F***ing Manual) or Readme 2) If you are stuck with WaveOut, press the box for 'Alt. setting method' in the volume section of the WaveOut output plugin. Niiiice job! - September 7, 2002 by The Terg
---
READ THE README THATS WHY ITS CALLED A README! - After I read the readme, "I set the setings", "I opened two winamps", And then I played my heart out. "Great Plug-in" Wait.. thats an understatement, "Fuckin awsome plug-in!" If you dont think so, your to manly to read the directions. - August 28, 2002 by Jerome Brill
---
This shouldn't be a plug-in - This should be STANDARD with Winamp. If I had to pick one and only one plug-in, this is definately it. When I install winamp on my friends computer, this baby goes in too. Make the tunes sound like chipmunks at normal speeds, or drunk bastards at normal speeds, or drunk bastards at chipmunk speeds! Or chipmunks at drunken speeds! You name it, this is A-W-E-S-O-M-E. - July 24, 2002 by Christopher Herff
---
Wow, it's GREAT - This is strikly GREAT.....damm god job. And it even runs without takin' big ressources. I got it working properly on my Notebook, an IBM ThinkPad 600 (PII-300) with Win2k-Pro installed. Coooool !!!!! - May 30, 2002 by Oďż˝ Yves
---
Good idea if I could start it - Maybe im stupid but I cant open 2 winamps at the same time to use it. - May 5, 2002 by JOSH FIRESTONE
---
RTFM - You must read the included file or you'll be hitting issues left and right if you tae the 2 minutes it takes to configure winamp to work with this it will be worth your time - February 28, 2002 by Javier Silva
---
fuken tight ass fo - this cross fader keeps being my favorite it works good i dont have any trouble with it its like a dream cometrue i mean besides having a real one,SO DONT FUCKEN TALK SHIT - January 29, 2002 by armando t pleitos
---
SWEEEET!!! - Damn this is the best crossfade plug-in i know!!!. I can use it without problems. But i use it with a Sound Blaster Live! and a 1000 MHz processor. GREAT JOB DUDE!!! - October 11, 2001 by Dwayne Selsig
---
Don't work - I don't know... I tried it on 2 computers and it just doesn't work, the two songs don't play together smoothely and when it's done fading from one to the other, nothing can be heard. - August 27, 2001 by Thomas Albrecht
---
Retweek you Thinner - Great idea didn't work too well. Tryed it on my 500mhz computer and it kept locking the thing up. Had a little bit of trouble with the slider sticking too. I think it just needs a litte reworking from the Tweeker brothers. - August 23, 2001 by Stan Coleman
---
A Bugg - Yo, this is a cool plug-in but it has a bug in it. I crossfaded two of my favorite songs and after I turned off my computer they messed up. I mean, The next day I tried to do it again they kept on poping and skipping. so I had to download them again. Oh, and one more thing,Dean Marsden, too use two winamps you have too start the first one by the normal way,clicking the icon and the second one by clicking on the second song you want. - August 8, 2001 by Jose Rodriguez
---
Fade on! - This program kicks a$$! Just set it and forget it. Now if I can get a Geiss for winamp vis crossfader... - August 2, 2001 by Jason AUSTiN
---
Works fine - I think if more people read the ReadMe.txt file that comes with this Plug-in they would find it works just as advertised... Tried it with no luck. Then I read the ReadMe.txt and low and behold el worko no problemo... Good Luck!! - July 1, 2001 by Gary Brown
---
??? PLease help - how do u use 2 winamps? e-mail me @ [email protected] - June 30, 2001 by Dean Marsden
---
You A DJ? - If you are then get this plug-in I have used it at 12 partys now and everyone askes how do you get the songs to overlap the cool part is if you have to laptops and a cross fader its like haveing 4 turn tables if your reall good i only did this once and i loved it every second you might say whats the point to this program? it is simply put as "made by dj's for dj's" but even if you dont but you hate the gaps betwen tracks get this it might be hard @ first but once you play around for some time {1-2hrs} you can mix like a pro as for the dj's that made this great plug-in if you plan on making another add a fuction that the plug-in find the win amps it self i can see good thing comeing out of this so many dj use cpu's like i do i am doing a party tomorow night and will update you on the reactions -the one the only DJ JETLAG - June 22, 2001 by Dj Jet lag
---
I dont Get it. - I was kool until the direction got to the "finder" after that i was lost... oh, well... off to find something else - June 18, 2001 by Elizabeth Palmer
---
DJ Greg gave it - Fantastic program. Automatically switches between two Winamps. Reliable and easy to use. You guys ROCK!!!!!! - June 7, 2001 by Greg Pyzyk
---
Yeah !!!!! - Now I can mix cool sounds and use two skins at a time !!!! If only I could give it ten stars.... - May 22, 2001 by Don Buenaventura
---
:-( - Extremely useless. Why would you use 2 winamps? - May 20, 2001 by Reinier Hoedemaker
---
This is cooooooollllllll!!!!!!!!!! - I use it all the time. It is so fun and soooooo easy to use.DOWNLOAD NOW along with KID amp and Afriamp Skins they r also cool!!!!!! - May 7, 2001 by Jonti h
---
L337 - Too l337 for j00! - May 6, 2001 by Aero Nig
---
Cool - really works great in combination with shoutcast - May 1, 2001 by Conny Eriksson
---
Simple - This is the easiest crossfader out there!!! I had never used one before but it didn't matter because the using it is so simple! A definate plus to your Winamp plugins! DOWNLOAD NOW! - April 20, 2001 by Andrew Barclay
---