>
Plugins

>
General
Winamp Crossfader and Synchronization
Crossfade and Synchronize two Winamps
Crossfade and Synchronize two Winamps
With this plugin you can crossfade between two Winamps, and make them both play, pause and stop in the same time... very handy if you have a song and also it's instrumental version, so that you can make it seem that you remove the voice.
Download plugin
| | | |
| --- | --- | --- |
| February 7, 2003 by Andrei Toma | 47986 downloads | |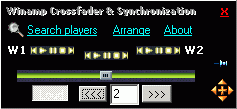 Staff review
Basic crossfading plugin
Allows you to crossfade between two Winamps...useful for djing with Winamp. The features are kinda basic....pretty much just simple crossfading... also includes a handy synchronized control for both instances of Winamp...allowing for you to stop and start both sources at the same time. It would be nice to flavor up the interface a bit and add some more features (ie. pitch control).
Comments
Impossible to find easier fader tool ! - Who was the crapy old Chap who gave no star ?? Andrei understood to remain SIMPLE. That's the warranty of the success !! Impossible to find easier fader tool. Applause PSE ! - July 31, 2002 by J.-Patrick D
---
Llama, Will you marry me? - I have no clue in hell what this does, but neither do you go piss on it! - March 14, 2002 by Jeff Hood
---