>
Plugins

>
General
Winamp Advanced Controls
v5.6
v5.6 - Control Winamp from the system tray with this skinnable plugin. Now compatible with Windows 7
Control all the playback functions of Winamp from the Taskbar Notification Area. In a very small space (2 tray icons wide), you have the standard playback functions (Play / Pause, Stop / Load, Previous, Next) and the volume or the seeking bar. Plus, a context menu with more functions, an optional customizable popup balloon with song information, a Delete Current File function and integration with the Global Hotkeys plugin. Other skins and latest updates available on http://www.niversoft.com/wac. Multi-language, tested on Windows XP, Windows Vista, Windows 7.
Download plugin
| | | |
| --- | --- | --- |
| January 19, 2004 by Nicolas Hatier | 182396 downloads | |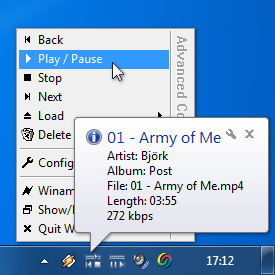 Staff review
Very functional tool
This plug-in simply puts the Winamp control buttons in the Windows tray... it even has a handy play slider. Very useful for those that like to have their desktops organized and uncluttered.
Comments
just great!! - October 28, 2010 by [email protected]
---
Crashes, an stops WinAmp from starting - Do not use this plugin !Tray_Advanced_Controls.exeIt crashes Winamp in vista,so that you can not restart Winamp. You have to remove this manually.Files Which installs to the following Directory:C:\Program Files\Winamp\Plugins\The files you have to removeare as follows:gen_AdvancedControls.dllgen_audiotwit.dllgen_dropbox.dllgen_ff.dllgen_hotkeys.dllgen_jumpex.dllgen_ml.dllgen_tray.dllHope this is of help.Pity there is no fore warning to save much time.I had to do trial an error to find this was the problem.A debug, logfile, or safemode would have make this fix much earlier. - February 7, 2009 by Sparxz sparxz
---
Not Happy - I downloaded winamp advanced comtrols and my computer wont let me put it in a file. I've never had this problem before. I cant use C drive as the file is to big (I dont have enough space). I'm really stuck on this one. I've tried every file there is and cant install it in any file. Can you please help? I have windows vista also. Could this be the problem? Thanks to anyone who can help me. - July 21, 2008 by Kelli Danley
---
Awsome!! - Ihave to rate it 5 stars it's pure perfect !! - March 30, 2008 by nebojsa djokic
---
Works fine - Nice and simpleA toolbar setting instead of the tray should be better. - March 28, 2008 by Eduardo Maspero
---
Very unobtrusive, Well worth downloading - Is it causing you to crash in vista? If so, download the latest version from http://www.niversoft.com/downloads/"Winamp Advanced Controls v5.4" - August 29, 2007 by Bill Thornton
---
ok - it's ok - August 26, 2007 by yujian yujian
---
Great - Alright plugin but has a function to delete currently playing song. Also allows you to hotkey it. Very useful. Crashes winamp in Windows Vista. - January 21, 2007 by Nick Whaley
---
It's Beautiful!! - I say this is the most useful plugin that I've found so far! I like it, the icons are smaller than others, the slider is a cool feature... an I agree... it SHOULD be included with winamp! - November 30, 2006 by Jamin Mills
---
This is great! - That's what i searched! fantastic - September 17, 2006 by Jonny Sensmeier
---
Indispensable - Perfect tool. - August 19, 2006 by Grail Knight
---
wonder-full, again!!! - i enjoy with this plug-in, thank you for developing it! - August 14, 2006 by javier estevez
---
Very good, but.. - I really loveD this plugin.. untill few weeks ago, i signed up for beta testing windows vista.. took me some time to figure out that this plugin did make winamp not startup anymore. I still give it five stars because it does what it says, it\'s best in it\'s kind, and it isn\'t designed for Vista so I can\'t blame it, but I REALLY hope it will change. - July 6, 2006 by christophe zbu
---
Great plug! - It is just simple and great! thanks - June 15, 2006 by stuart Gordillo
---
Fantastic - Fantastic plug-in. It should come with winamp. Thanks very much! - May 27, 2006 by JR Westbrook
---
Nice to Use - Things like this are making the world easier - May 17, 2006 by Mark Blue
---
Great plug-in - I've been waiting for something like this for some time, great job. For future enhancements and improvements you could add the posibility to choose wich buttons to be shown (i personally use Play and Next so the remaining space could be used for Volume or Seek slider - in a minimum form - thus having more control of Winamp) and also a more customizable right-click menu would be a usefull addistion. Anyway the plugin is a 5 star piece of code =D> Keep up the good work. - April 10, 2006 by Eftinoiu Cristian
---
Very good plug-in - It is very good plug-in - April 7, 2006 by Tomas KRUZIK
---
Just awsome. - This plugin is just awsome. I wasn't to fond of the now playing bubble, but liked the option of turning it off. Definately thinking of user preferences there, something I like to see. Keep up the sweet work. - April 6, 2006 by Draco Magnus
---
It Crashes Winamp - Crashed Winamp 5.21 twice within the first 5 minutes of installing and playing around with it. Useless anyway...if you need tray access just click on the Winamp tray icon and the main window will immediately appear. - April 2, 2006 by Steve Monroe
---
better than ever... - i love you... - March 31, 2006 by armin elec
---
Excellect plugin - I just want to say that i have been using the plugin for a very long time, and i won't do without it. I want to express my thanks to the writter once again, for the recent 5.2 update. I just love the way my work area is clean and tidy and i can have all sorts of applications running, but i can also control winamp through 2 small tray icons. I love this plugin so much i even translated it to my native language, Greek. Once again excellent job. ioannis - March 25, 2006 by Ioannis Epaminonda
---
Nice - Really nice....email [email protected] - March 20, 2006 by Brad Wells
---
Excellent plugin - Very nice and simple, works as advertised. Welcome to featured-plugin land! - March 13, 2006 by Will Fisher
---
the dogs bollox - Pure minimalist function and one click delete of a file playing! The best! - February 24, 2006 by Jamie McGuinness
---
sweet deal - I had to reformat my computer a few weeks ago and I lost this plug in in the process. I spent quite some time trying to find it again but when I did I knew it was time well spent. Great Job. - February 11, 2006 by Nicholas Morell
---
awesome - works great, looks cool, fully customizable, awesome plug in - November 3, 2005 by Neo Williams
---
Not a gimmick - A real usefull tool - Let me work on my computer and gives me regardless full control over winamp. Unlike too many other programs bootless occupying my systray this tool is real usefull. Great job - Thanks - October 6, 2005 by Ronald Gerstmann
---
good functionality - Ever since i found this lil gem, i've installed it on all the computers i have at work and home. It's great since winamp usually gets buried underneath a million windows while i work. Simple and user friendly. - October 5, 2005 by Eldritch Nygma
---
Space saving! - Very economical plug-in. Great function! Like it very much. Thanks - September 12, 2005 by Archimedes Lachica
---
Kudos to the inventor!~ - Love it! I use the windowshade on Winamp cause to me the smaller the better, and THIS is the smallest I've ever seen, and right where I need it. - May 26, 2005 by Sally Plant
---
Brilliant - Once thing I love about this, over others are that it doesn't use up space on the Taskbar. I dont really care much about the System Tray. I very much recommend it for anyone, and also on the plus side, it doesn't use up a lot of CPU. Absolutely Loving it :) - April 11, 2005 by Gurkirat Vig
---
Good idea - brilliant execution - Well, not much to add. Complete control over winamp with an absolute minimum of screen real estate and a minimum of hazzle. It looks nice too - and it even works on version 2.95. - February 17, 2005 by Mads Michelsen
---
Very Nice! - Very nice plugin!! - January 4, 2005 by Otto vanZanten
---
Does what it says on the tin - A simple plug-in that does exactly what it says it does. Very useful and keeps things nice and tidy. A definate must have. - December 19, 2004 by Thomas Guymer
---
Best way to shrink Winamp to a minimum in screen real-estate. - Taking only two tray icons AND providing a (mostly) functioning slider, this beats all the tray controllers I've tried. In fact, I'd call this my all-time favorite plugin. - October 22, 2004 by Peter Soloway
---
Should be in the next WINAMP release!! - This is by far the most useful plugin I have found yet!! I hated having "reveal" (maximize) WinAmp to change the volume or skip to another track, and this plugin makes it easy to do right from the system tray. Keep up the good work Nicolas!! - May 29, 2004 by Brian Lee
---
Best system tray plug-in available - Brilliant, all the controls you'll ever need without completely filling up your system tray or distorting your taskbar - Finally lets me stop using WMP9 for its taskbar control (this easily outclasses it) and start using XP themes with thin task-bars :) - Good work! - November 23, 2003 by Chris Lord
---
Nice! - The best one available. Comes with self-configurable hotkeys. Sweet. - July 16, 2003 by Kjetil Birkeland Moe
---
A Perfect 10 - Well although others may not agree with me, I hane found this plugin for Winamp to be one of the best ever... Unfortunately the rating system allows for a maximum of five stars, while this plug deserves twice that! Among the features that make this plug so good are its shortcut keys, and it stylish appearance. WAY TO GO! - June 25, 2003 by Bob Blankenship
---
Nearly perfect! - This plug-in got it all. All the handy functions you need, I particular like the song title balloon :-) The only bad thing about this program: the icons are sometimes placed in the wrong order. It doesn't work anymore on my computer :-( - April 24, 2003 by Helge Larsen
---
Great but - Great plug in i like its controls on my taskbar but i have xp pro and that ballon that tells you the song tittle would not go away i had to disable it in the configurations. It would be nice if the song botton just sat there for a sec then went away but oh well. - April 4, 2003 by jester lee
---
Very useful - OK, the control icons are a little tiny... and they are black. I'm using a dark theme, so it is not very... But it takes no place, it indicates what you are listening, and rightclicking on it gives you every control you need. Cool ! - March 24, 2003 by Manu Devil
---
Really good - You get the idea, it rocks! - January 28, 2003 by Tim Ragnwald
---
Cool - I have not downloaded or tried this plugin because i don't need it but the idea deserves 10 Stars!!! - May 23, 2002 by Jennifer Guyton
---
Great! - Great tool! Hey Joe Bloggs, you stupid twit! If you don't want AVS, then you just disable the Winamp Option "Auto execute visualization plug-in on play"!!!!!!!!!!! - May 7, 2002 by M 021
---
cute! - I like it very much, becouse is small. Sure, if someone run 1920x1200 resolution - is onother story... - January 31, 2002 by jacek karma
---
Just a small prob, - when i press the next or back buttons it brings up winamp and the AVS, if i don't want to look at winamp why would i want it to come up and with the AVS when i press next or back? - January 13, 2002 by Joe Bloggs
---
Just what I needed... - I love that slider in the tray!!! I was really searching for some kind of simple plugin giving me the chance to never open the winamp window and let it play in background forever!! - November 3, 2001 by Francesco Castellana
---
Awesome! - This tray control program has it ALL! Exactly what I was looking for! All the controls I ever use almost always visible and quickly accessible in my systray! - September 17, 2001 by christine watnik
---
Best little tray controller! - This one is the best. It is tiny, can display song progress or volume controls above the buttons, and tells you the current song when you hold the mouse over it. Highly recommended! - September 12, 2001 by Jeremy Zink
---