>
Plugins

>
DSP/Effect
WideSound DSP plugin 1.1
Music enhancer
Music enhancer
WideSound is a simple DSP plugin that enhances your Winamp's audio sounding for both mono and stereo songs by widening audio field. The plugin delays and mixes left and right channels, and by this, makes the 'stereo effect' stronger, mainly when using headphones. It also enhances mono songs, let them sound as they were stereo.
Download plugin
| | | |
| --- | --- | --- |
| March 24, 2009 by Peter Horvath | 909069 downloads | |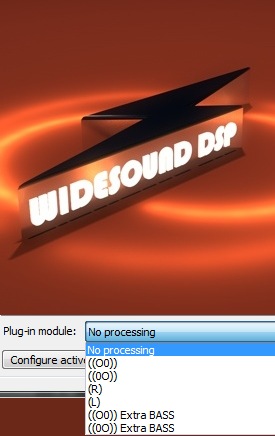 Staff review
Mainly for headphone usage
When run with normal speakers this really didn't make any difference but seemed to be ok when using headphones though this is quite subjective against the style of music and equipment used. Only real issue is that it causes a lot of static output when using Winamp's 24-bit output mode otherwise things seemed to work ok. It also would have been nice to know what the ((O0)) and such like module names are meant to do.Worth a try if you're looking for something like this but may not fit most people's needs.
Comments
satisfaction! - February 18, 2011 by [email protected]
---
Dunno av no tried it yet bawheed . - August 20, 2010 by Roggen Wolfe
---
hi WOW ! very nice. update please - July 18, 2010 by soroush_teh
---
Great. It changed sound of my old sound card. Now sound is so full and fresh.I use (L) preset. - July 7, 2010 by Vladan2mail
---
Excellent!! Adds a nice pseudo stereo effect without making songs sound tinny from excessive treble. My only complaint is that the effect names could be a little more descriptive than just ((O0)), (L), etc. - April 30, 2010 by djnforce9
---
Great plugin, but coulod be better - February 12, 2010 by Joe Smith
---
wow - January 1, 2010 by Eskimo04 S
---
cool - October 16, 2009 by sudhicaltest
---
Just Great - Hi there. I think this plugin makes the music sounds great. I tried the other wide and surround plugins but this one really rules. Yeah a lot of people say 'it's for headphones' yeah but also if you have your speakers far from you left and right, you got the effect! (having centered speakers in front of you is a crappy configuration for any plugin, any audio sistem and any place) so I say the plugin WORKS PERFECT. I do prefer the () mode (in my 2.1).The plugin doesn't work on 24bit mode (which is not a problem for mp3 and aac listeners at all).I recommend it to everybody! - August 17, 2009 by manev.mitko
---