>
Plugins

>
General
WANQer
WANQer allows you to monitor any folder or drive on you computer and automatically keep your playlist up to date
WANQer allows you to monitor any folder or drive on you computer and automatically keep your playlist up to date
WANQer can watch any folder(s) or drive(s) on your system and will automatically keep your playlist updated as files are add, removed, or renamed. Even works with CDROM drives and will update the playlist as discs are inserted and removed.
Download plugin
| | | |
| --- | --- | --- |
| April 1, 2002 by Wanq Williams Jr. | 10138 downloads | |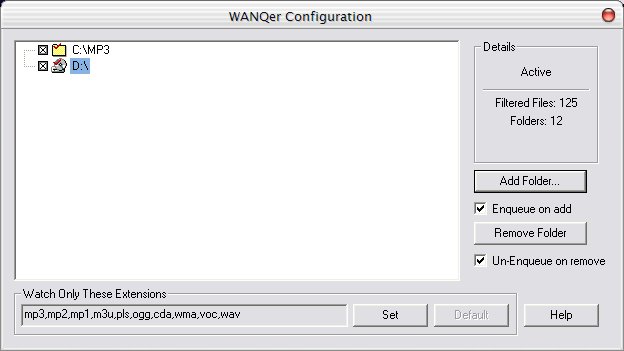 Staff review
Handy tool for keeping your playlist updated
This works very well for those who are constantly adding new mp3's to their collection. You can watch multiple directories for any change in terms of files added or files removed; and WANQer will then enque or unenque files from your Winamp playlist accordingly.
Comments
Better thanother dir monitor plugins - The advantage of this plugin is that it also searches sub directories. Improvement request: Would be better if it didn't start playing the playlist from the beginning every time a new file is automatically added. - October 23, 2007 by Tomas M
---
It doesn't work... - Baaaah... try another plugin. - July 31, 2002 by Manu Devil
---
G R E A T !!!!!!!!!!! - but it's could be more nice if it's do autosave to playlist...! - May 27, 2002 by Omri Rosen
---
Sorry - For some reason it won't load - April 25, 2002 by Gert Schrikkema
---