>
Plugins

>
General
Wallpaper for Playlist Editor
added itunes style m4a/aac cover reading + bug fixes
added itunes style m4a/aac cover reading + bug fixes
v1.06



Puts any picture as the wallpaper for your Playlist Editor.



Features:

* set any picture as the wallpaper

* changes the wallpaper based on the song that's being played

* adjustable 'transparency'

* 4 drawing modes



Requirements:

* Winamp 5

* Windows 2000 and above



check this thread for updates

http://forums.winamp.com/showthread.php?threadid=223756


Download plugin
| | | |
| --- | --- | --- |
| September 10, 2005 by Safai Ma | 74610 downloads | |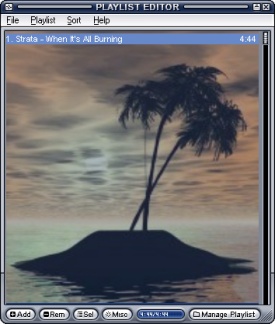 Staff review
Playlist background image support
With this installed you can have a given bitmap as your background with options on how this is decided (such as based on the filename of the track being played).

An ingenious way of implementing such a feature.
Comments
Nice feature - Unfortunatley, when running on a dual monitor system the wallpaper (a) does not display on the second monitor and (b) on the second monitor, the (undisplayed)wallpaper obscures the track information in the play list. - August 13, 2008 by Lambert Heenan
---
Very, very good ! :-) - Very simple use.Efficient & beautiful !Picure displays in the playlist's background. So visualization plugin can still be ran.Automatically picks'up the album's picture when available next to the songs file. Unfortunatly, it (seems to) picks up the first image found in the songs folder (it does not change picture at each song unless it is in a different folder).And as previously said... This one WORKS ! - May 4, 2008 by St Brodu
---
good but secretive - i love it love it love it.great ad on but alittle to find and then figure out first time u use it - February 13, 2008 by benedict mackay
---
kian - but sometimes, i can now view a wallpaper but it is not showing and its not in a transparent mode. - December 21, 2007 by Kian Inductivo
---
Excelente!!!!! - De los mejor plugins para Winamp que jamas haya usado gracias. - November 8, 2007 by Oscar Estrada
---
Brilliant. Faultless. Perfect. - Does exactly what it promises. I have folder.jpg in every one of my album directorys. It picks them all up perfectly. This means that cover is there with every single song played. Brilliant! This may even ursurp my cover & tag plugin that I was using in the video window (which is also a very good plugin http://www.winamp.com/plugins/details.php?id=138565 ) This is a superb plugin with no discernable bugs for me. 5 stars. - November 2, 2006 by bonkers schmoove
---
Great plug-in! - I love the fact that I get to see my album covers while I'm playing them. And the covers change when the albums change. One of the very few plug-ins that work. And I've tried a lot believe me. Most of the plug-ins I have tried caused my player to either lock up, crash, or won't even do what it is suppose to do. This one I highly recommend. I only gave it 4 stars because of the flicker in the playlist when changing albums, songs, or just clicking on the scroll button. Otherwise, it is great. - August 16, 2006 by The Apaleador
---
Just amazing! - Wow dude! Now that's the thing I've been waiting for. Friends always were asking me if there is a possibillity to pust an image on the playlist and now I proudly can say "YES!! There is!!" and all that's thanx to you. I am enjoyng that. Very good job. THANX again. Respect - August 14, 2006 by Vigiux N
---
An easy way to customize your favorite skin - This is very, VERY cool Safai! For those of us who feel the need to alter everything we have in such a way that it reflects our own personality, this is a wonderful new tool to do that with. I'm running Winamp v. 5.03 on a Windows 2000 Pro machine, with an nVidia Quadro2 graphics card.... and I haven't noticed any problems. I'll be keeping an eye out for new versions. Thanks for a wonderful plugin! - November 29, 2005 by Adrian LeGarde
---
): Found a BUG :( - First of all I must say: great job!!! I just keep wondering how come no one has thought of this before. Yeah, about the BUG: when WinAmp jumps quickly from one song to the next one - e.g. the songs have been phisically removed but are still there in the playlist, the background image starts to dis- and reappear each time a new song is started and I have to restart WinAmp to get rid of this. Of course it r-e-a-l-l-y rarely comes up but I thought you might want to know about it. As for me, I will keep on using this plugin for ever! - November 16, 2005 by Tamas Pinter
---
!!!!! - The transparency thing makes this really great - November 11, 2005 by Markus Toivola
---
Super - With the new NVIDIA-Driver 81.85 it works now even with Geforce-Cards. Easy to install and overall a very good Plug-in. Great Job. - October 31, 2005 by Thomas Schmidt
---
nice plugin!!! - this is the most favorite plugin!! XD i want to move the position of a picture to right and left. :) - October 29, 2005 by warey cay
---
great work!!!! - I have to say it?s amazing, I have a beautiful image of JOKER from batman and it?s great to see something different than the color of the skin in the back.... I got 1 thing to claim,, please make the wallpaper change at random or at least manually .... something like webshots than change the wall every XX or YY time why don?t change with the change of the song..... this one it?s great - October 23, 2005 by Julian Romero
---
Very cool, but have a question... - I dig this plug-in, but can't seem to figure out how to get the images to change according to the song that's playing... Maybe I missed something... - September 24, 2005 by mishaado .
---
Nifty - I love the idea. My only suggestion would be to have the option to \"colourise\" whatever background image you do have so that a general image can be used for multiple skins and not stand out. - September 18, 2005 by Graham Penny
---
I'm back - I just realized that this plugin needs to work with the rest of the windows in winamp as well. If you can get it working with "Dynamic Libary" plugin also this is one of the coolest winamp plugins ever! Its too bad that we only have a nice little picture in the "playlist editor" if we could have it in "Dynamic libary"+ "Media Libary" I say go for it Safai Ma! Hope it's not to big of a problem! Respect if you try! - September 14, 2005 by D B
---
'SGood - It does what it says it does really good plug-in but it would be better if you could change the media library background as well. - September 10, 2005 by Ryan seiznem
---