>
Plugins

>
General
WA2Y
another YM status changer plug-in
another YM status changer plug-in
It's another one of those Yahoo Messenger status changer plug-ins, that displays what song you're listening to.
The most important difference from other plugins of this kind is in what happens when you close Winamp. You can decide what happens with your status: it can set your status to one of the standard ("available", "brb","out to lunch",etc) or it can display a custom message of your choice.
Also, it doesn't create problems when listening to radio.
Update:
Fixed a problem with fresh installs of YM, on which custom messages were never used; when Winamp closes, it can set you to invisible.
Download plugin
| | | |
| --- | --- | --- |
| March 20, 2005 by Emil Butiri | 69645 downloads | |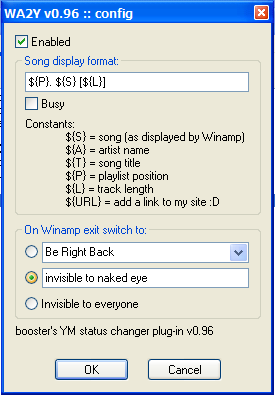 Staff review
YM status changer
Simple to install and pretty easy to configure to what you need. The settings available should most people's needs and the exit feature is a nice bonus as well.
Comments
Not Working? - It does not work on Winamp 5.35 and Y! Messenger 8.1.0.421? - October 6, 2007 by Navjot Singh
---
Love this one - I have used this since it came out and have never had one single problem with it. The best one I have ever used, - May 28, 2007 by mark unruh
---
Headphone Icon please!! - I like this plugin very much it's very simple to use. Now if only you could put a headphone icon with the plugin I'd give it that last star =D - April 9, 2007 by Stacy Garcia
---
It'work with YM 8 - I use winamp 5.32 and install WA2Y v0.96 it can display my song in yahoo messenger 8. Try it. It's a great plug in - February 12, 2007 by Jhonny Bravo
---
Almost Perfect - Only Needs Headphone icon - Works pretty, its just missing the option to show the Yahoo! Messenger headphones icon. It would defintely complete this well designed plugin. Please add that option in the next release. - November 12, 2006 by M Muzammil
---
Update needed - Very nice, used it a lot. BUT the new messenger 8 (beta now) doesn't support it (just runs around the old status messeges). So... when do you update? :D Also, might be nice a song time cursor in the status (like [--->-------] or smtg) - July 3, 2006 by Marius Stuparu
---
Customized Status Message - I was wondering is there a customized status message that is needed for this plugin to work. Because I did everything required off the page and it still doesnt work with my Yahoo Messager 7.0 version. can you help me out thanks. - July 2, 2006 by Kimberly Yarger
---
Good but a little buggy.. - When i change song it changes its status. even if i am invisible...(Yahoo messanger 7). Please help me. I am addicted to it. I am using it since its launch. - March 22, 2006 by jigar shah
---
Trillian - 4 trillian can't be made ???? PLs if u cand i will give u a beer - January 27, 2006 by RaVeN SouL
---
Excellent, BUT! - Its plugin is good, but it lack some options or functionality, like it goes back to Available when a song is stopped or the stop button on winamp is pressed, but overall, its still good. Hope you put more options into it. - January 22, 2006 by Erik Eleria
---
The best plug-in for Yahoo! - The best plug in for Yahoo! messenger to let people on your list what you're listening to. Fully customizable. Download it now! - December 20, 2005 by Eric Pena
---
Simple, works great, no bugs found. - I rated this plugin 5 stars. Works as advertised. Nice simple additional features. Doesnt' seem to have the bugs of the the "YMS Status Changer" plugin. - August 11, 2005 by Ein irvin
---
Works perfect - Not as tricked out as the YMS status changer, but it works bomber, and it doesn't crash winamp when you try and change radio stations. I dig it, and hope it gets updated to have more goodies soon... - August 5, 2005 by Neil Raumann
---
WA2Y review - It's a good plug-in. It does what it must do. - July 18, 2005 by L X
---
Easy to install - And fairly easy to use, but not easy for people with no clue to these things. But overall it was very painless. - July 2, 2005 by Linda Gremillion
---
nice - nice!!! - June 29, 2005 by gelo zayco
---
Yuppy! - Finally! Smth that actually works!!Super! This is the 3rd one i've tried, the only one that works and the one with the most options! So it's not only the only one that works properly- if the other ones would have worked they would have been pretty lame compared to this one! It's supper! I love it! - June 28, 2005 by Ana Vlad
---
Great product! - Works right out of the "box", and no problems. I liked the one in Launchcast that shows the song you are listening to, but I wanted something like that for Winamp and until I came in and looked I had no idea there was one! Thanks so much! - May 26, 2005 by Sally Plant
---
Very good - msgramp.exe didn't work And this plugin is more advance:) - May 13, 2005 by fred derf
---
critter - Yep, This is it. Not like the last one that locked up my &*#$. By far too cool. To any one who has yahoo messenger and likes music this one for you. thank you all at Winamp for making my day!!! - April 14, 2005 by Jeffrey Crispe
---
great! - Did everything it said it would and more! Great job! - April 6, 2005 by Amy NA
---
omg :) - Excellent plugin, no limitations on message length, built-in options to please anyone, it's simply great :) - March 21, 2005 by Marius Sutu
---