>
Plugins

>
General
VividLyrics V2
Karaoke lyrics plugin
Karaoke lyrics plugin
VividLyrics is a karaoke lyrics plugin for winamp 5.

Features:
Supporting TXT, LRC, VL
Accurately highlighting pixel by pixel
Anti-aliased effect
Gradual blend effect
Multiple line modes

VividLyrics also provides a functional lyrics editor that enables you to easily make high quality karaoke lyrics files for your favorite songs.
Download plugin
| | | |
| --- | --- | --- |
| April 10, 2005 by VividLyrics Development | 71185 downloads | |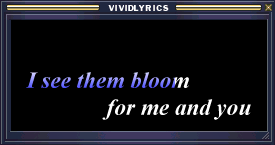 Staff review
Lyrics plugin
Does what it says. Was stable in tests and worked pretty well. The native Winamp skinned window helps keep a common look. This is a 30 day trial version but appears to be free from locked out features.
Comments
This is fucking shareware. - April 2, 2010 by Chris Wilkins
---
Shareware - I gave it 1 stars cause I don't like shareware, especially deceptive shareware. If it is shareware say so in the description. - July 5, 2006 by The Apaleador
---
One thing else... - It only reads .mp3, .wmf, and .wav files. All music I have converted using iTunes (.m4p files) can't be "seen" by VividLyrics editor. This is a big NO-NO! - July 11, 2005 by Corvus Raven
---
This is great! - It didn't slowed down my computer at all. It is super intuitive to use and very light. You can choose how many lines to see at a time, choose the font, the color, and a buch of little things more. I wish it was cheaper ... if winamp is for free...$30 dollars is a little bi too much for this. - July 1, 2005 by Corvus Raven
---
Sorry for my lousy research - Sorry for my lousy research. You can easily switch the plugin on and off. I still don\'t think it\'s a 5 star because it\'s still quite hard to convert the nice .lrc lyrics to the awesome .vl lyrics. .lrc lyrics do work on vividlyrics, but since there is only one time per line on an .lrc file you don\'t get the superb karaoke effect you get using a .vl file. - April 25, 2005 by Amnesiac ........
---
The plugin works great - It's not a 5 star though. A swich to turn if on and off would be nice. And a possiblility to more easily convert .lrc files to .vl would be nice too. When the plugin is doing what it is intended for, it works great though. It looks smooth and works smooth. I couldn't think of any improvement possible there. - April 23, 2005 by Amnesiac ........
---
V.GUD - IT'S GUD TO USE BUT SLOWS COMPUTER DOWN A BIT - April 13, 2005 by dan greatrex
---