>
Plugins

>
General
ViralSound Title Updater Plugin
This is the Winamp 2.x/5.x plugin for ViralSound.com Signature Service
This is the Winamp 2.x/5.x plugin for ViralSound.com Signature Service
This is the Winamp 2.x/5.x plugin for ViralSound.com Signature Service. You will need to go to http://www.viralsound.com to sign up for an account, then you can have a signature for forums, your website, etc., that shows what song you are playing. Everything is customizable for font, colors, and you can upload your own image or choose one from the gallery.
Download plugin
| | | |
| --- | --- | --- |
| February 25, 2006 by CPU Killer | 7941 downloads | |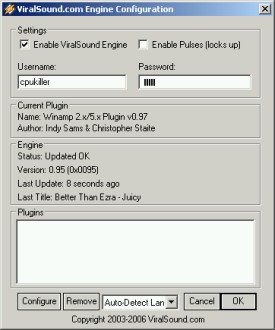 Staff review
Now playing signature
After the installer had downloaded the parts it needed, this was quickly up and running. There's a good range of options and you can easily select the image to use or even have the choice to use your own one (which beats a lot of the other plugins of this type).
Comments