>
Plugins

>
General
USB Dynamic Skin Changer
works with Micronas USB Chips
works with Micronas USB Chips
This plugin works together with Micronas popular USB audio chips UAC355xB (see www.micronas.com). By simply plugging this USB Audio device to the USB bus, you instantly have an additional sound channel available. It appears to be second sound card.Since the USB bus is a hot plug & play system, meaning you can attach or detach the device during your computer is running, we can extend Winamp and make it aware of this situation. By installing this plugin you will get new great features.The plugin could be configured to switch the Winamp Skin depending if the device is plugged into the USB bus or not. Define a different skin for each connection state in the configuration dialog. Now you can easily identify if your new USB audio device is ready for use.Further to avoid any system slow-downs during playback the plugin observes the connection status and stops the playback in the event of unplugging the device.This plugin works only together with the installation of Micronas filter device drivers.
Download plugin
| | | |
| --- | --- | --- |
| November 15, 2001 by Kai Scheffer | 6864 downloads | |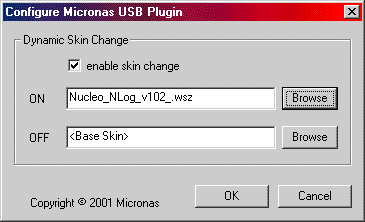 Staff review
Dynamic skin changing plug-in
You need to have a Micronas USB chip installed for this to work. I personally don't have one handy, so I couldn't properly test this out. If anyone encounters any bugs, please let the author know.
Comments
A very good plug-in... - But I think it would be better to add some more funcions, like programming buttons on the device to control winamp and things like that... You can see that in de AIWA plugins for Winamp3 (it comes in the BMZ-K1 and BMZ-K7D)... I'm working in such things, but i'm really short in time... contact me: gandolfi at yahho dot com - April 30, 2004 by Ariel Sanchez
---
powerman2k2 - i this the best one yet and it good for my skins it make it look evern butter - January 1, 2002 by wilfredo santiago
---