>
Plugins

>
General
Uplister Playlist Search
Browse 1000s of playlists created by Uplister users.
Browse 1000s of playlists created by Uplister users.
With more than 10,000 playlists served up each day, Uplister is the best source for playlists on the planet. This plug-in allows you to browse mixes from Uplister's playlist-sharing community and get music recommendations from fellow music fans. Find users who share your tastes in artists and tracks and see their playlists complete with personal comments, links and pictures. Includes celebrity playlists and more. Uses the minibrowser.
Download plugin
| | | |
| --- | --- | --- |
| July 19, 2001 by Uplister .com | 60095 downloads | |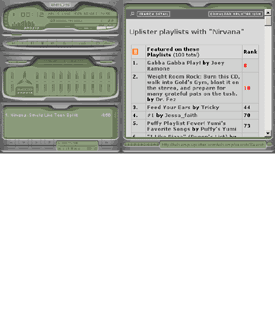 Staff review
Great way to find new music
Very easy to use... just play a track by an artist you like, and Uplister will then display a bunch of playlists for you to check out. Whether or not the music will be similar depends on how eclectic of a mix the playlist is. I searched for a couple of different artists and found some really good playlists as a result. The layout looks very nice and is easy to operate (opens in the minibrowser). Useful plug-in to find new music.
Comments
This web site (uplister.com) has been gone for years and years. This plug-in should be deleted. - December 7, 2010 by [email protected]
---
operation suspended - Don't even bother to download - DOES not work as their site suspended operation and the successor will be "subscription" based - October 26, 2003 by Carsten Molle
---
what a waste of time - Does it do anything? Now I have to go in and delete everything. What a waste of time - March 1, 2002 by Tony Hobbs
---
Does it even work? - It's installed and loaded but nothing happened. It needs to come with instructions. Damocles is right about the 5 star reviews being written by the same person. The last three were written within minutes of each other. - January 31, 2002 by fred smith
---
what's not to like? - Seems pretty obvious why this is cool... a bunch of music crazies on uplister write about their fave music in playlist form, I get to look at it in winamp. probably not truly useful until i ca dload the tracks, but really kind of cool anyway. I do agree that turning the lists into a shoutcast stream would be the way to go. - August 31, 2001 by Ryan Olin
---
...playlists? - Okay, sure, it gives you some playlists by cross-referencing the song you're playing. But...I don't know...it just doesn't seem a very viable program. I was under the impression that it created playlists based on your preferences that would be imported to Winamp, at which point you could listen to a customized pseudo-SHOUTcast stream. THAT would be cool. - August 27, 2001 by Colin Snover
---
??????????? - How the heck do u use thiz thing?Please if you have the answer please e-mail me @ [email protected]!!!....................and HURRY!!!!!!!!!! - August 2, 2001 by bluelionroar ????
---
It's the best from them all. - I really like this thing. I love it, 5 stars. Now I just gotta learn to use it correctly. - July 29, 2001 by Dragon Master
---
I don't get it - I don't get this plug-in. Who cares about what people like - you still can't get the music. Reading people's funny comments is fun but wears off after a while. Fad. Points for trying tho'... - July 27, 2001 by Devil May Care
---
if it hadn't been for you meddling kids - It looks to me like most of these five star reviews have been written by the same person...read em and see (eg. most mention the 'hilarious user comments'). And I don't want my playlist info. sold to the labels. Sorry, 1 star. - July 27, 2001 by damocles pork sword
---
Neat little plug-in! - This is great - they even have playlists with songs from musicals! And some of those playlists are a riot... :-) - July 17, 2001 by theresa roeder
---
Love it, very creative - Works great, gives me lots of playlists and ideas for new music to listen to (can't listen though...), some user comments in lists are funny as hell - July 17, 2001 by Music Hound
---
Slick way to find new music - Cool idea. There's been a playlist for every artist I've looked for so far. (Seems like Winamp can't always figure out the right artist, though.) - July 17, 2001 by Mike Cating
---
This kicks ass! - All of a sudden, the MP3s I've been hoarding have an easy way to come together and I can find cool tunes like the ones I already like. Rock on! - July 17, 2001 by Mary Flanagan
---
This is great!!!! - Convenient way to find music that i might like. Really hilarious comments, too..... - July 17, 2001 by Deepak Rajan
---