>
Plugins

>
DSP/Effect
Tyson
Stereo Me 2
Extract into your winamp\plugins\DSP_SPS directory.
Plugin Allows for Adjustment of Bass, Midrange, Treble, and Stereo Seperation. I like it because it really brings out the background
Instruments. I would liken it to an adjustable kereoke effect.
Download plugin
| | | |
| --- | --- | --- |
| March 7, 2005 by Tyson does_not_matter | 22729 downloads | |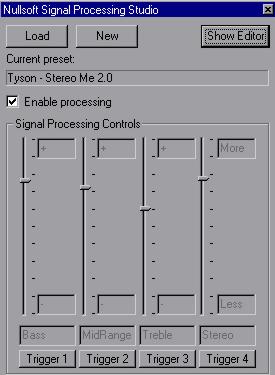 Staff review
DSP SPS preset
A preset for the Signal Processing Studio. It would be nicer to download a pack of presets instead of just one at a time tho.
Comments